Convention Exclusive Gold Funko Pop! Princess Leia Figure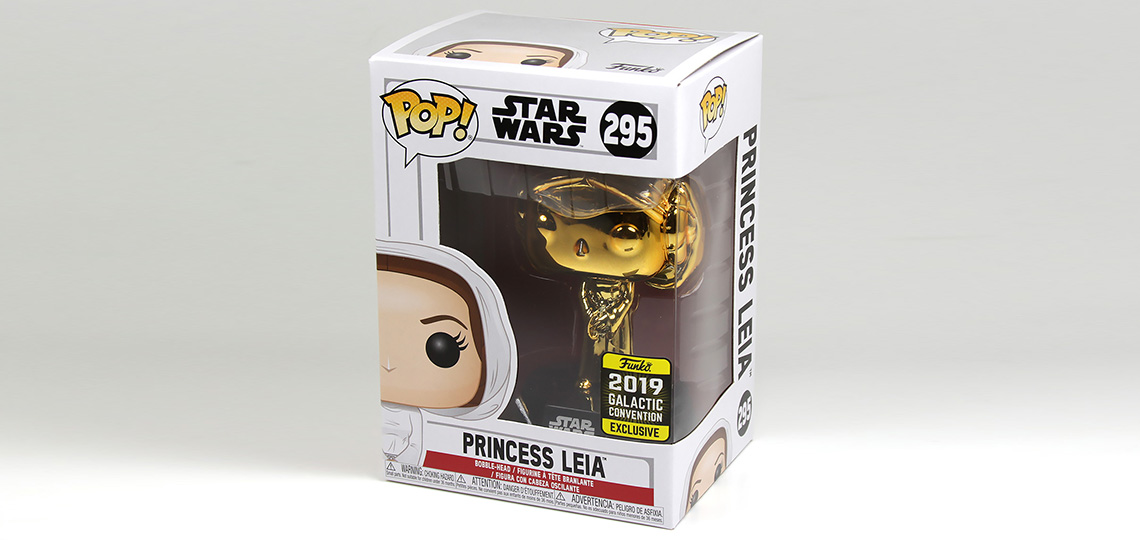 A new arrival, thanks to a great sale – the Funko Pop! Vinyl 2019 Galactic Convention Exclusive Princess Leia 'Gold Chrome' figure. This sculpt depicts Princess Leia in her white dress from A New Hope, with her dress hood up.
The gold chrome finish is quite neat – like a mini Leia award statue. I'm not a completist Funko collector, but I'm trying to fill some gaps in my Leia collection. I'm happy this convention exclusive figure was available locally, and after waiting patiently, I grabbed it on sale for less than a standard figure.
Some day I hope to track down the Celebration Chicago 2019 exclusive 'blue chrome' version, to complete this mini-set of 'hood up' Princess Leia figures (while I was able to attend Celebration, sadly I didn't win the Funko 'lottery' to be able to buy their exclusives).
It would be neat if they released this sculpt in a regular painted version (like it is pictured on the box), as the standard Princess Leia A New Hope figure is quite a different design.
Here is the gold chrome Princess Leia alongside the 'hologram' version from the Leia/R2-D2 two-pack, and the original Leia AHH figure. I still have a few Princess Leia Pop! Vinyls left to track down, but this gold chrome figure is definitely a favourite.