Kristy's Costumes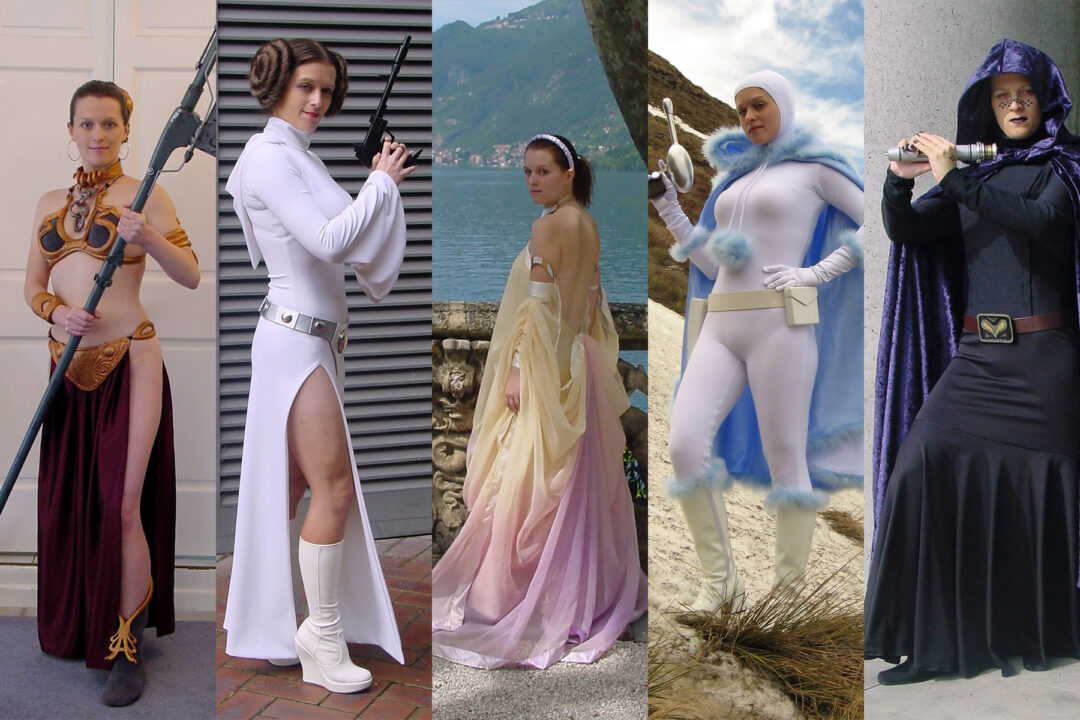 How did I start costuming?
I found Star Wars after seeing Episode 2 in cinemas on opening day, I wanted to see what all the fuss was about. I was instantly hooked, and soon began buying a lot of Star Wars collectibles online. During one of my usual ebay searches, I found a listing for a custom made wool jedi cloak. I couldn't resist it. So, in January 2003, I had my first costume piece. I started researching online, bought myself a second-hand sewing machine and started pulling apart shirts to draft a Jedi tunic pattern. I finished my first costume (Jedi Knight) in April 2004, and joined the Rebel Legion and Jedi Assembly.
In 2005, I bought an Imperial Officer costume and joined the 501st Legion – I was convinced my sewing skills would never improve to be able to sew the tailored outfit. In 2006, my boyfriend (now husband), Matt and I planned a trip to visit the Episode 2 filming location Villa Balbianello in Italy. Two weeks before we left, I had the insane idea of making Padme's lake retreat arrival gown as a surprise for Matt. I had no concept of how to sew properly, and I hand-painted the colours – I did need to spoil the surprise to get my boyfriends' help with the neckpiece. I finished it just hours before we got on the plane, but you know what, I was really proud of how it turned out – and the experience of wearing it at the same location as the original was amazing. If I could tackle something like that, then perhaps I could try other costumes I loved but always thought I would never be able to make. And I've just kept going – still making things up as I go along, learning heaps, and loving it 🙂
My cosplay alias – Why "Anaria Zar-Rel"?
When I finished my first costume (jedi knight), I wanted a username for the Rebel Legion that fit with a jedi character. So, as any mmo/rpg player knows, I spent a long time playing with name variations. Anaria came from Anakin/Amidala variations, and Zar-Rel is a variation on Superman names (Kal-El, Jor-El), and hyphenated Star Wars names (Obi-Wan & Qui-Gon). So, that's how I found my name.
Below is a gallery of my completed costumes to date. Each image is a link through to a page dedicated to that costume/character with more (and larger) images and details (currently in progress).