Screen-Used Dame Vaako Costume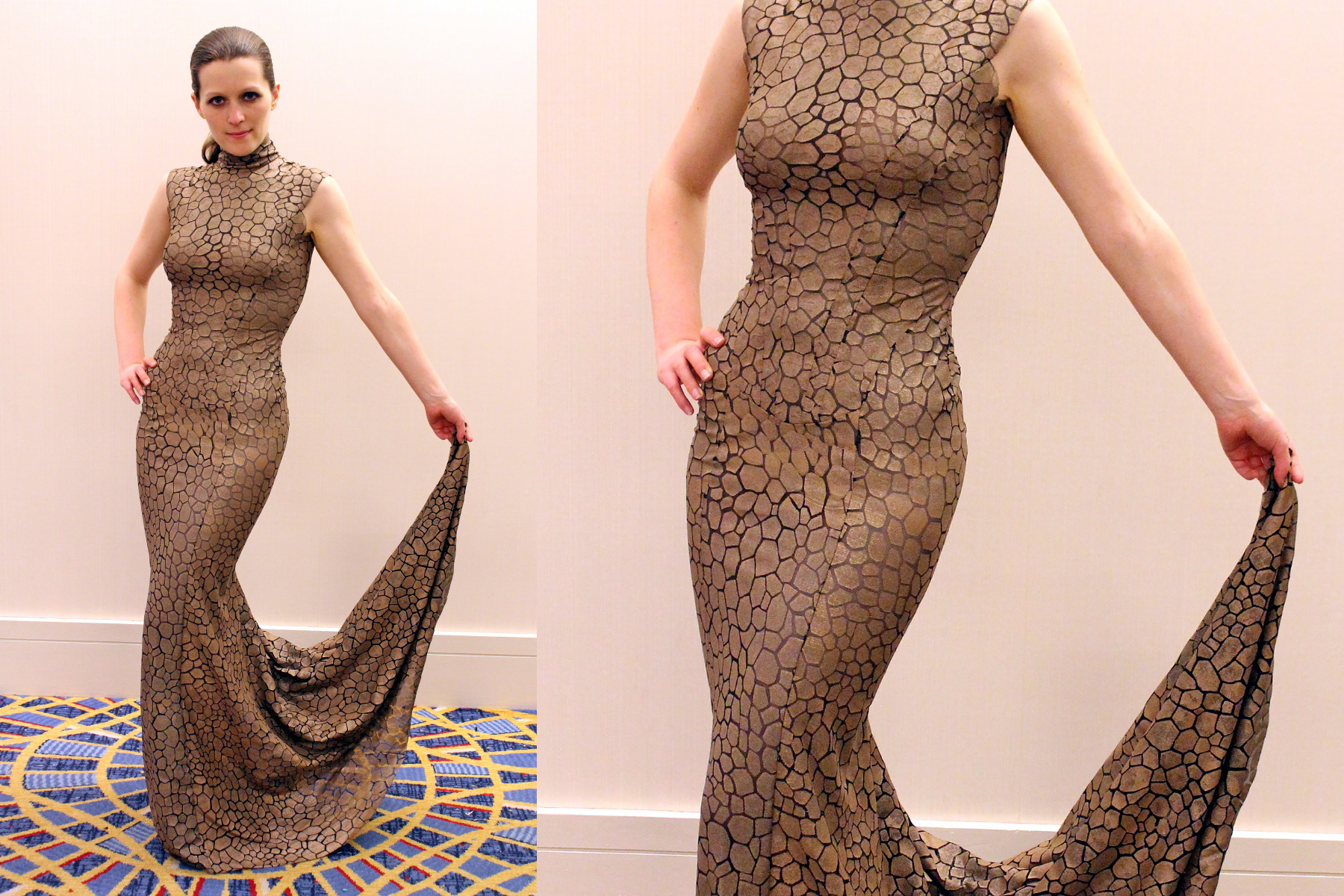 As big fans of The Chronicles of Riddick, Matt and I had dreamed of owning costumes of the main characters since we first saw the film. We were able to purchase screen used Necromonger Captain and Necromonger Convert costumes in 2005, but we missed out on any Riddick or Dame Vaako costumes.
In early 2011, The Prop Store of London listed the black/gold Dame Vaako dress, worn by Thandie Newton. It was expensive, but it had been years since I had seen one of her outfits come up for sale. I knew I was a similar height to Thandie Newton, so we decided to take the leap and buy it. Took a few months to pay the installments, and a frustrating delay at customs, but it arrived in time for DragonCon 2011.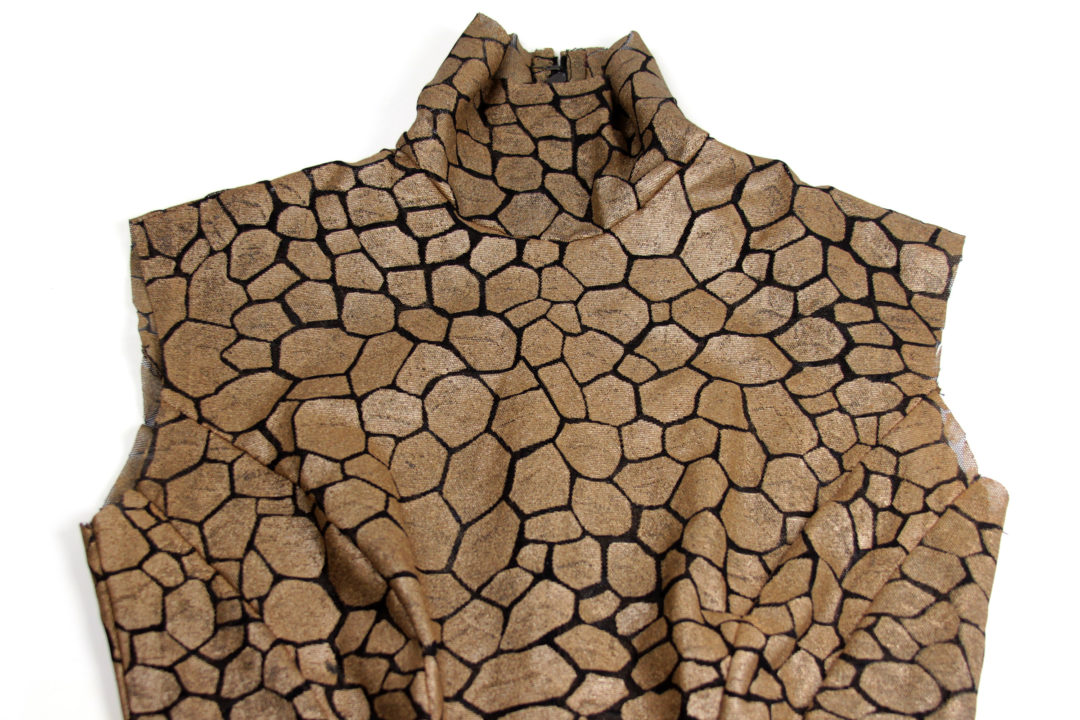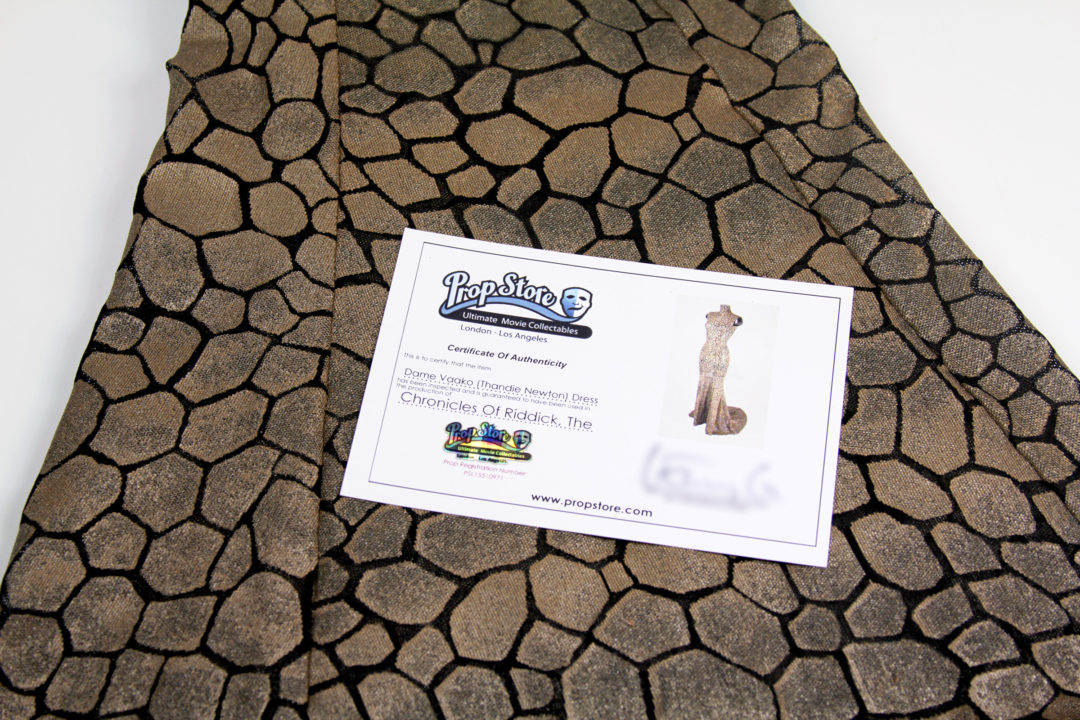 The sleeveless dress is made from black mesh fabric, covered in gold latex scales, with an invisible zip up the back. As fate would have it, I actually had a swatch of the fabric used for other Dame Vaako gold dress (thanks to a wonderful friend), so I was able to compare the fabrics and colours between this black/gold dress and Dame Vaako's classic gold dress. It's interesting to see the difference in colour and texture.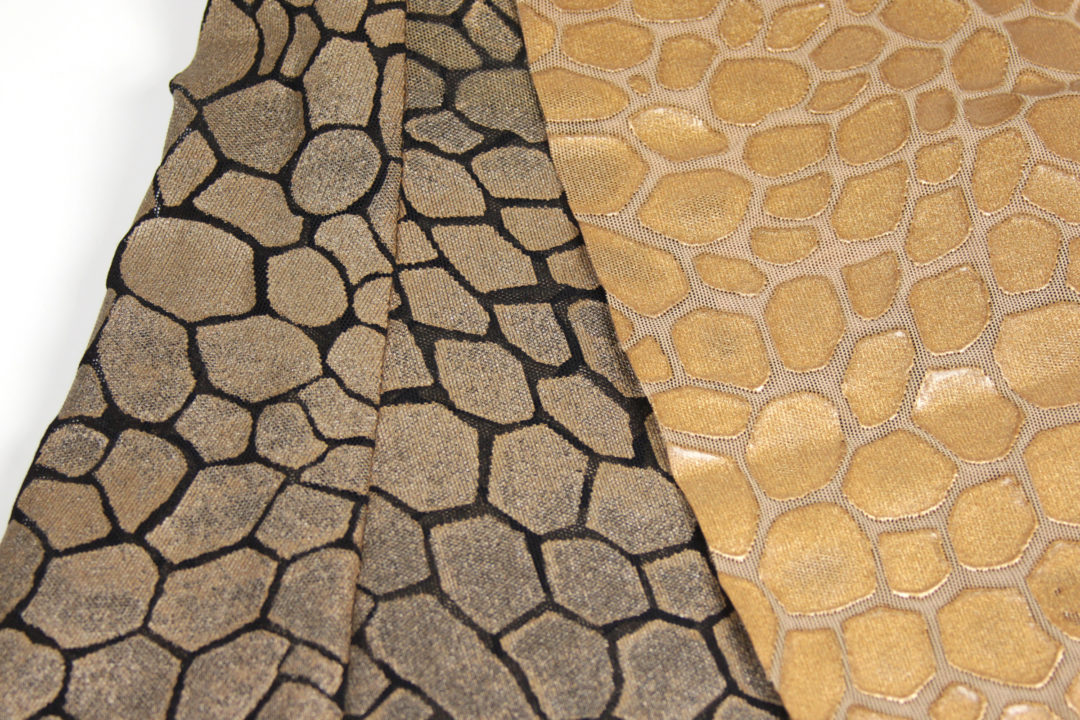 As with buying any screen-used main character costume, it can be a big risk buying an expensive costume that you hope to wear without knowing if it will fit. The mesh fabric has a little bit of stretch, but it fits me like a glove! I was so excited when it finally arrived, I tried it on straight away for a few quick photos.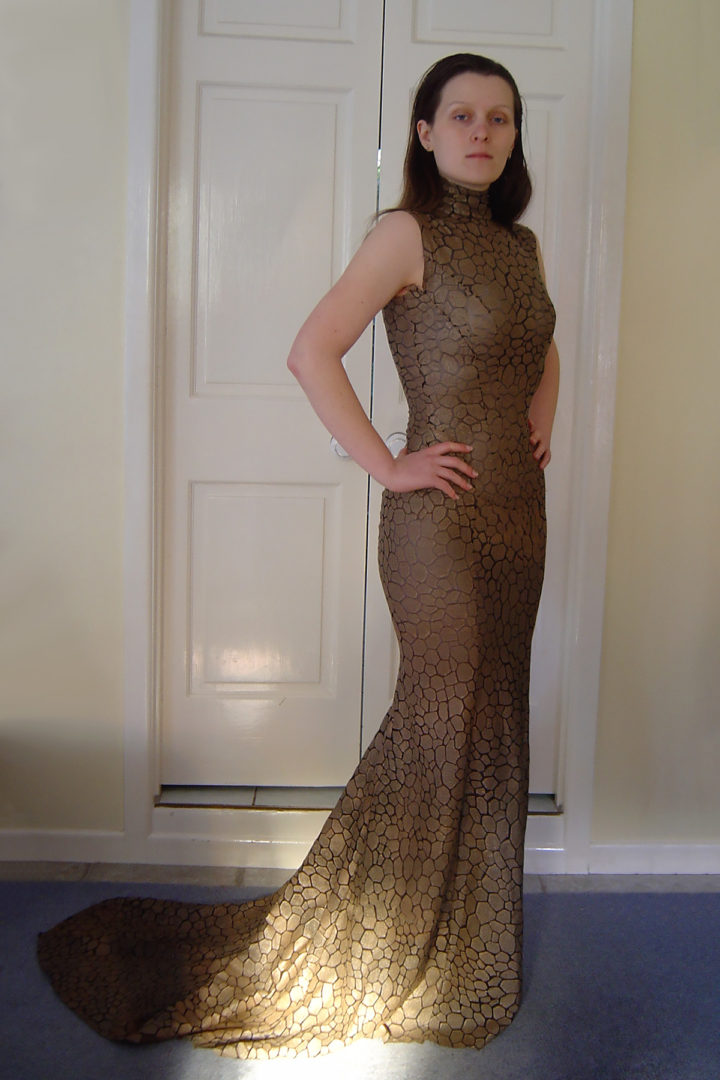 It was such an amazing experience, trying it on for the first time and finding that it fit me perfectly. Even with heels on, the hem of the dress is a little long on me – but it appears to be quite long on Thandie Newton in the film too, as you can't see her shoes/feet when she walks in it. All of Dame Vaako's dresses seem to be designed to 'pool' on the floor a little – very glamorous and dramatic.
Unlike the other Dame Vaako costumes, this outfit doesn't have any accessories – no jewelry, spine/back decorations, belt, or even shoes. It appears Dame Vaako does not wear shoes with this dress – her bare feet are seen very briefly when she falls on the floor in one scene. So, this dress is a complete screen-used outfit by itself. To complete the look to wear at DragonCon, I wore nude colour underwear with this dress (as it is visible through the mesh fabric), and a pair of black heels.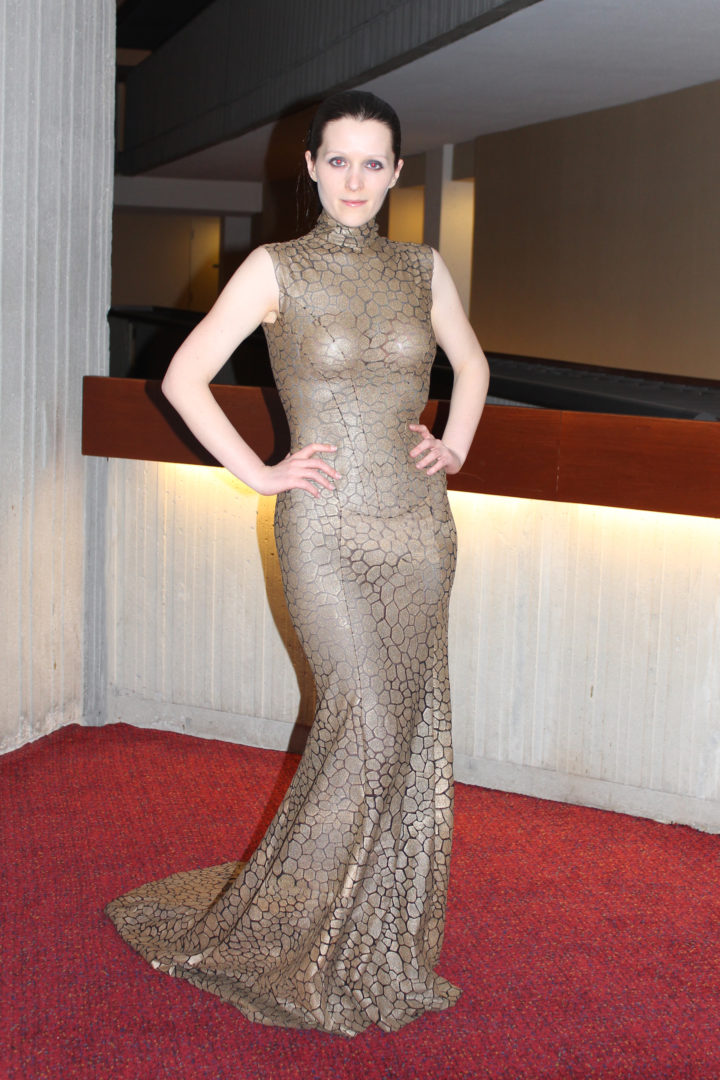 As I don't wish to wear this costume barefoot at conventions, I decided to find out more information about the footwear used for the classic Dame Vaako long-sleeved gold dress which was also sold through The Prop Store. The website listing for that costume pictured a pair of high heel shoes, with the brand name 'Peter Fox' visible on the inner sole, and described as US size 7. Doing some research on the brand, the shoes are the style 'Dorothea', which were then covered with the same gold scale mesh fabric as the dress.
After a lot of hunting, I finally found a pair in my size, which also happens to be the same size Thandie Newton wore. My original plan was to have the shoes dyed black to match the dress (as they are dye-able white Italian silk bridal shoes), but it appears Peter Fox no long produce shoes, so I am keeping them in their original state for now.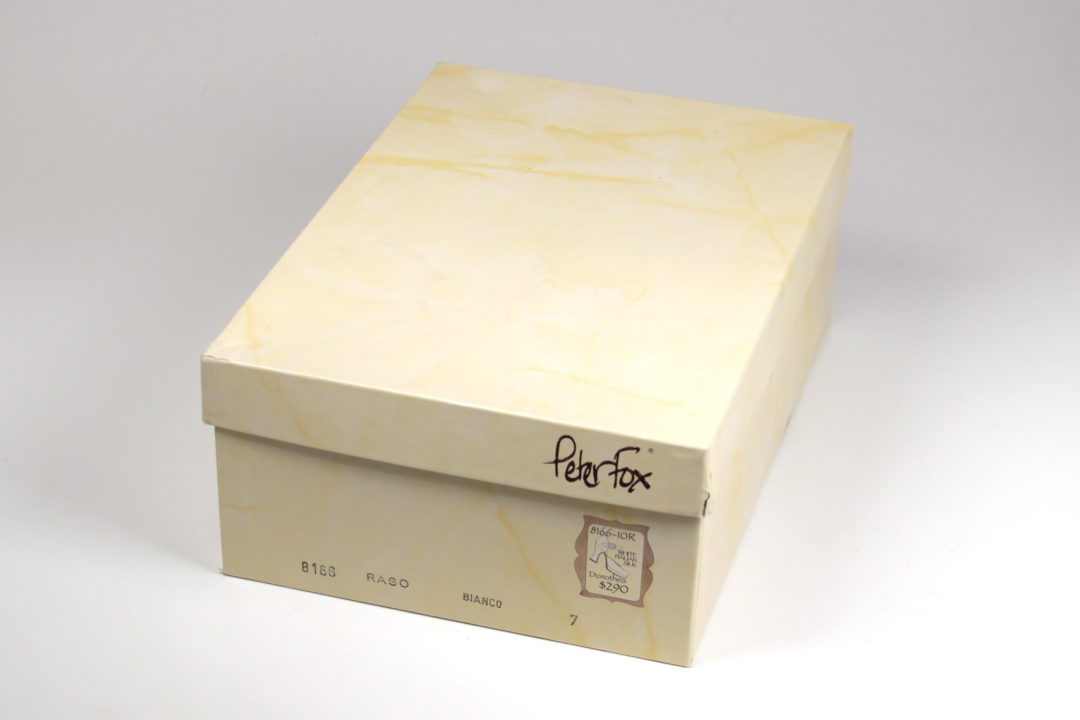 For this outfit, Dame Vaako wears her hair in a long fishtail-style braid down her back. For DragonCon, I made a long braid from a synthetic wig, but it proved too heavy to wear for long periods of time and it never clipped in as well as I had hoped. When photographed from the front, the braid is not seen so I took it out for comfort and wore my hair tied back in a short ponytail. I plan to source a better braid for the next time I wear the costume.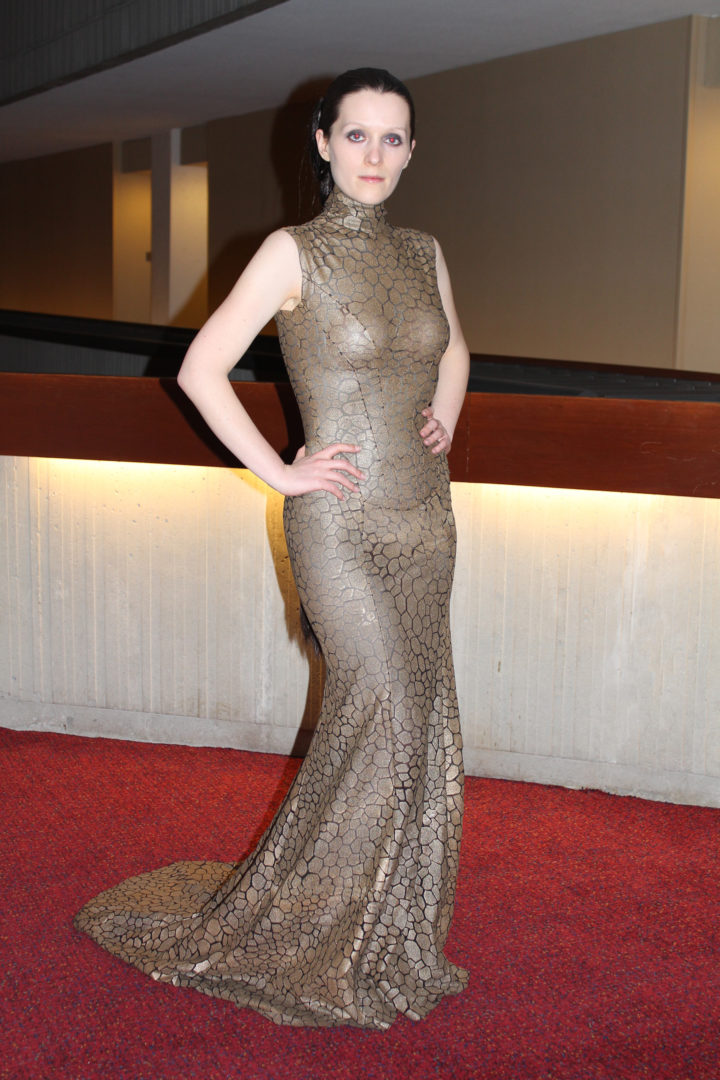 This outfit was a very exciting addition to our collection of The Chronicles Of Riddick costumes. The dress feels amazing to wear, and I love the train. I am so happy I took the chance and bought it! Now that Thandie Newton has appeared in Solo: A Star Wars Story, I own a costume worn by a Star Wars actress!
Worn at – DragonCon 2011.