Harley Quinn and Joker Costumes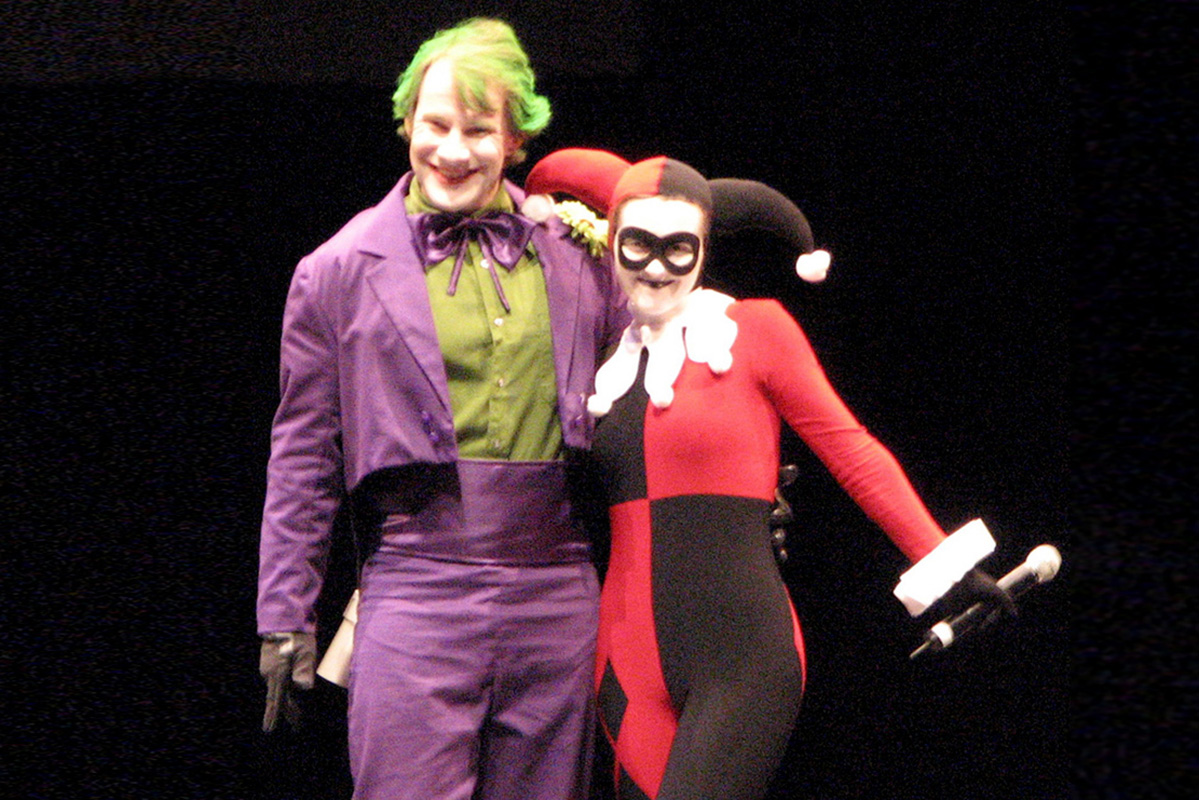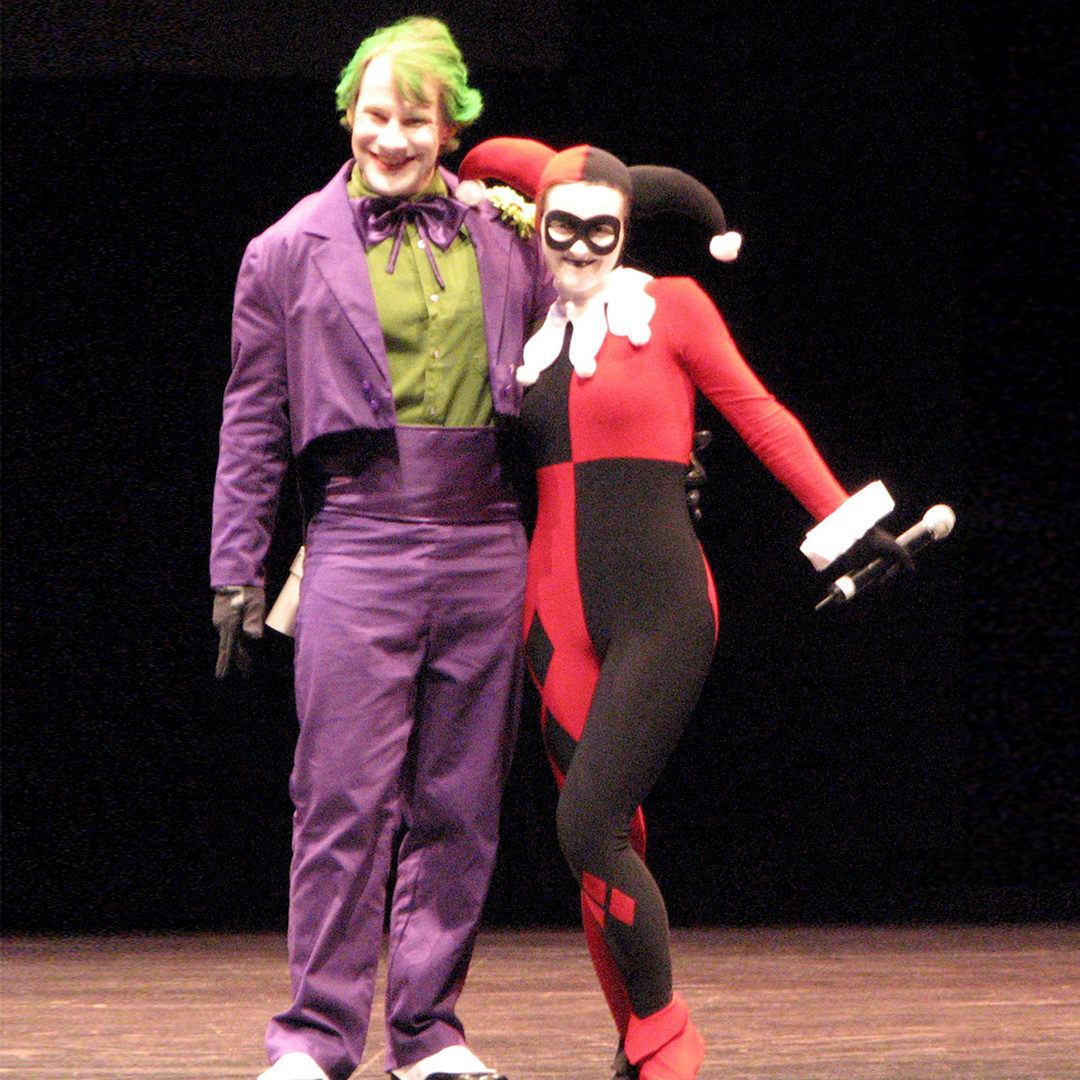 I don't remember how or when I became aware of Harley Quinn, but as a big Batman and Superman fan in my childhood, it was inevitable. She stuck in my mind, I loved her look, her personality – so of course when I got into cosplay, she was right at the top of my wish list.
Fast forward to 2007. Our local Armageddon Expo announced the line up of guests, which included none other than Harley Quinn's co-creator Bruce Timm. Well, I was not going to miss out on an opportunity to meet him and get my Harley Quinn comics signed – so why not dress up as well?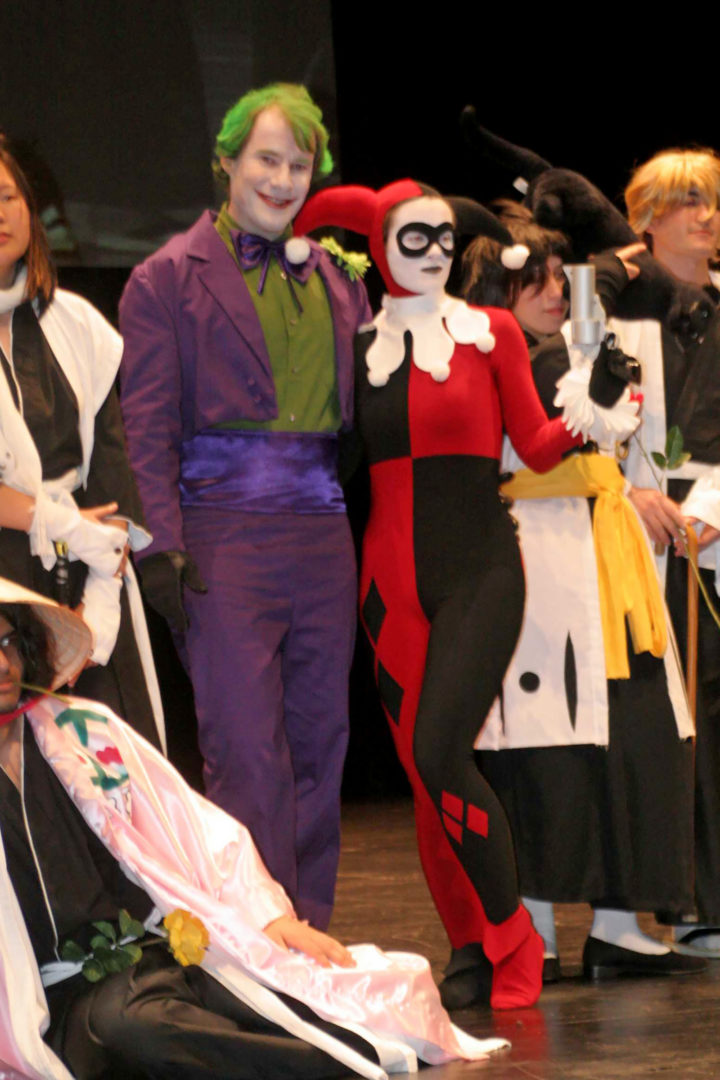 I was still quite new to cosplay and sewing at this time. I had only sewn three costumes since I first started cosplaying in 2004 – a Jedi Knight, Padme' Amidala's lake dress, and Barriss Offee.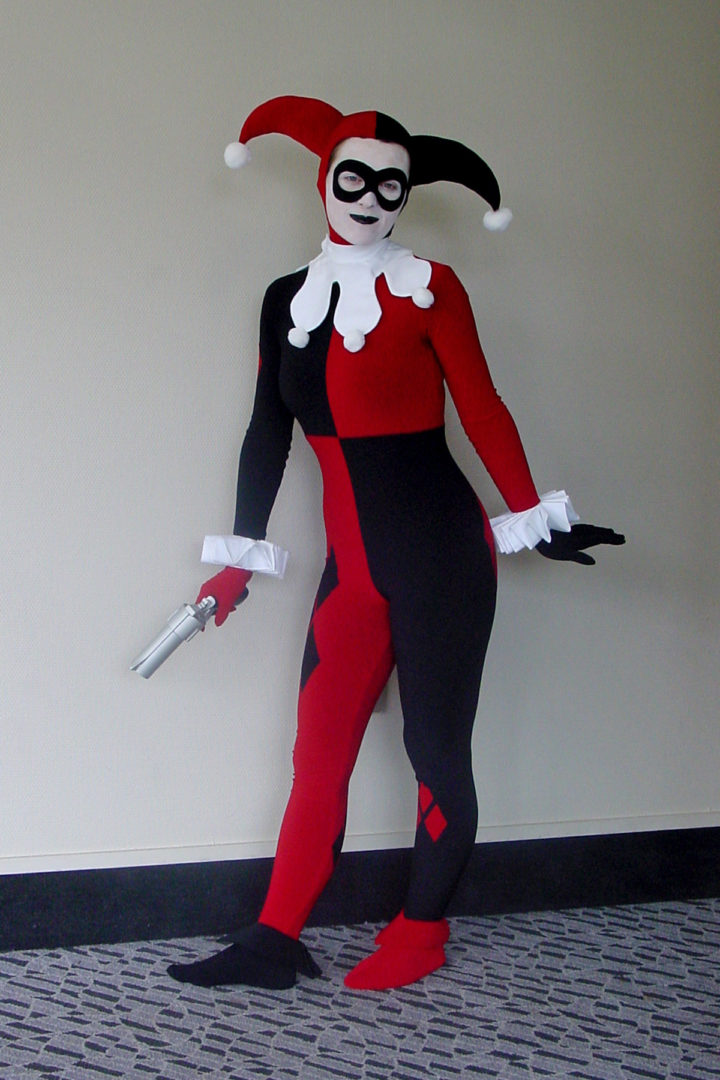 Here's my original description of how I made my Harley Quinn costume –
Black Lycra undersuit –
For hiding undergarments, and just giving a 'smooth' finish to the costume. I used Kwik Sew 3052, a pretty good pattern that needed only minor changes to fit me better. I used Nylon lycra, with a small zip in the back.
Black and Red bodysuit –
Again I used Kwik Sew 3052 – it was well suited for Harley Quinn because of the front seam. I ended up making it from the 'bottom up', with black and red 'Manhattan knit' fabric. I sewed it up with the bottom colours being right, then worked out where the cross seam would sit on me, then cut it at that point, then sewed the top up in the correct opposite colours, then sewed the two halves together and added sleeves. The diamonds were carefully cut out and applied with 3M spray adhesive – this held incredibly well, allowed the two layers to stretch together and meant I didn't have to sit for hours handsewing them all on! The bodysuit does up with a small zip at the back.
Red and black gloves –
I knew because of the red, I couldn't just buy red and black gloves – the colours wouldn't match, and it's pretty hard to find red gloves that aren't satin. I tried using a Vogue glove pattern, but my hands are too small. Instead of spending ages adapting the pattern, I simply traced around my hands and sewed them out of my manhattan knit – worked well.
White Collar –
Spent a while drawing squiggly shapes on newsprint and holding it around my neck in the mirror. Just a progress of seeing what looks right in terms of shape and size. It took a while, but I'm very happy with the shape. I originally planned to make it from white satin, but it didn't sit flat at all – so I used a white cotton drill. It ironed completely flat, and looked great. It is made as two identical shapes – front and back, sewed together across one shoulder, and it closes shut on the other shoulder with little snaps. I hand sewed small pom poms I bought to each 'squiggle'. To finish I sewed a small strip around the inside neck so it would form a little collar around the neck.
White writst cuffs –
I took a strip of white cotton drill and sewed it into a tube inside out – this fitted exactly around my wrist. I then did the same with a really long strip – and sewed it in a zig zag onto the small wrist band. This took some time to do with my machine, but I love how it turned out. They dome close around my wrist with little snaps.
Black and Red soft boots –
These took me ages. I originally tried to make them from vinyl then cover them with my bodysuit fabric, but the vinyl sat horribly. In the end I cut 2 'v' shapes out of vinyl, and covered them with the red and black fabric – they dome closed around my ankles, as a separate piece to the boots. The boots are basically pointy toed socks made in three parts – sole, top right and top left. I cut the sole again out of vinyl and placed this inside the sock to give some flatness to the shape. It all worked surprisingly well.
Red and Black hood –
One of the most important aspects of this costume for me was getting her hood right. I already had a basic hood shape (from my Barriss Offee costume), but Harley's had to fit tigher, and has a 'flat top' to the face opening. It took a few tries, but I got a shaped that worked well enough (I didn't get the 'squarish' angles around the face that I wanted, but it looks okay). The ears were sewn up like cones seperately, stuffed with polyester toy fill and hand sewn onto the hood – took help to get the placement right. The pom poms were slightly larger than the ones on the collar, and hand sewn onto the ends.
Accessories –
For her mask I bough a cheap white plastic face mask, cut it to a more correct shape. I stretched the black manhattan fabric over it, and glued it in place, folding it over the edges. I used thin clear beading elastic to hold it in place. Kryolan white makeup and black lipstick finish it off.
Worn at – Armageddon Expo Auckland 2007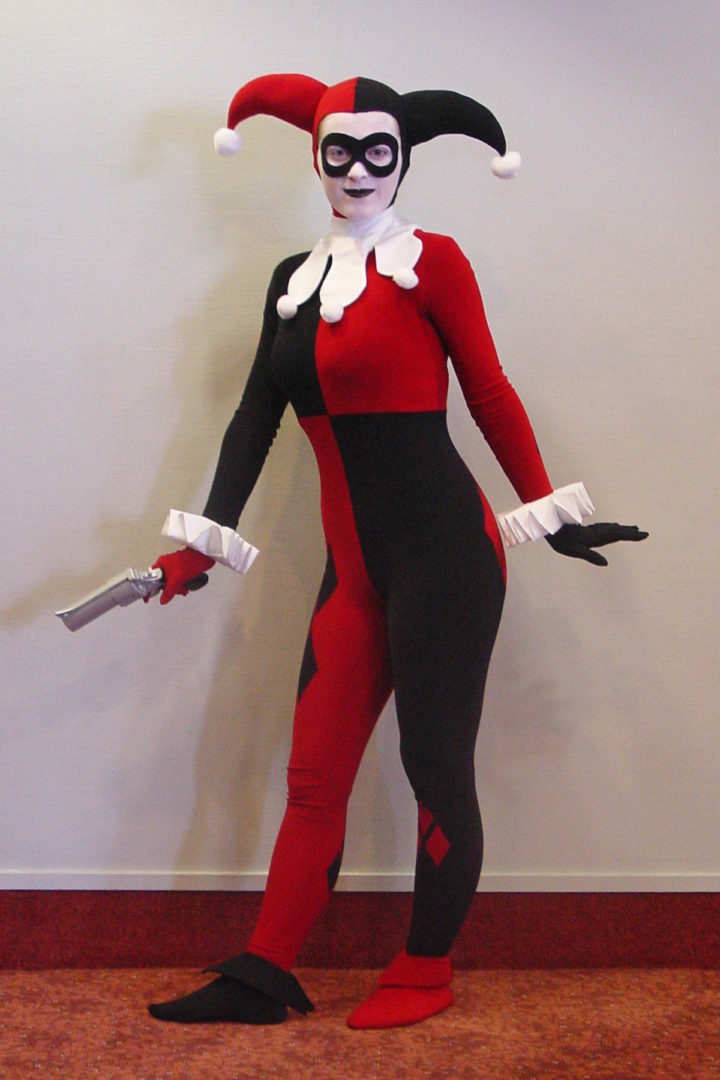 Matt made Harley's over-sized gun for me. The handle part is from a cheap toy gun but the barrel etc is made from pvc pipe and styrene. He then sprayed it silver, and hand painted the grip black. It looks great, and I found it so much easier to pose with a prop to hold.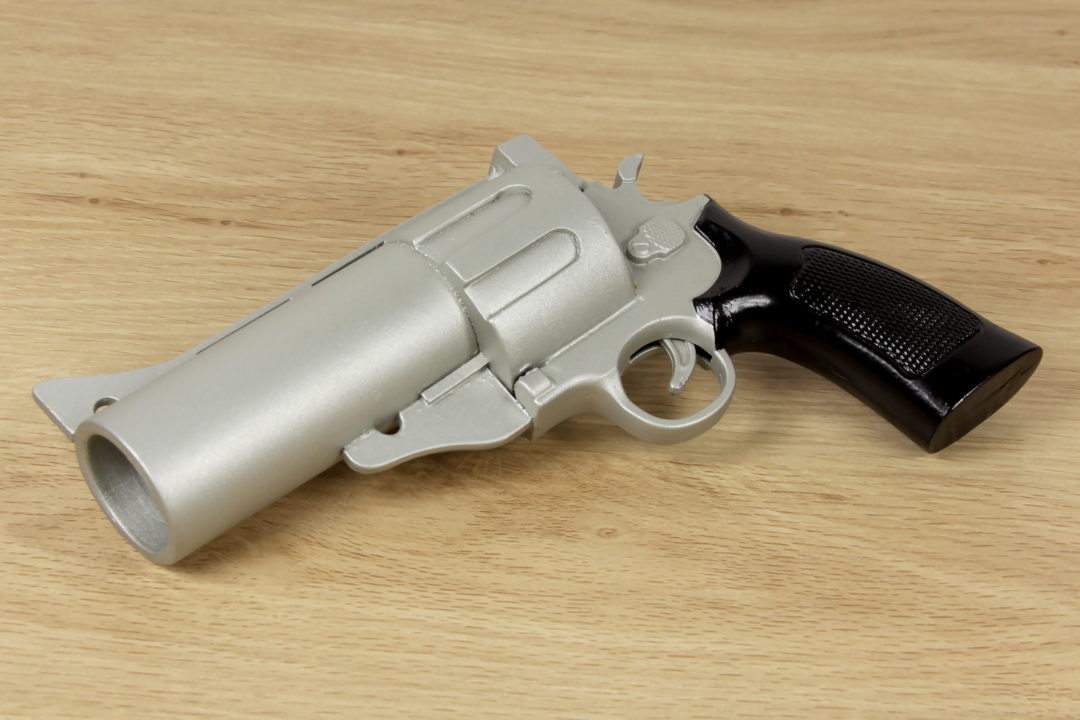 I had the crazy notion of performing a skit for the cosplay competition. I had been watching the Batman animated series episodes with Harley Quinn in them on repeat, for costume reference, so hearing her voice all the time, I thought I might be able to perform as Harley on stage… yikes! I think back and wonder how on earth I had that idea and courage!
To complete my 'Mad Love' skit idea, we made one more prop – the Joker's 'Death Of A 100 Smiles' blueprint. We bought an A3 sheet of blue card stock, and Matt hand-drew the blueprint using a screenshot as reference. After nearly 13 years, we still have this simple prop stored safely away.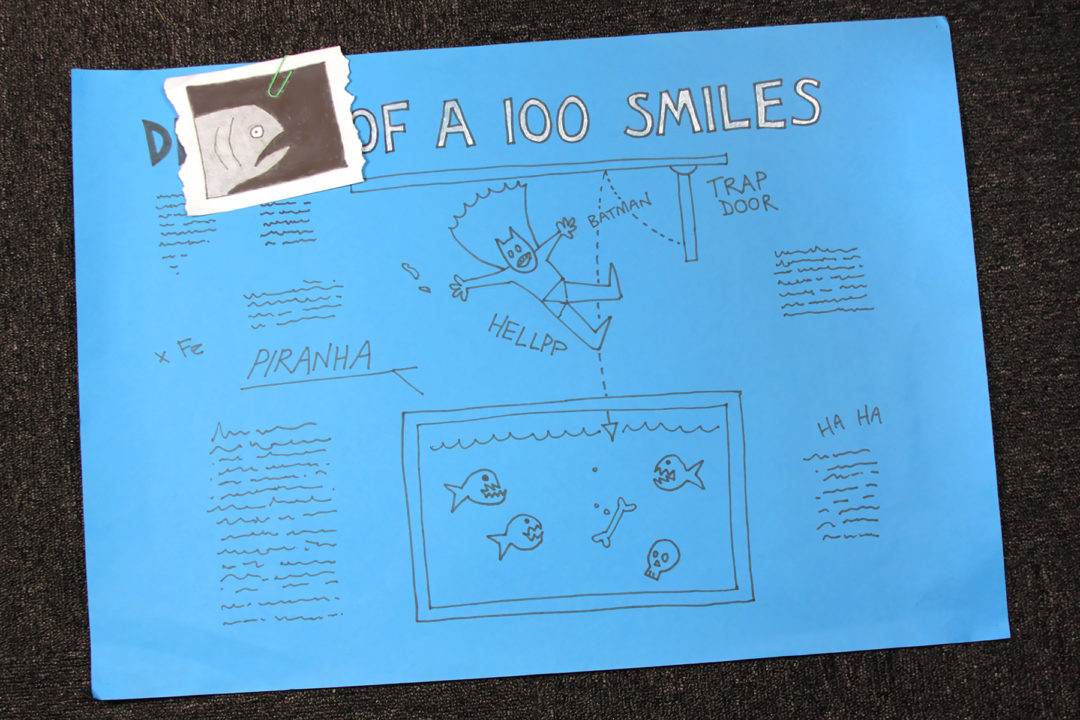 I wish I took more photos during the construction process, but rushing to get the two costumes finished in time, I only took a couple of quick progress photos. I'm still amazed it all came together in time, and I had such a great day in costume at the convention.
I didn't really figure out too many poses for Harley Quinn, so I stood the same way in most of our photos that day. That's okay, I love the photos we got, and cosplay photography wasn't the same back in 2007! The photos we took are great memories from an awesome day.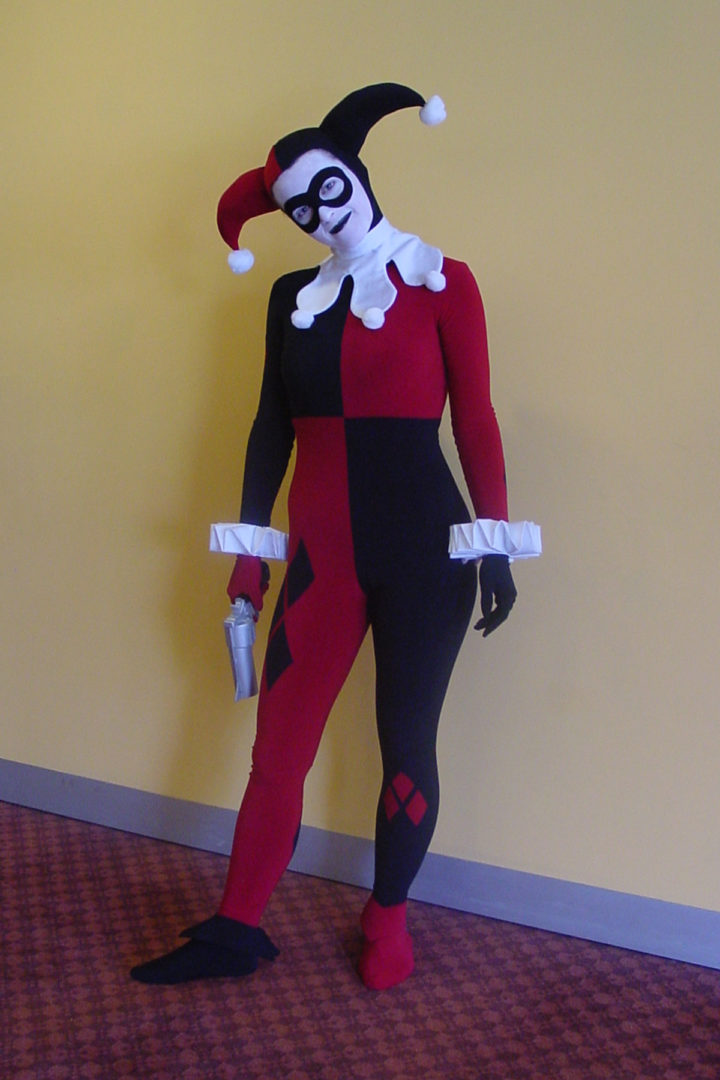 I love Matt so much for being the Joker to my Harley Quinn. We were still newlyweds at the time, but he grew his hair long for me and let me dress him up as the Joker. It felt so romantic to spend the day in our 'Mad Love' cosplay – something different to our usual Jedi and Stormtrooper costumes.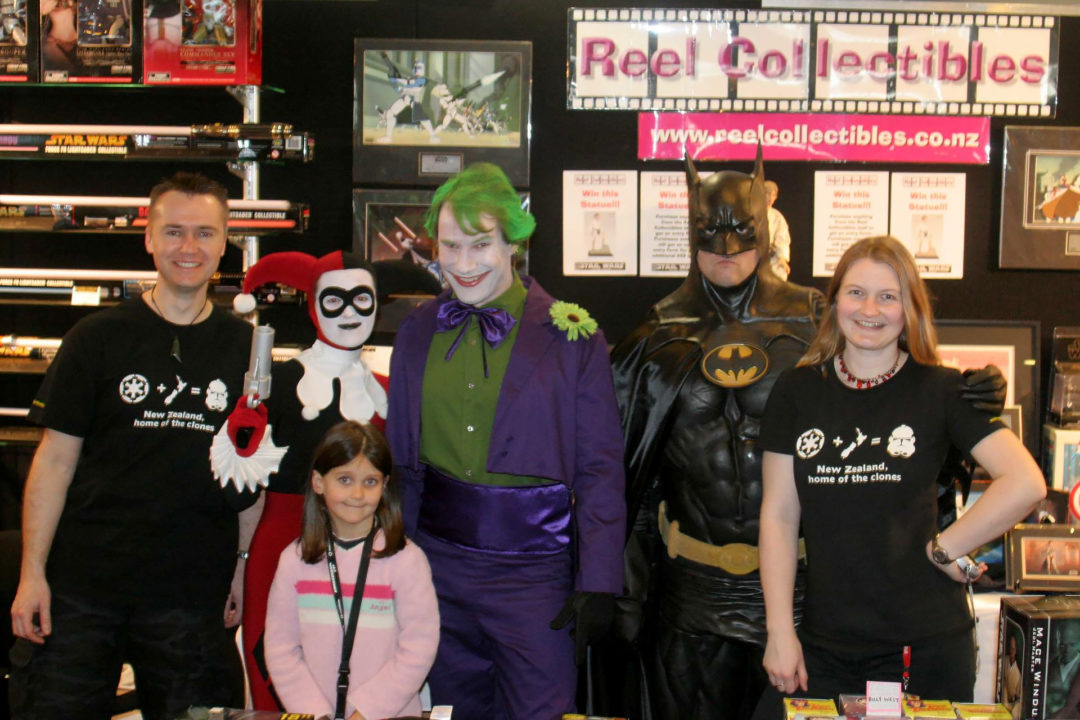 I had so much fun being Harley Quinn all day, it really helped going into the cosplay competition that afternoon. With just a quick run down with Matt of what I needed him to do for the skit, we headed into our performance.
The winners were announced later that day – and to my honest absolute surprise, we won Best In Show! I had put so much work into our costumes for the love of the characters, so it was just the most amazing bonus!
I learnt a lot about sewing these costumes, and someday I hope to remake my Harley Quinn classic costume, so I can improve on all the areas where I was still learning sewing techniques.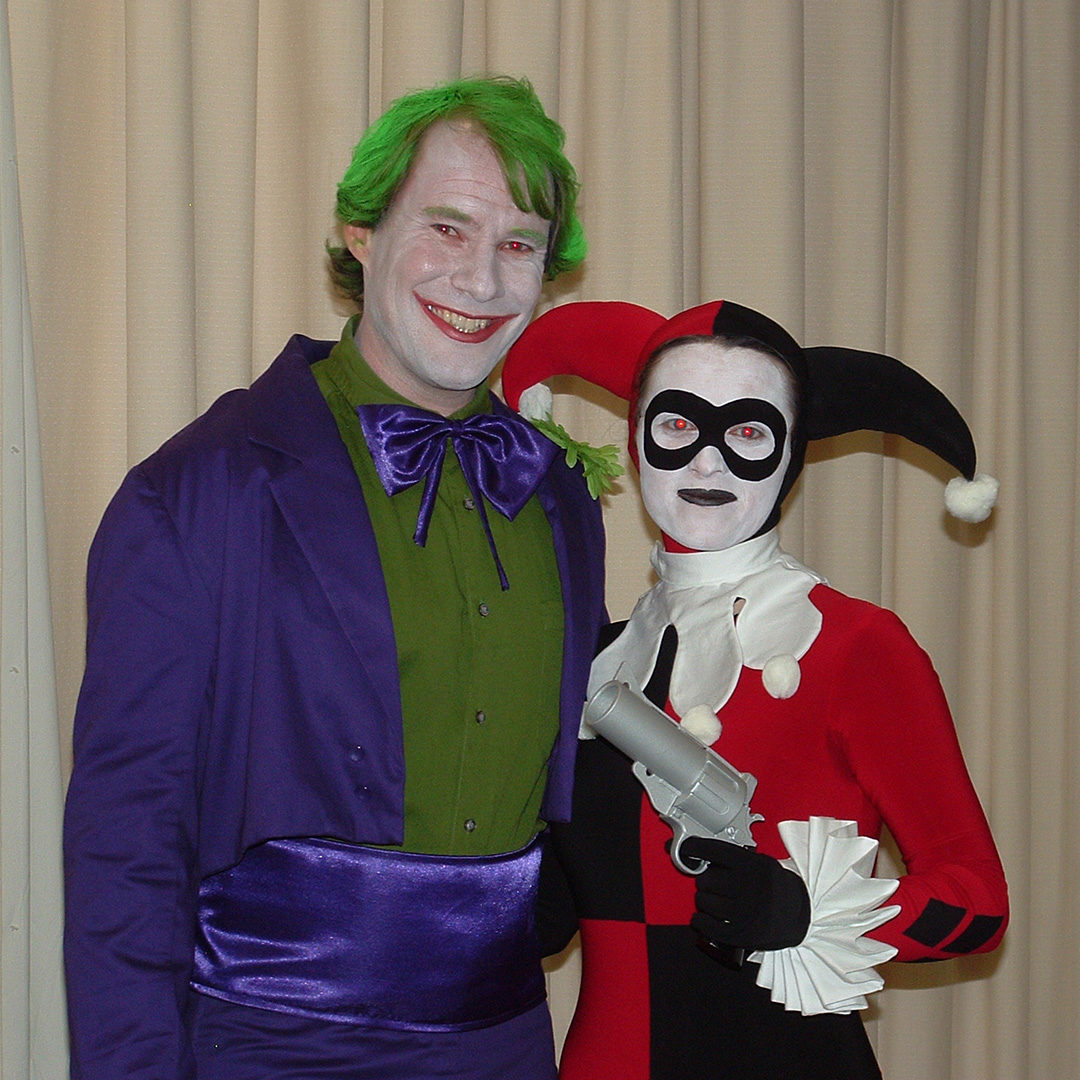 It was so exciting to finally meet Bruce Timm in my Harley Quinn costume. I was so shy – I'm sure he meets scores of Harley Quinn cosplayers every year, and I was such a novice seamstress, but it was a dream come true.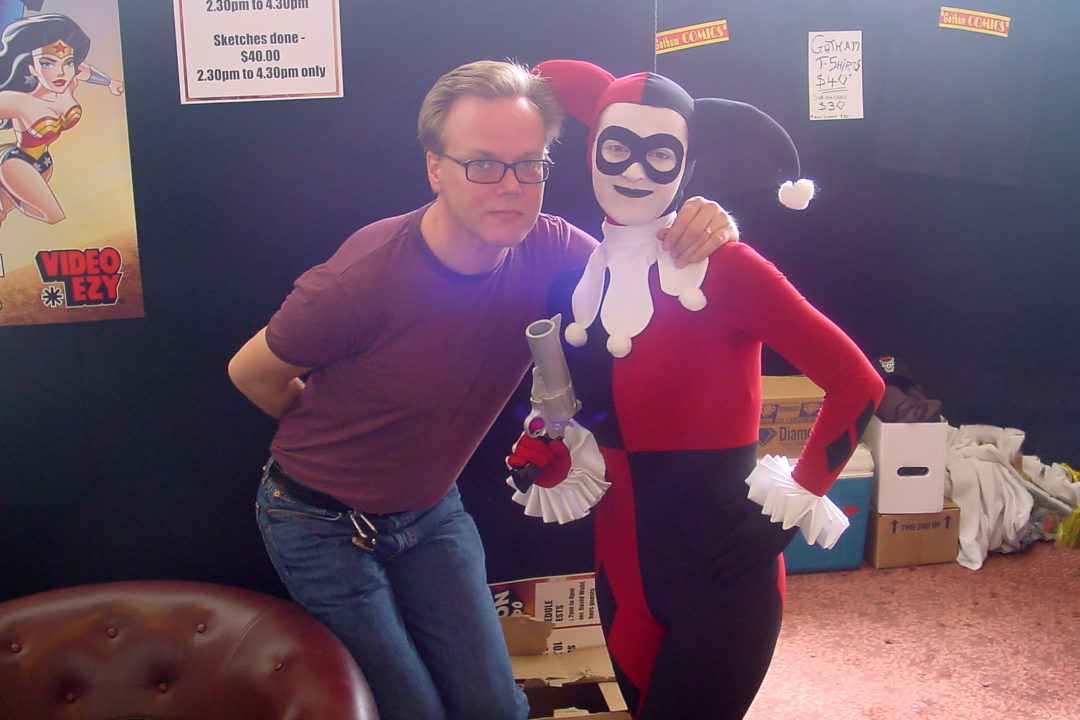 I took along two of my favourite Harley Quinn comic books to get signed – with Bruce Timm cover art of course! His 'Mad Love' cover is still one of my all-time favourite Harley Quinn artworks, it was such a dream come true to get them signed in person!