Couture Kingdom N-1 Starfighter Jewelry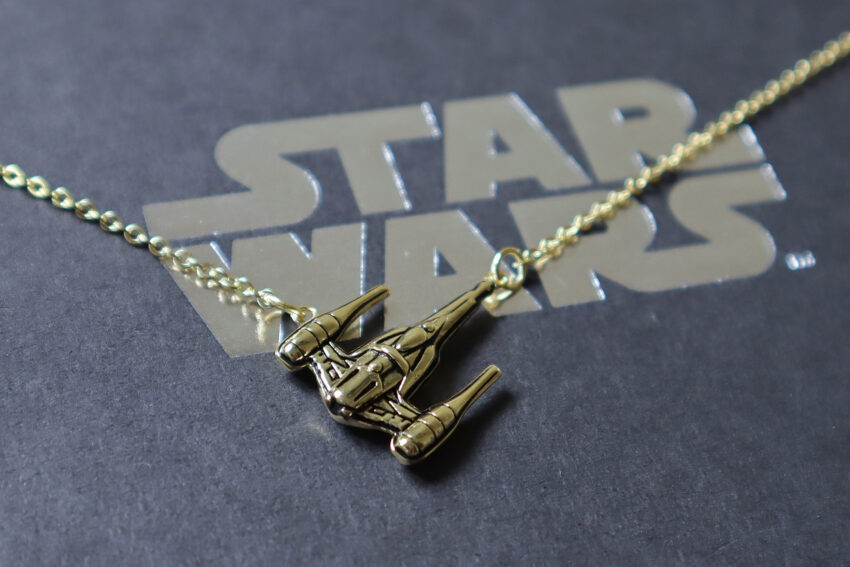 Today's unboxing and review features N-1 Starfighter jewelry! I like to collect Star Wars jewelry, I wear it all the time, so I'm always looking out for new and fun designs to add to my collection. These Naboo Starfighter designs are just gorgeous, I knew I had to have them!
Check out my unboxing video –
I have quite a pieces of Star Wars jewelry from Couture Kingdom, which I love, so I keep an eye on their new releases. As part of a new collection inspired by The Mandalorian, they just released a necklace and matching stud earrings featuring the N-1 Starfighter. I love the N-1 Starfighter, but it doesn't show up in merchandise much, especially jewelry. Star Wars ships show up a lot in jewelry designs, especially the Millennium Falcon, TIE Fighters, and X-Wing Fighters, but not much else featuring the other cool starships. So of course I had to get these!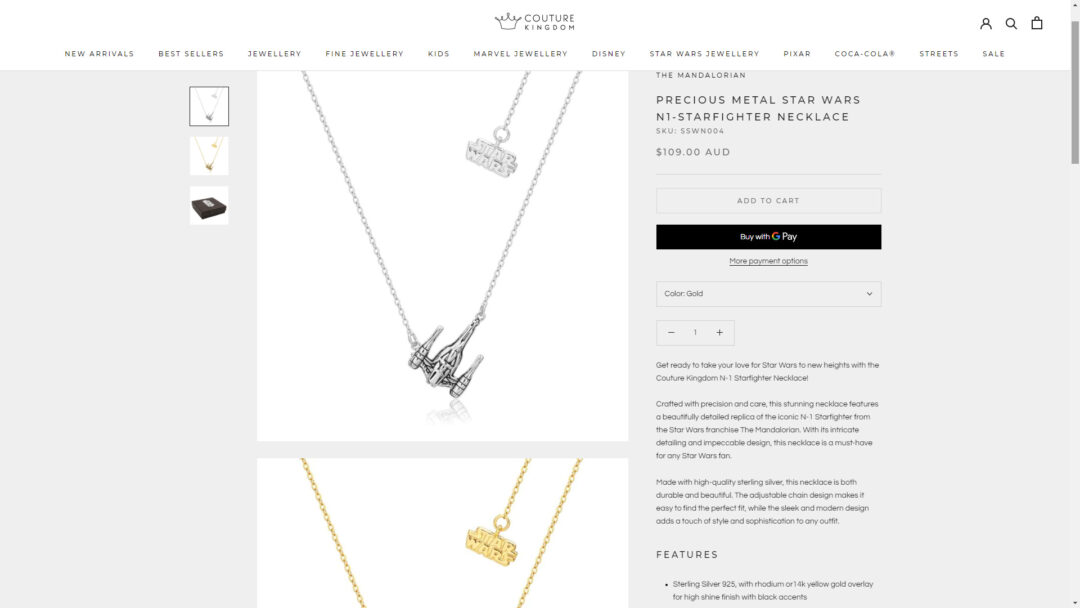 The necklace description from the Couture Kingdom website –
Get ready to take your love for Star Wars to new heights with the Couture Kingdom N-1 Starfighter Necklace!

Crafted with precision and care, this stunning necklace features a beautifully detailed replica of the iconic N-1 Starfighter from the Star Wars franchise The Mandalorian. With its intricate detailing and impeccable design, this necklace is a must-have for any Star Wars fan.

Made with high-quality sterling silver, this necklace is both durable and beautiful. The adjustable chain design makes it easy to find the perfect fit, while the sleek and modern design adds a touch of style and sophistication to any outfit.
The website notes that this jewelry is made from Sterling Silver 925, with rhodium or14k yellow gold overlay – so you can choose from either a silver-tone rhodium finish or yellow gold finish. I had a hard time deciding which version I liked – Din Djarin's N-1 Starfighter in The Mandalorian has a silver-tone finish, but the N-1 Starfighters in The Phantom Menace are yellow. In the end, I decided to get the yellow gold versions first, as there is just not as much prequel-themed jewelry available, and I'm sure I'll be back soon to get the silver-toned versions as well!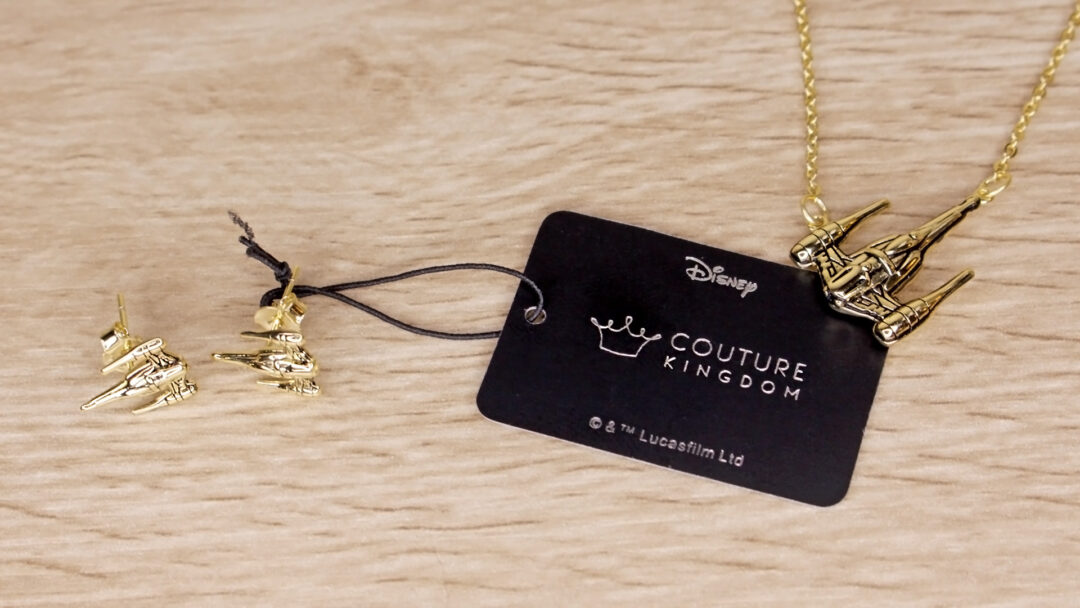 First up, a quick note – my order qualified for free shipping, which is always nice. To my surprise, my order arrived in less than 24 hours from Australia! I know New Zealand is pretty close to Australia, but even domestic shipping tends to take a few days, so I was expecting to wait at least a week for these to arrive. It was so exciting to get up the next day, check the mail, and open up my brand new Star Wars jewelry.
These designs are gorgeous! I'm so glad I went with the yellow gold – it is such a beautiful finish, accented with black antiquing to really highlight the details.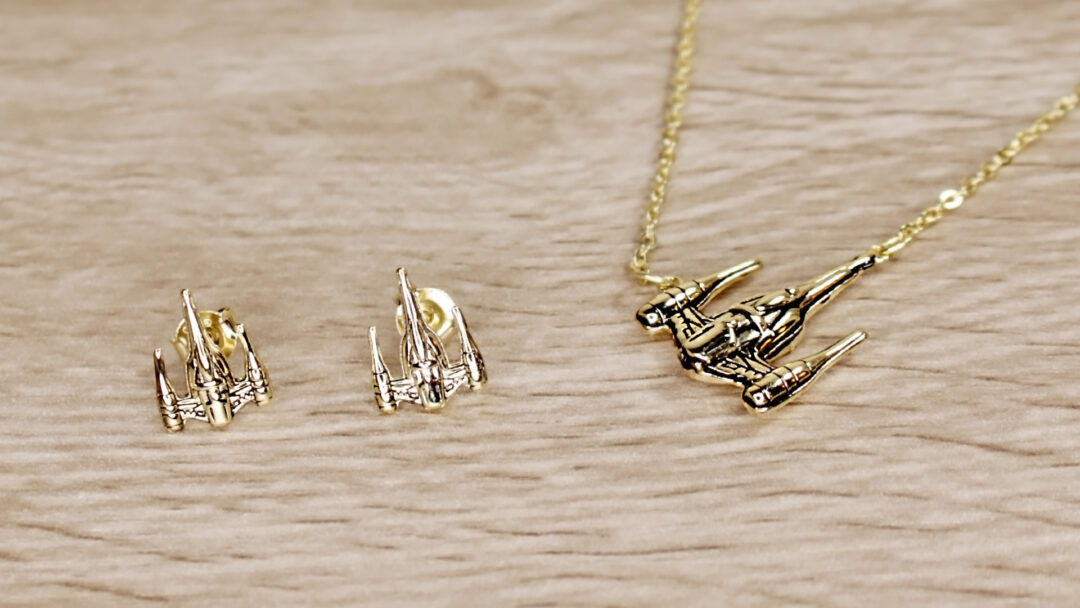 Of course I wanted the set, but if I could only pick one, the necklace would be my favourite. The necklace is just so beautiful, and a lovely size for everyday wear. The pendant reads really well as a Naboo Starfighter, Star Wars fans can instantly recognise it.
The pendant is part of the chain, attached at two points, rather than hanging off the chain with a singular ring attachment. I quite like this style of necklace – I find it doesn't swing around as much when wearing, and it stops the pendant from flipping over to the reverse side, which is often blank (the back of this pendant is flat and smooth, so it sits comfortably against the skin).
The website notes the necklace is 55cm, with a pendant length of 22mm.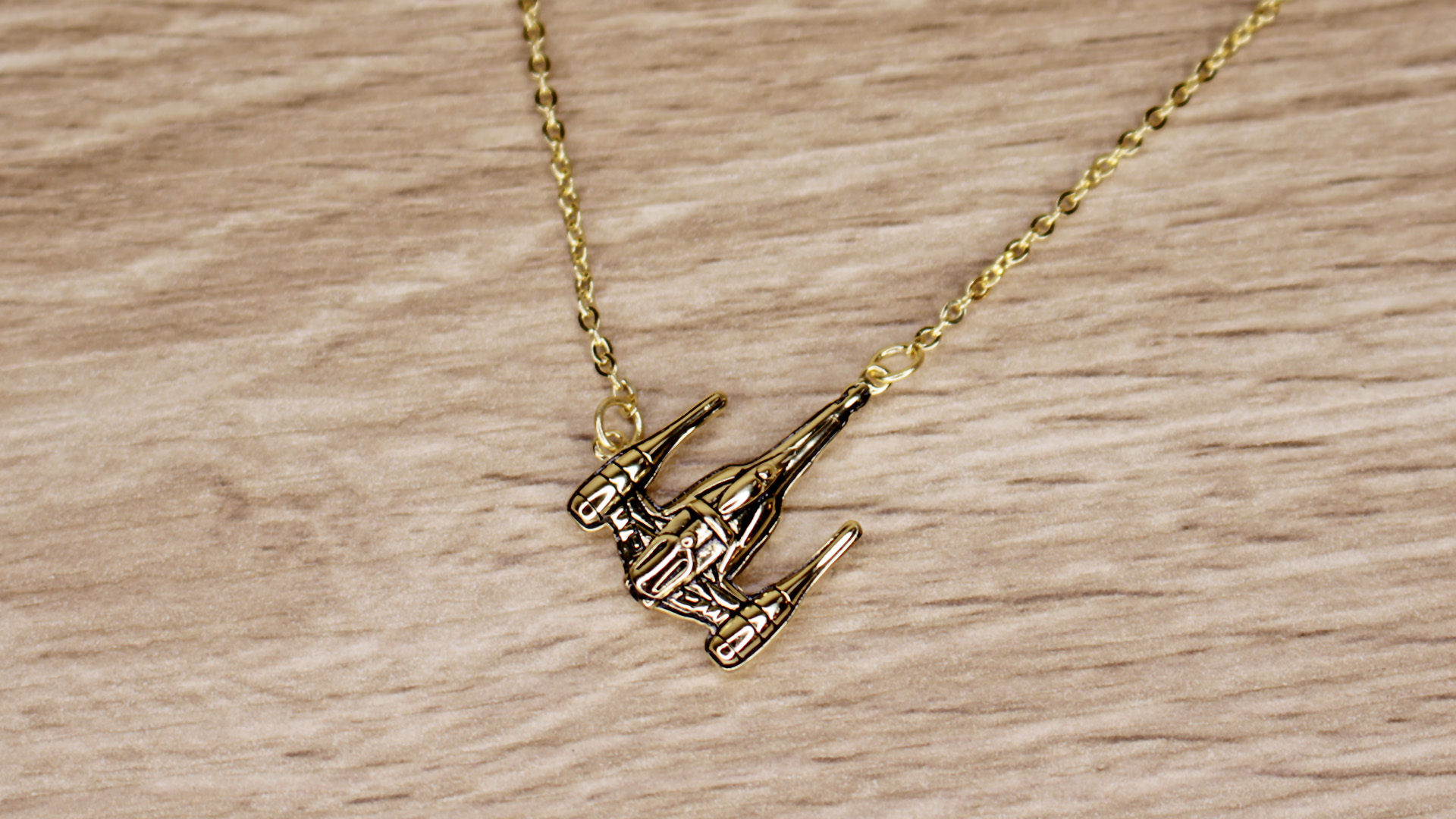 The stud earrings are a lovely size – large enough to have good design detail, but not too big as to be uncomfortable to wear. They have a good post length, and classic 'butterfly' style backings, so they should stay put well when wearing. Personally, my ears get irritated with plastic backings, so I'm always happy to see earrings with metal butterfly backings – I know I can wear those all day without any issues.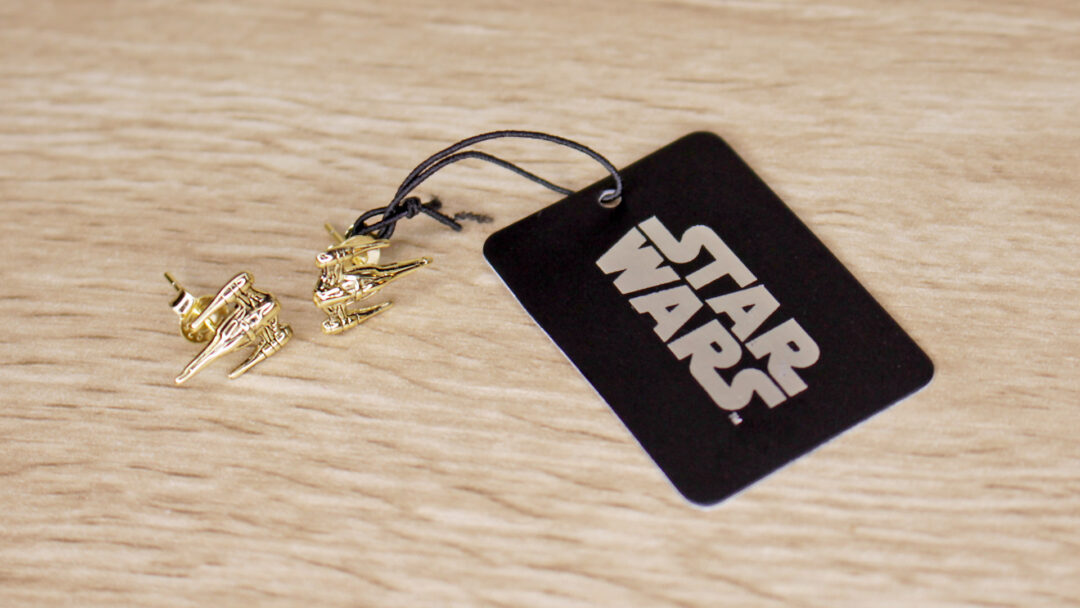 I am so happy to add these beautiful N-1 Starfighter pieces to my Star Wars jewelry collection. While I know these are part of The Mandalorian collection and aren't technically from The Phantom Menace, I am always excited to see Naboo-inspired anything these days! Also, Padme' Amidala is flying a N-1 Starfighter when she arrives on Coruscant at the beginning of Attack Of The Clones, and I love anything and everything Padme' related. I know these are going to be wearing these a lot!
May the Force be with you!