Micro Galaxy Squadron – Sabine Wren's TIE Fighter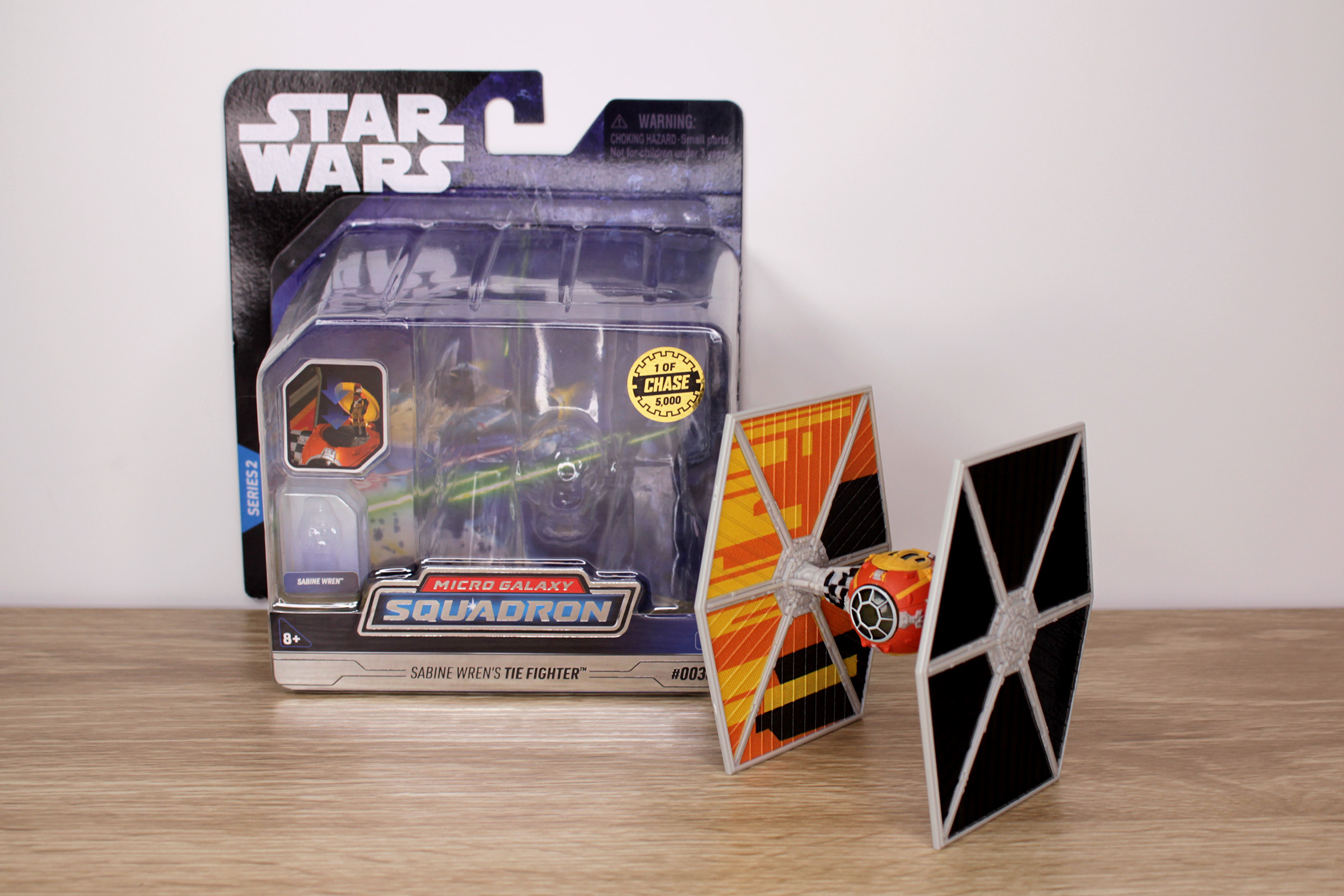 Today's unboxing and review features Sabine Wren's TIE Fighter from the Micro Galaxy Squadron collection. We are big fans of this range of scaled Star Wars vehicles and would love to add as many as we can to our collection.
I wanted this TIE Fighter variant from the moment I saw it, but my hopes dropped when I saw it was one of the hard to find 5,000 chase variants. You should have seen my face when I spotted this one hanging on the rack at my local toy store – I grabbed it so fast. I still can't believe we found this one locally, and only paid retail for it, the Force was with us that day!
The assortment number for this pack is SWJ0012-091922-TM.
Check out my full unboxing video –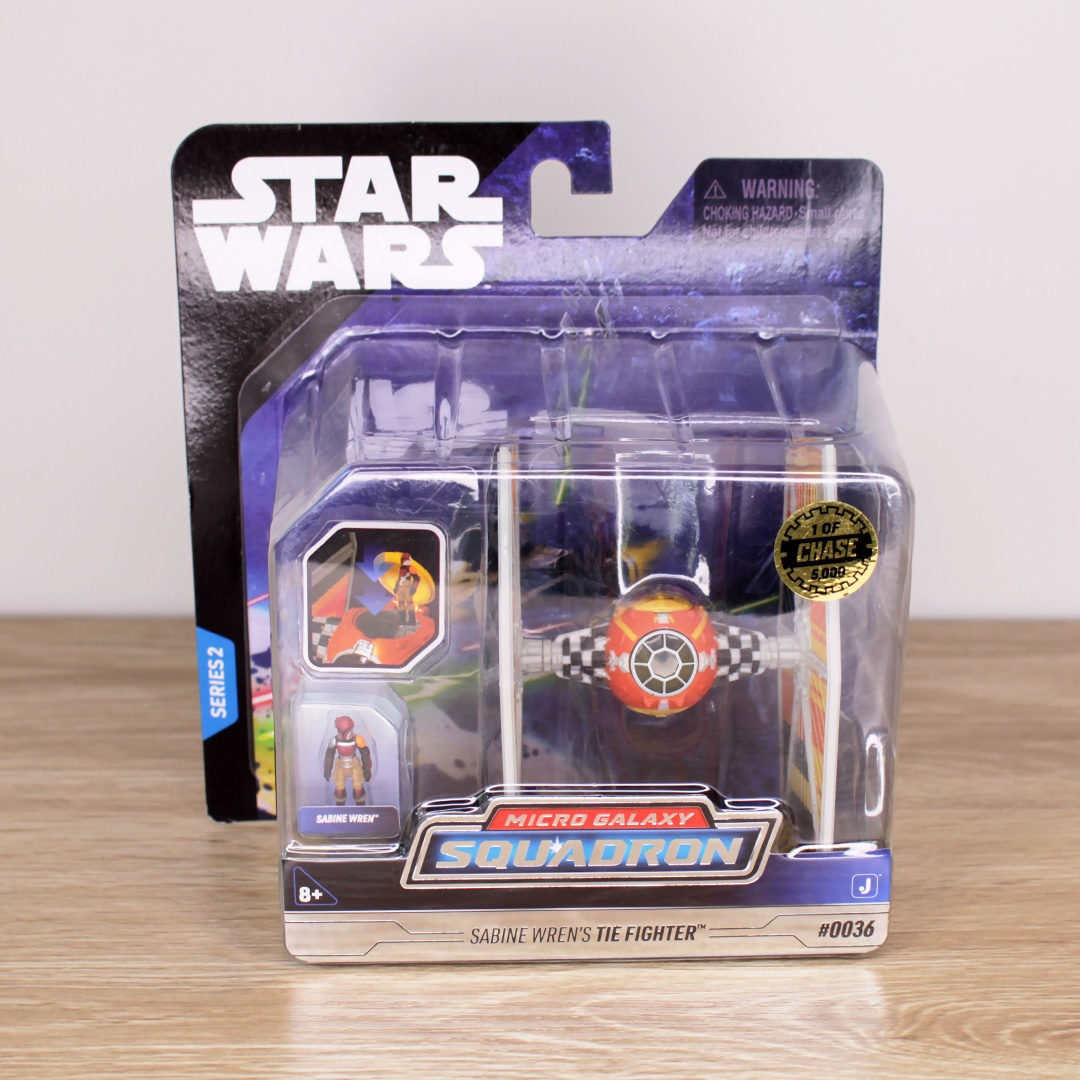 The packaging for this 'light armor class' vehicle is standard for this range – a big clear window bubble on a cardboard backing card. The lower front window insert has the name and number for this specific variant – Sabine Wren's TIE Fighter #0036. The bubble has a gold foil circle sticker noting that is a rare chase variant – 1 in 5,000.
The backing card has colourful space battle artwork behind the bubble (A-Wing vs TIE Fighters), while the back has a blueprint style image of the vehicle, a few insert shots of moveable parts, and a collectible card that you can cut out if you want to – I will be leaving my backing card intact.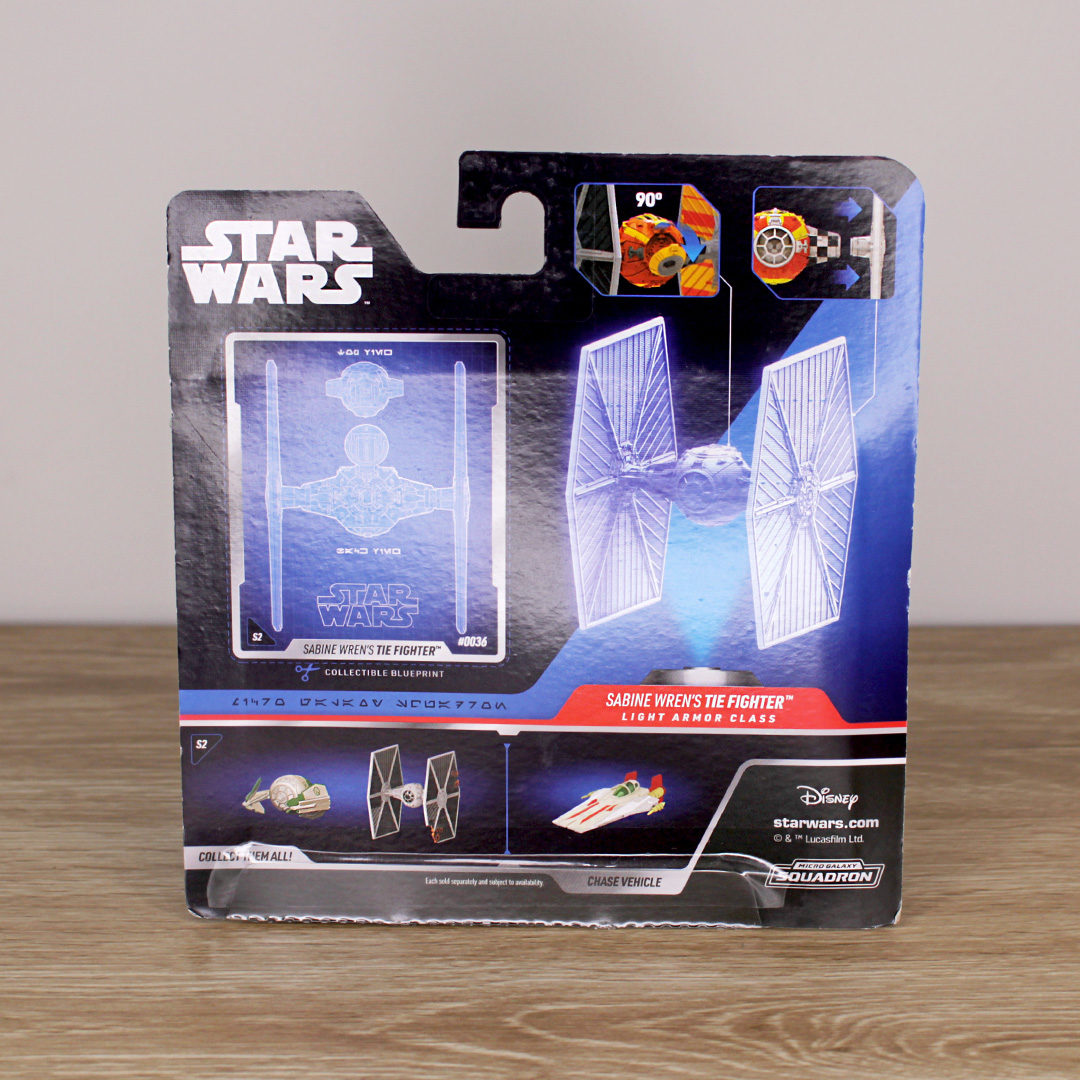 Sabine Wren's TIE fighter looks great in the packaging, but even better when you get it out. The bright orange and yellow paint scheme just sings, especially in contrast with the classic black and pale grey of the wings. It was such an iconic design from Rebels, I wish it was used more in merchandising – like the fun Republic Gunship paint jobs from both Clone Wars animated series.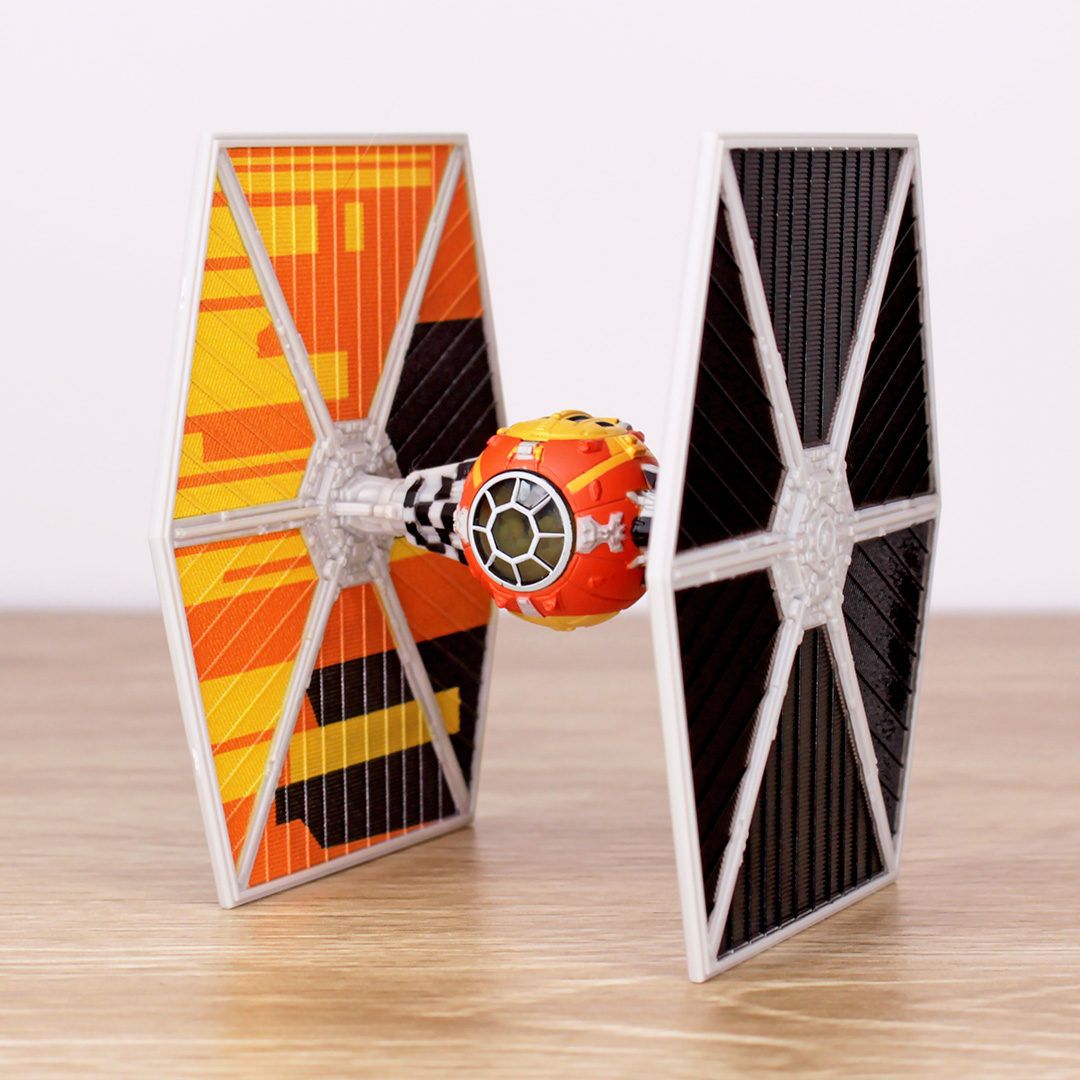 This colourful TIE Fighter is so fun, makes me wish I had a full size one to jump in and go racing – especially with that black and white checkerboard print. I have to admit I did fly this one around my living room making TIE Fighter noises…
The paint job is fairly accurate, especially when you consider the scale of this vehicle, and it looks right at home with the style of other painted vehicles in the Micro Galaxy Squadron range. Of course the TIE fighters in Rebels have a slightly different wing size/ratio than the TIE Fighters of the original trilogy films (which is the sculpt used here), but I understand why Jazwares wouldn't bother with a completely different vehicle sculpt. Not many people would notice or care about the subtle differences, and it looks fine, especially lined up with other TIE Fighter variants from the same range.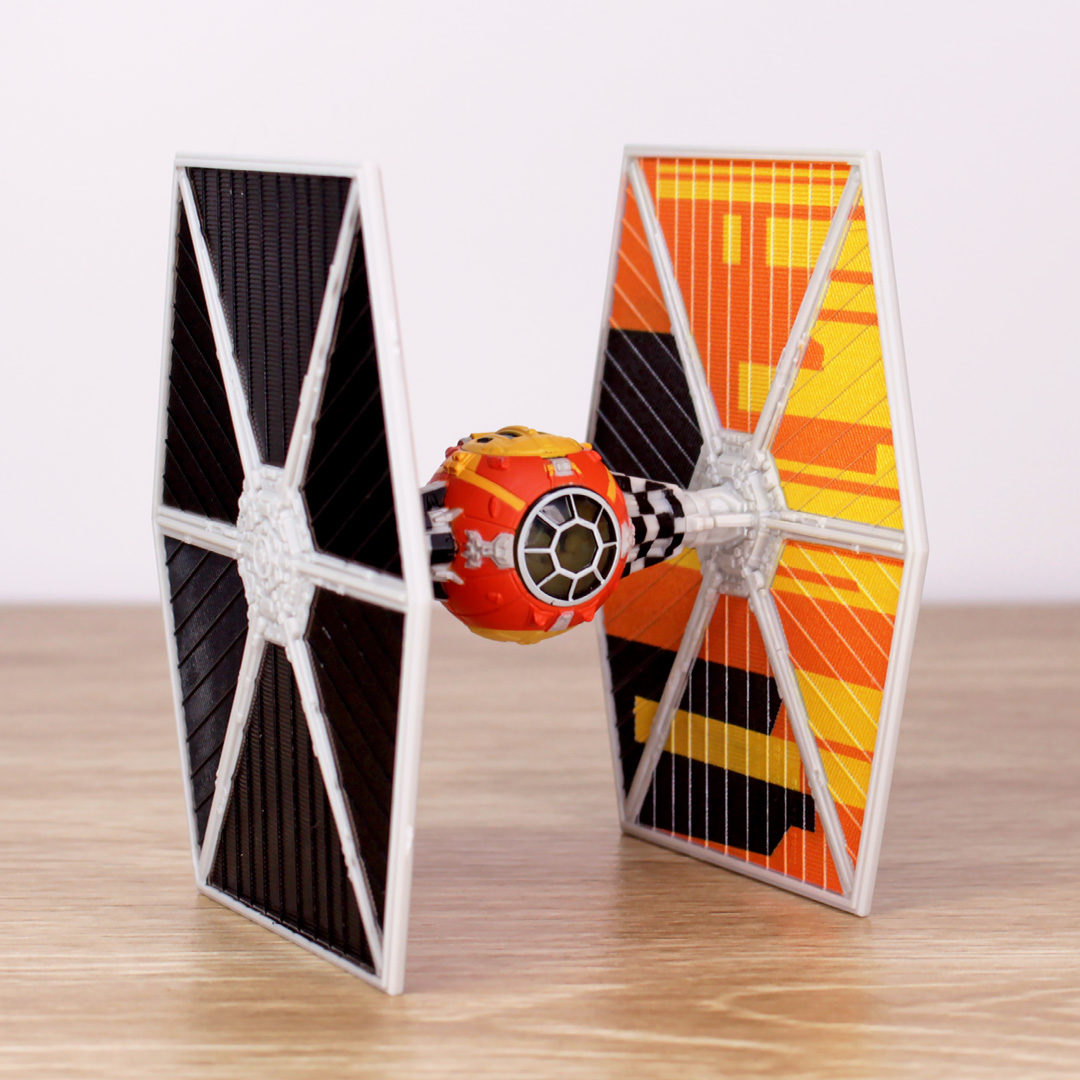 Sabine's custom paint scheme is confined to the inner wing panels, cockpit and arms – the outer wing surfaces are the standard TIE Fighter black and grey as seen in Rebels (which is a slightly different grey to the original trilogy film TIE fighters). The wings can be removed from the main body if you wish – a tight fit, the simple peg-and-hole attachment is nice and secure.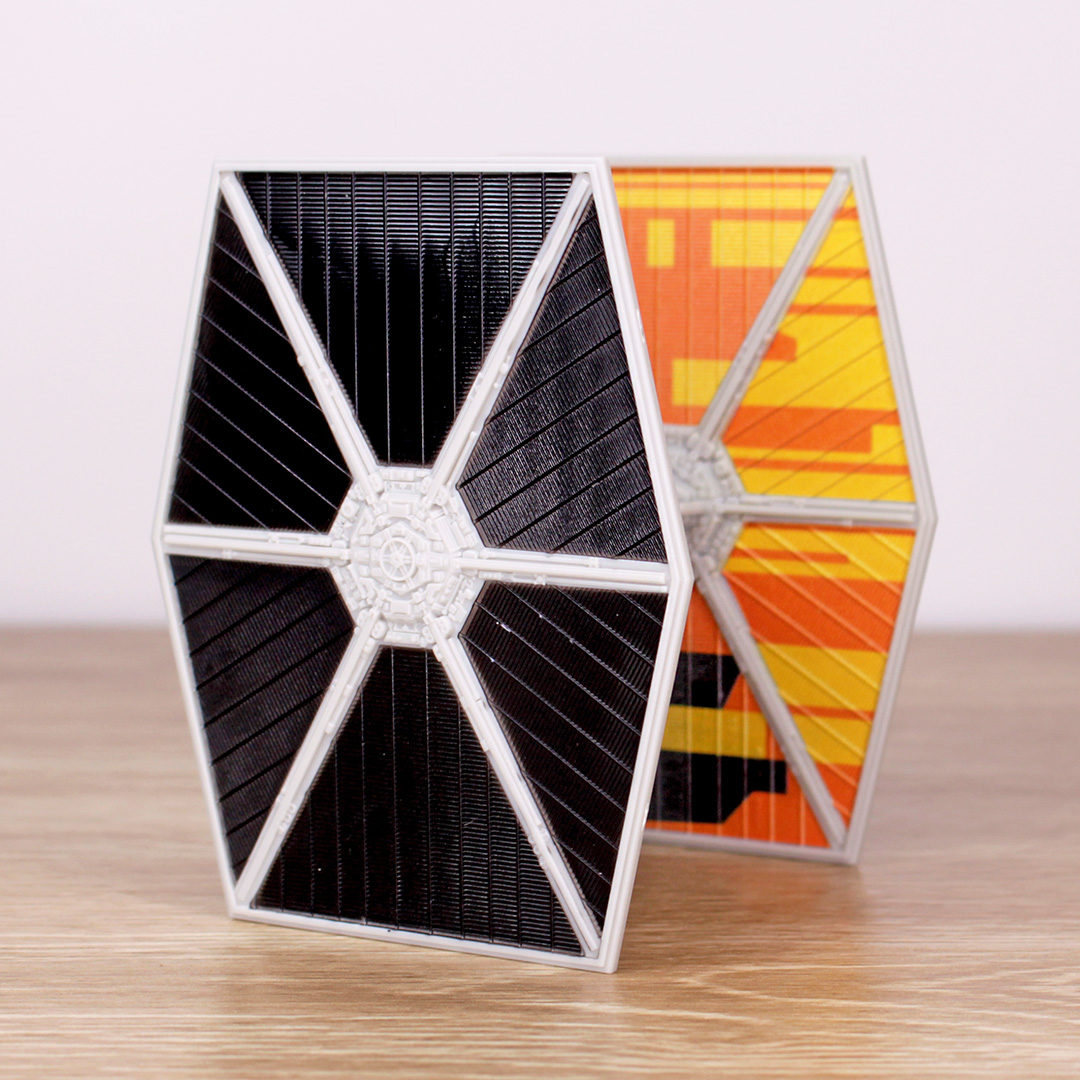 There is a push-button panel on the underside of the cockpit, which raises the inner seat section, so you can more easily get a figure out. A simple push-up mechanism, it doesn't fire the figure out James Bond ejection seat style or anything.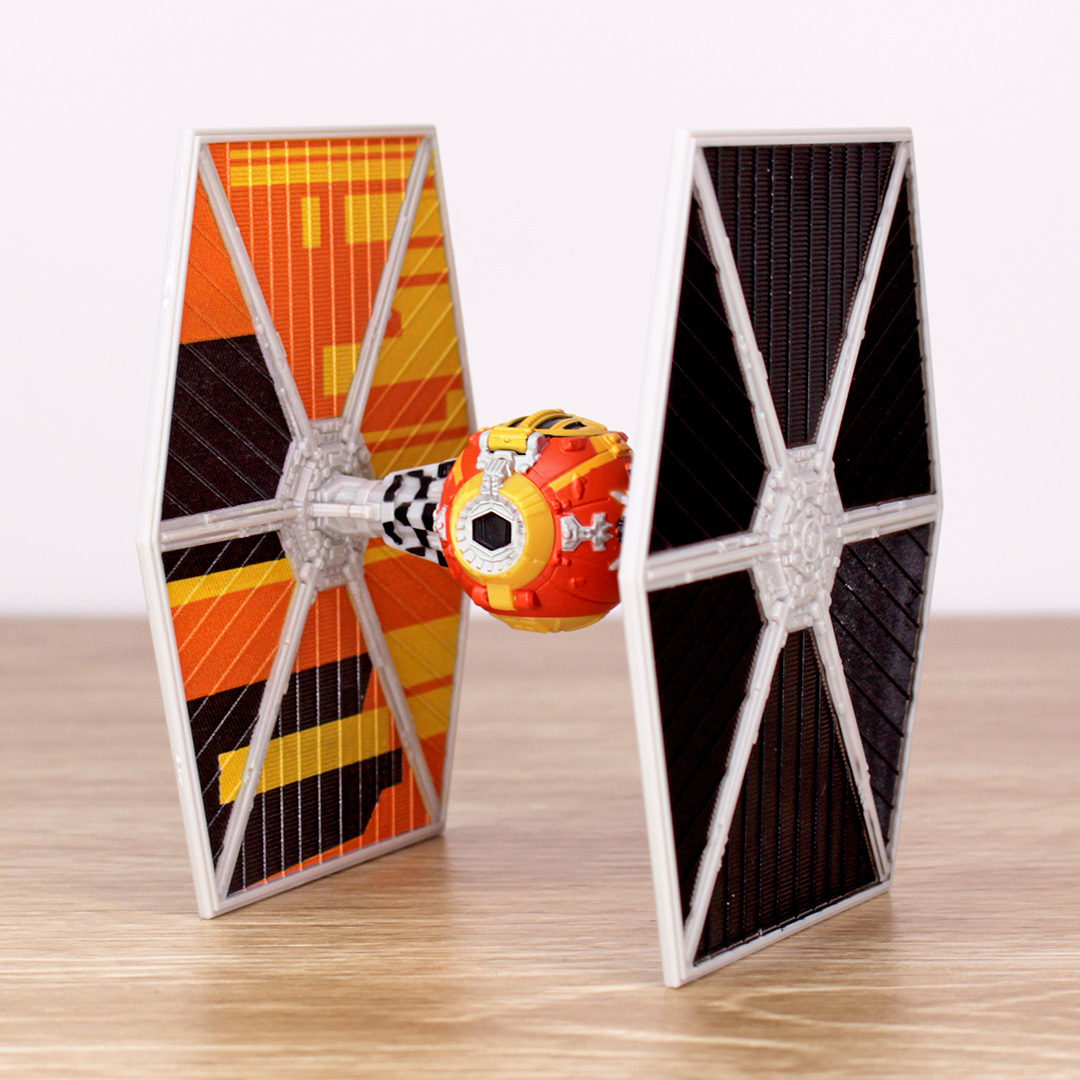 The back of the cockpit is also fully painted, and the checkboard print continues around the back as well. This vehicle has one of the most complex paint schemes in the Micro Galaxy Squadron range that I have seen in person (so far), and I am really impressed with how tidy it looks, even up close.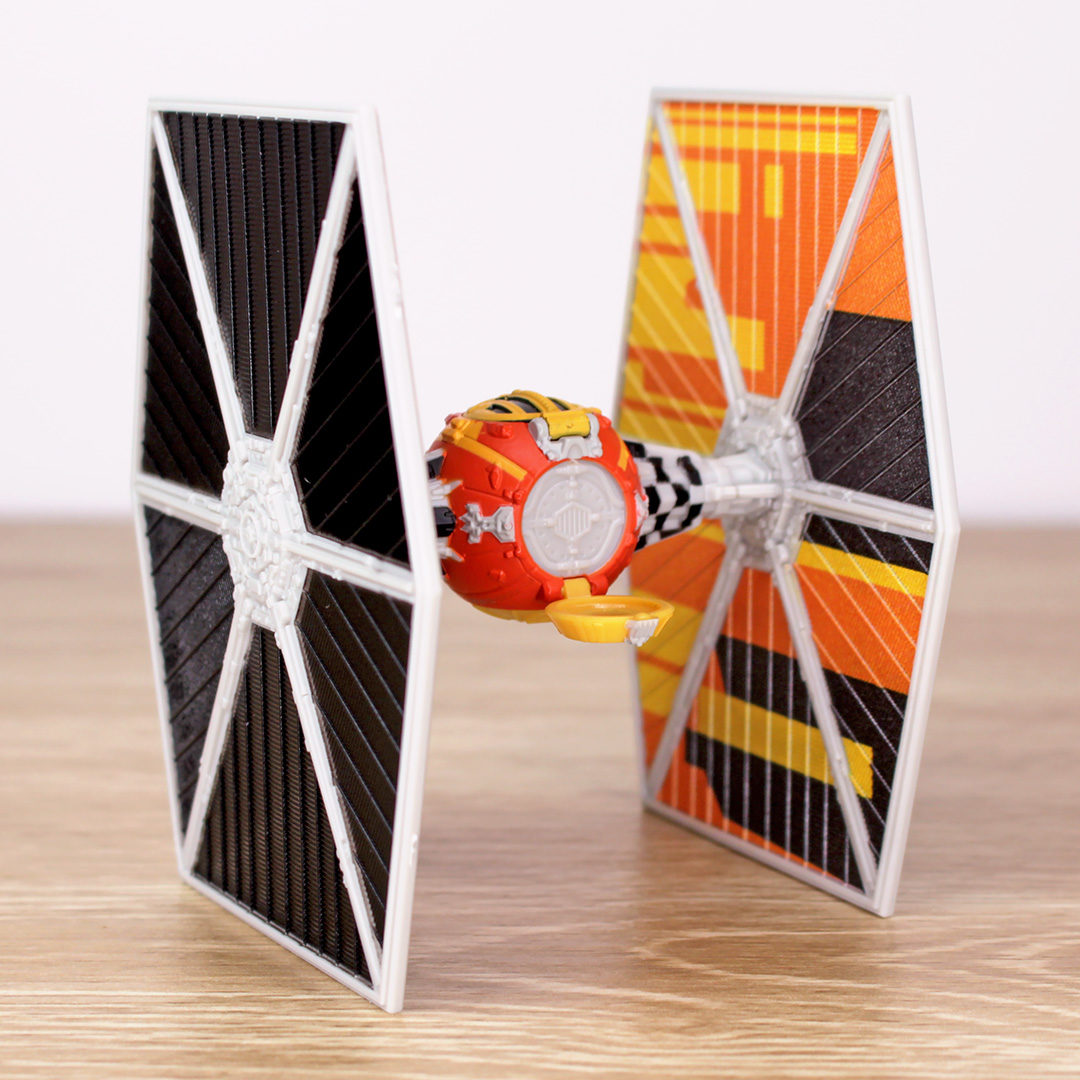 At the back there is a hinged section that can be folded down. I'm not sure this adds a lot of useful detail for display as this won't really be seen once it's on your shelf, but yeah, it's there.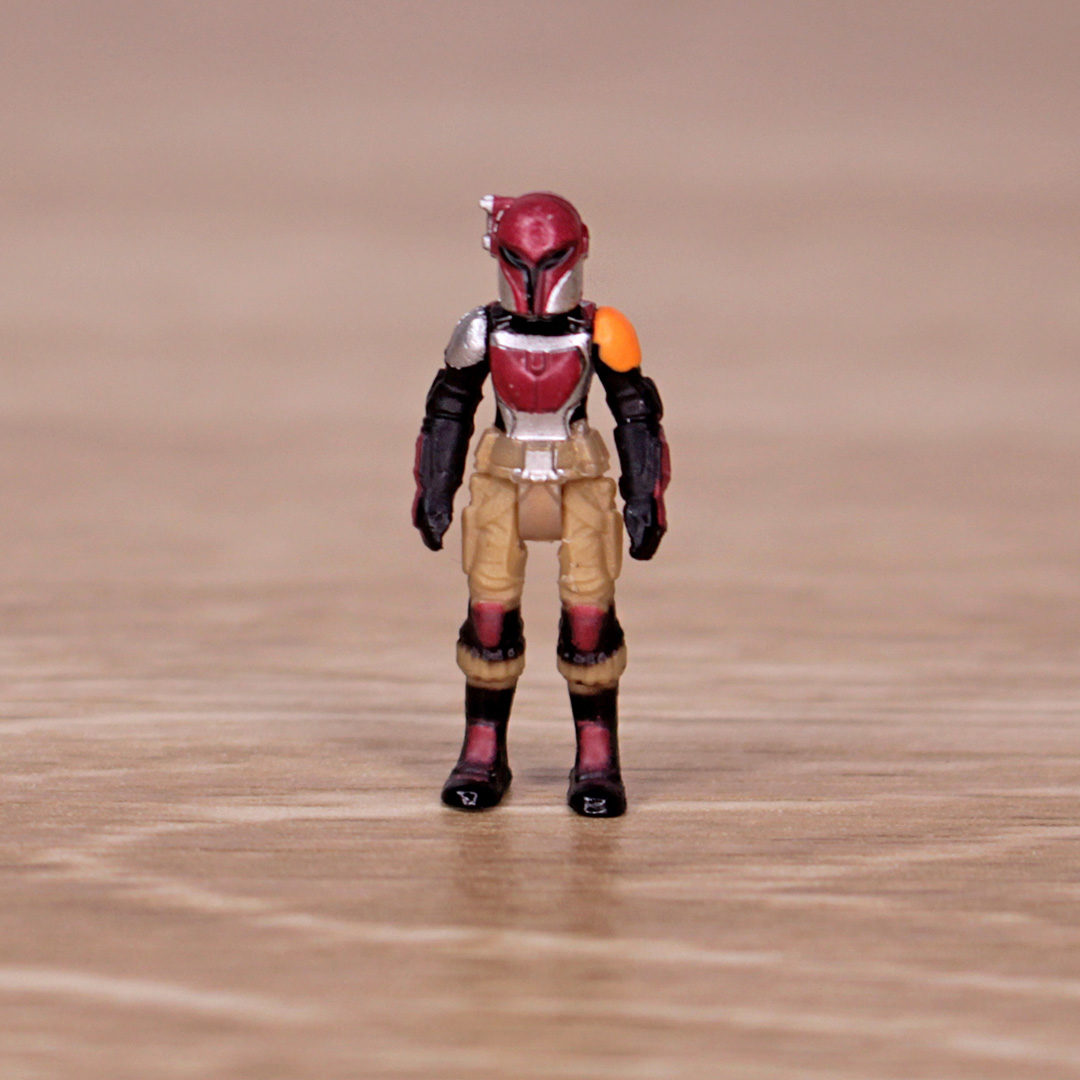 Next, onto the included figure. The Sabine Wren figure is quite well done, considering her size. She has quite a detailed paint app, with multiple colours, and is quite reasonably tidy. She is articulated at the shoulders and the hips, allowing you to pose her arms and legs into a sitting pose to put her in the cockpit.
The TIE Fighter cockpit window and top hatch both have sections of transparent plastic to act as windows, but in practice this is hard to see through. If I look really closely, I can just make out a figure through the front, but it's not very easy to spot. Still, I appreciate the detail here, and much prefer it over opaque sections instead.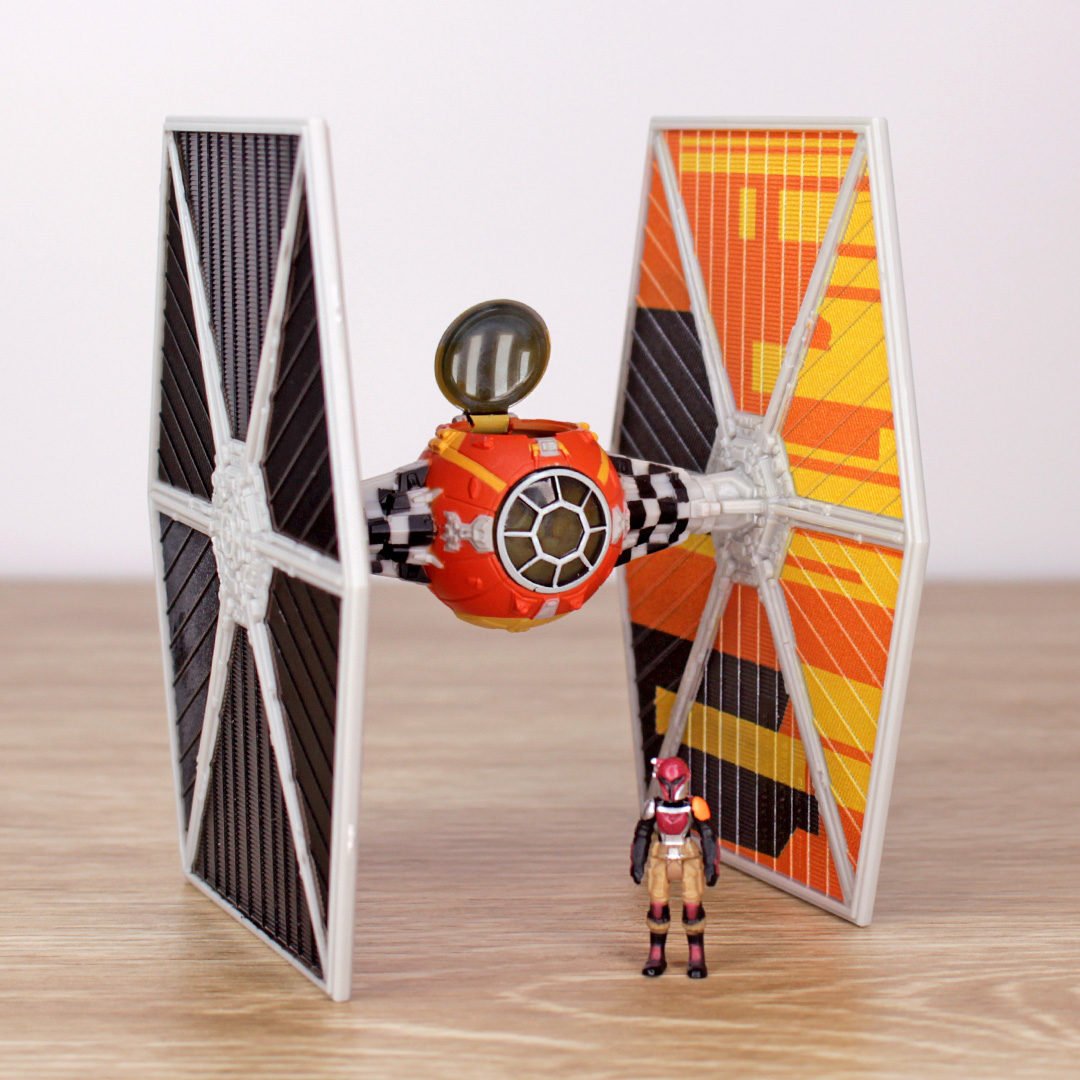 Overall, this is a fantastic version of Sabine's TIE Fighter. I knew it was highly sought after on the secondary market, so realistically my only chance to own one was to find it locally, which I did! We know realistically, with some store exclusives and chase variant scarcity in the mix, it's going to be hard or very expensive to be completionist with this range (as with so many Star Wars collection lines these days) so it was absolute luck to find this one instore ourselves.
Stay tuned for more review of Micro Galaxy Squadron vehicles coming soon – including a comparison of four different TIE Fighter variants.
May the Force be with you!