Review – Star Wars Medal Hanger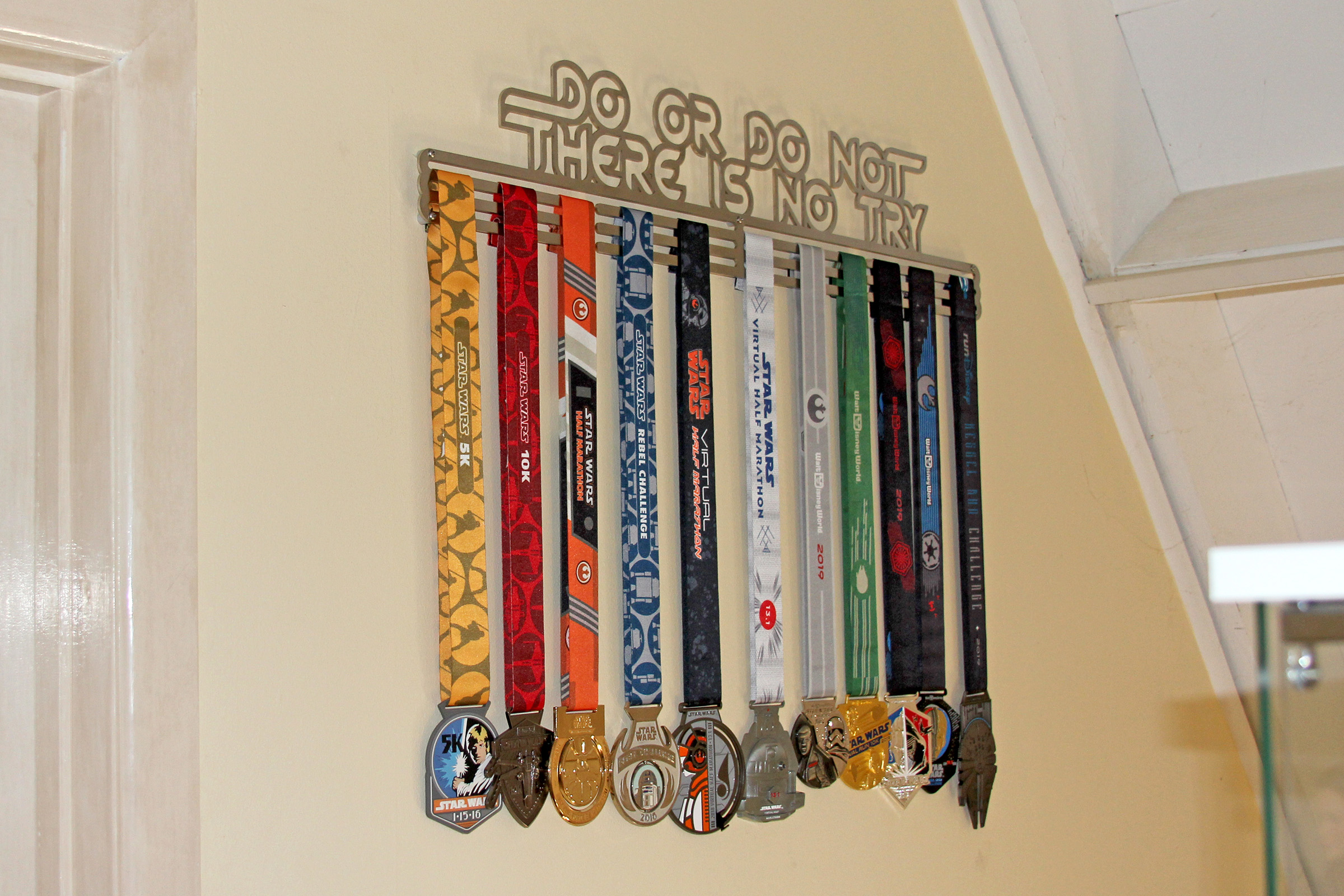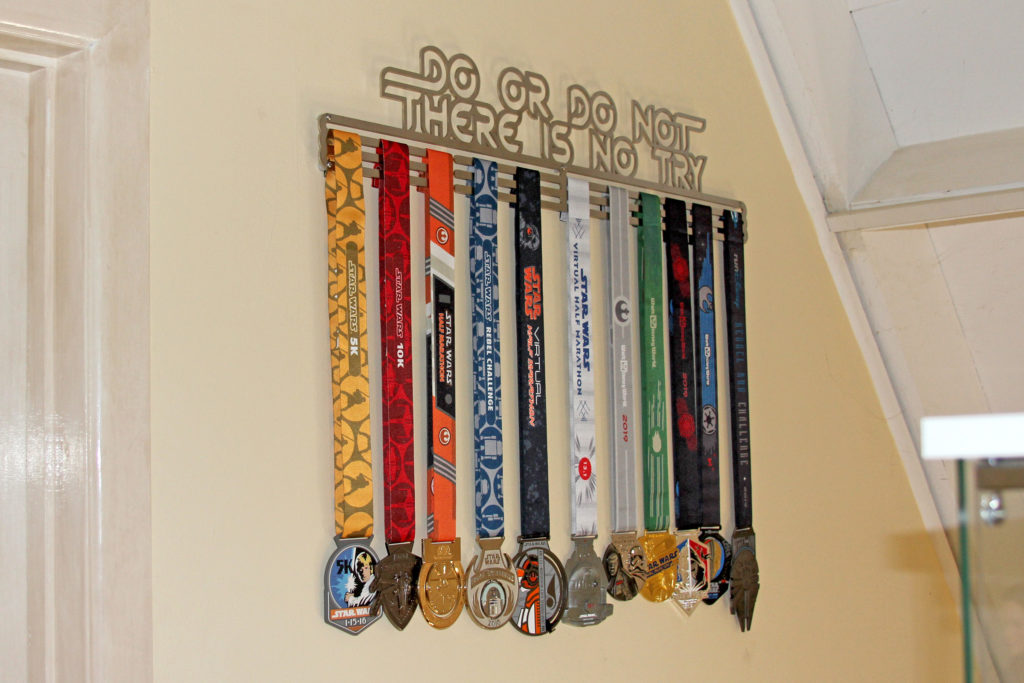 Now that I'm home from the Run Disney Star Wars Weekend at Walt Disney World, I was keen to get all my medals displayed all together. I have had one particular medal hanger bookmarked ever since I got my first Run Disney medal back in 2016, and now it was finally time to place my order.
After a lot of looking around, my favourite medal hanger design is the 'Do Or Do Not There Is No Try' hanger by Allied Medal Hangers. It comes in four widths (12″, 18″ 24″ and 30″), with one or three hanger bars. Planning ahead, we decided to go with the biggest design – 30″ with three bars.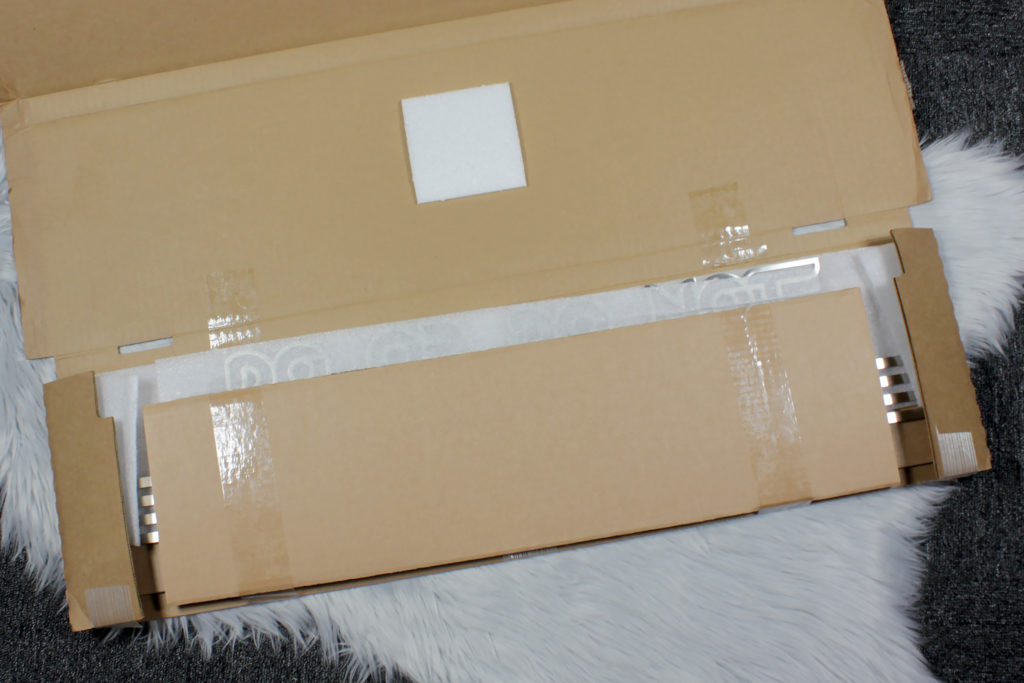 As international fans, it can often be a hassle to get larger items shipped from the US, but we were happily surprised by this order. Not only was the shipping cost very reasonable (FedEx tracked), but it arrived incredibly well packaged.
I opened the box straight away from excitement, but I was so impressed with how well packaged the hanger was – wrapped in foam and many layers of cardboard. It arrived in perfect condition.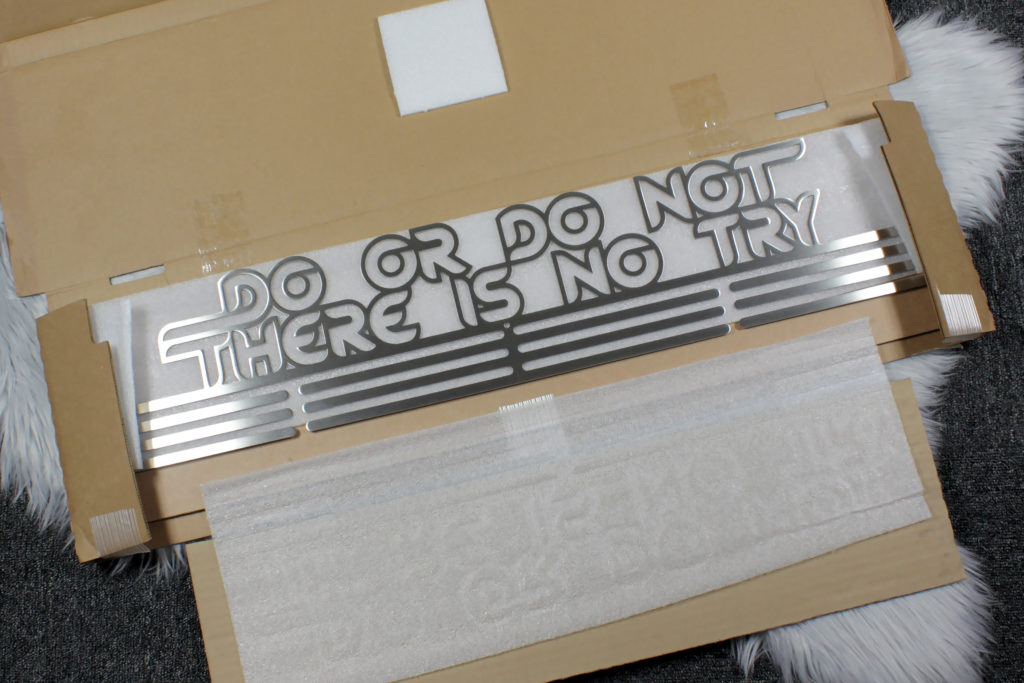 The hanger came with mounting hardware, to attach securely to your wall. The bar is flat, but the screws have plastic spacers that sit behind the bar to create space so your medals hang nicely. This hanger has five mounting points – two at each end, and one in the middle.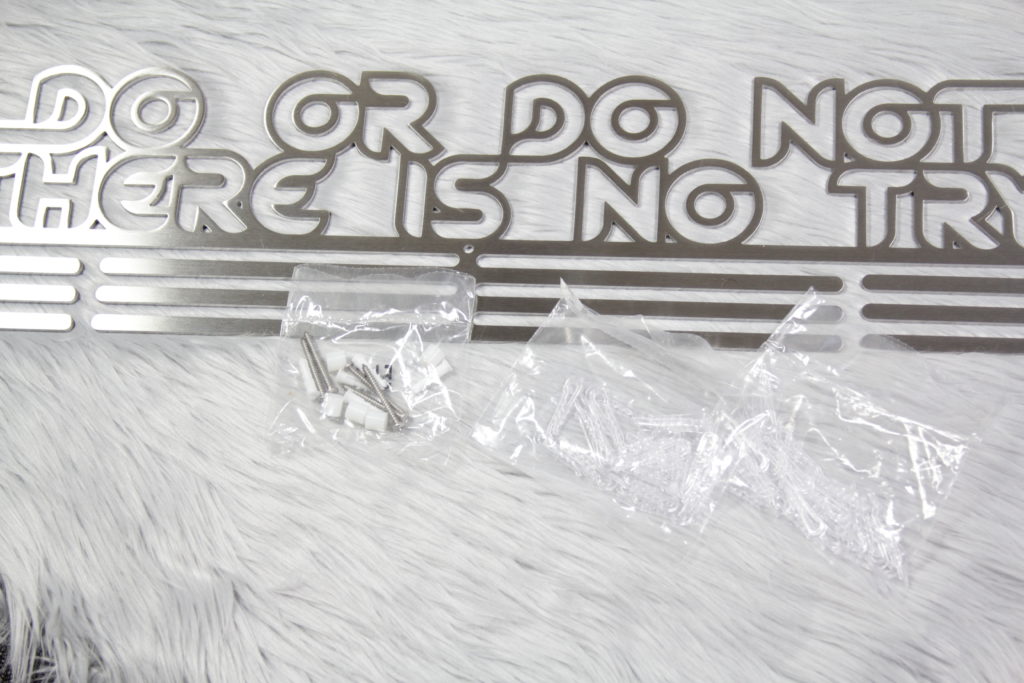 I am so happy I went with the biggest size – the design looks great on the wide bar, and the three rows means I don't need to replace it or buy additional rows in the future. The brushed aluminum finish is so pretty!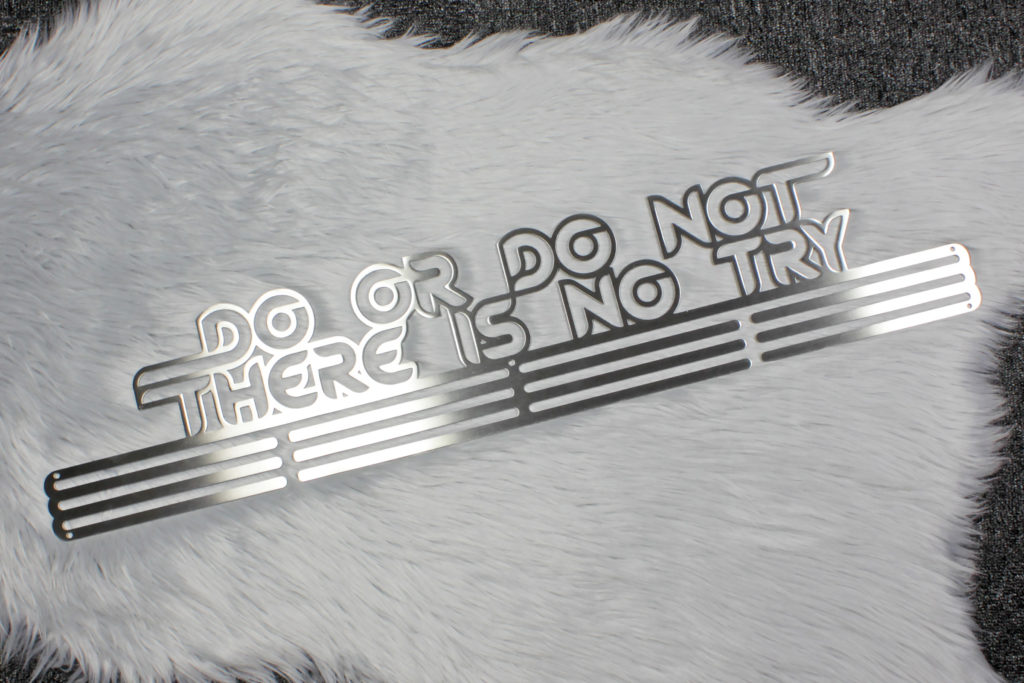 I spent a while trying to decide on the placement of my medals – the bar is divided into four even rungs, and I have an odd number of medals (eleven so far), but with a little adjustment I can hang all my medals from the top row.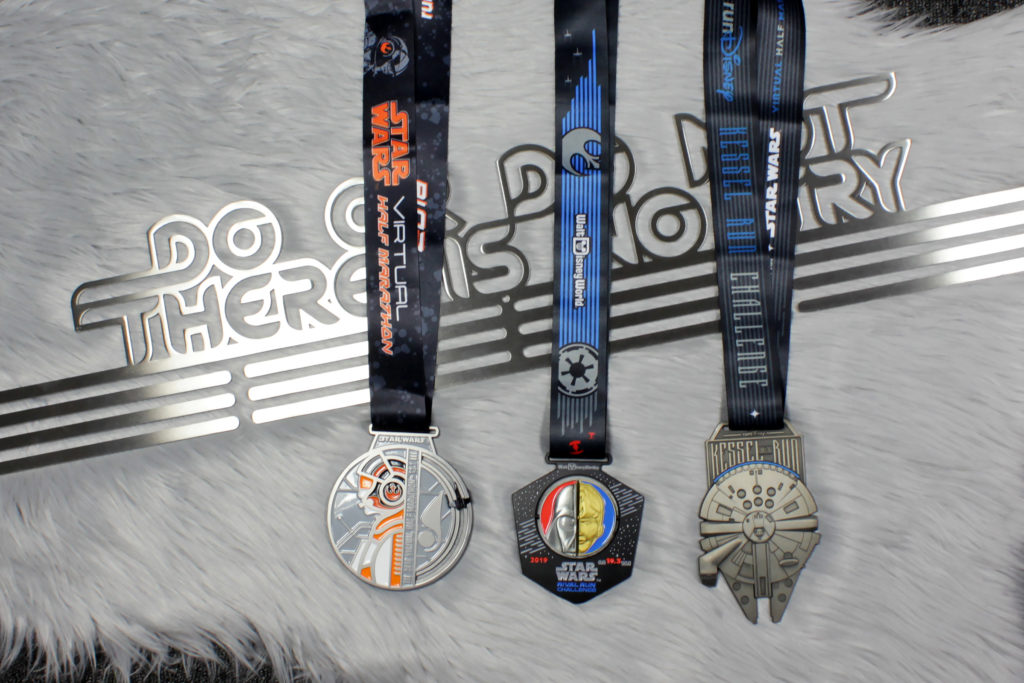 Matt got the hanger mounted on the wall – the supplied hardware made the process quick and easy, with just a few additional items needed (pencil to mark holes, screw driver, and cordless drill).
I love the space behind the hanger, the shadows create a fun 3D effect behind the text. This Star Wars quote really kept me going during my first half marathon event, so it really was the perfect design to display my medals. The font works really well with the theme, just the right amount of galactic style, while working with the cut-out design.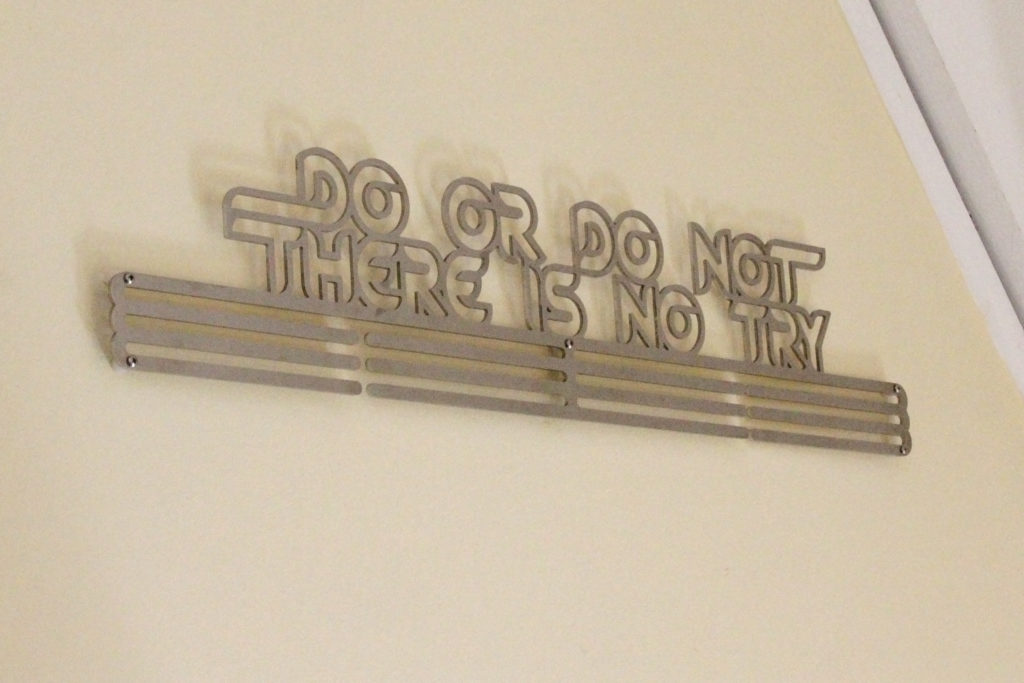 I am beyond happy to finally get my Run Disney medals displayed all together – they look awesome! The spot we picked is in our hallway, so I walk past this display every morning, which is a great daily reminder of my accomplishments. I look forward to adding more medals to this display in the future!
To read more about my Run Disney Star Wars medals, check out my post here!