Sideshow Premium Format "Visionaries" Darth Maul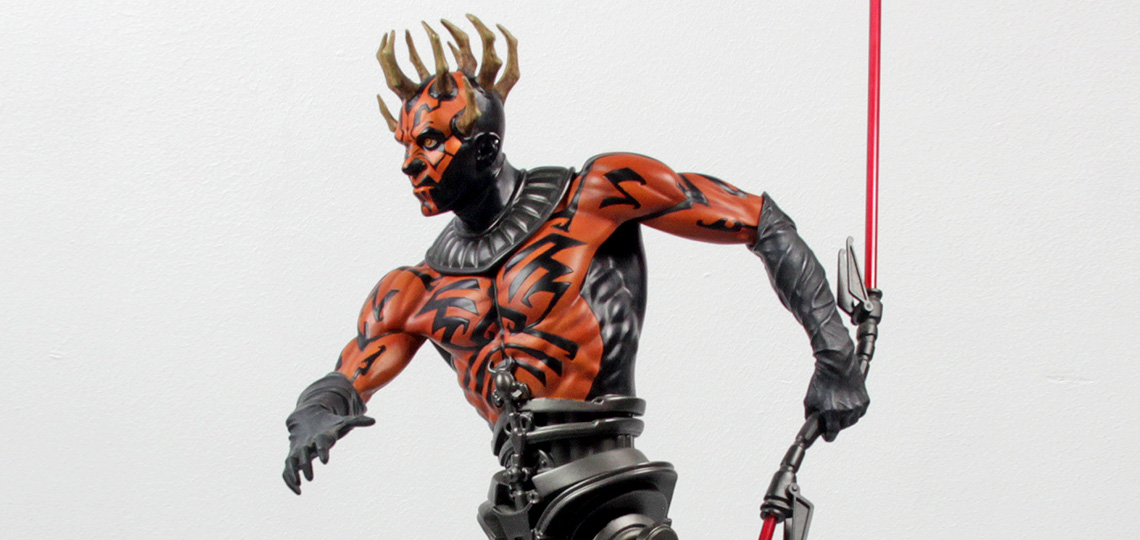 Released in 2011, the Sideshow Collectibles Premium Format statue of Darth Maul with mechanical legs ('Darth Maul cyborg') was available in two editions – standard (edition size 1250), and Sideshow exclusive (edition size 500 – also included an alternate head). The statue featured Darth Maul with Sith tattoos on his head, arms and torso, with large mechanical legs, and a new design of double-bladed lightsaber, and additional cloth robes.
The concept of Darth Maul with mechanical legs, having survived the duel on Naboo, first appeared in Star Wars: Visionaries comic in 2005 (story and art by Aaron McBride; published by Dark Horse). A variant of Darth Maul with his bionic legs, based on this design, later appeared in Star Wars: The Clone Wars animated television series episode "Revenge" (the twenty-second and final episode of its fourth season) in 2012, which was written by George Lucas' oldest daughter Katie Lucas (Maul originally was resurrected with his spider-like legs, but it was at that point in the story that Nightsister Mother Talzin assisted in the creation of Maul's bipedal cybernetic legs on Dathomir).
The statue base has a sandy texture on the surface, while the underside features a red and black design inspired by Darth Maul's tattoos. The official statue name 'Darth Maul with mechanical legs' is noted here, along with the edition number, and battery compartment.
The statue measures approximately 54cm tall (including base) – or up to 57cm tall if measured at the highest tip of the lightsaber. The lightsaber blades can light up, with the use of 3X AA batteries in the base, or the included adaptor cable to plug into a wall outlet. The adaptor plugs into the base at the back, which is hidden from view when displayed, and the lights can be turned on with the small button hidden in the cybernetics on Darth Mauls' back.
Darth Maul's horns are depicted longer here than seen in The Phantom Menace, as another indicator of the passage of time and his Dark Side-fuelled rage after the duel with Obi-Wan Kenobi.
The whole sculpt rests on just one foot, in a dynamic running pose. The right leg extends behind Maul, which lends a sense of a greater size due to the increased space this pose takes up while on display (especially compared to some of the other Star Wars premium format statues).
Sideshow Collectibles has often produced collectibles based on concepts and ideas. Their popular Star Wars 'Mythos' statue line also explored moments unseen in the films – like 'desert nomad' Obi-Wan Kenobi surviving the harsh Tatooine environment, set between Revenge of the Sith and A New Hope.
This statue is fantastic rendition of Darth Maul, exploring his story after The Phantom Menace – the face sculpt in particular is very well done.