Star Wars x Barbie Limited Edition Dolls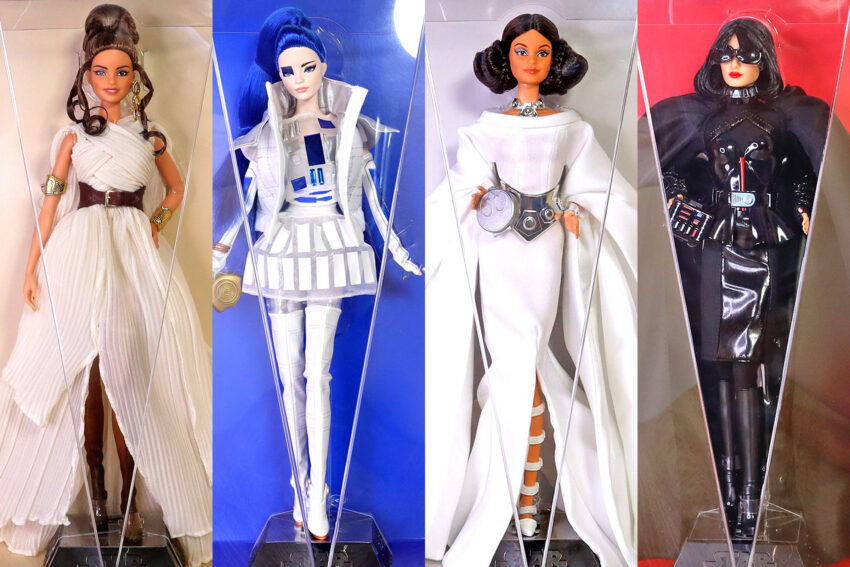 In today's Retro Review, I take a closer look at the Star Wars x Barbie limited edition dolls. Of course with all the excitement around the release of the new Barbie movie and all things Barbie, now is the perfect time to take a look at the Barbie dolls in my Star Wars collection!
The first Star Wars x Barbie doll collection (released in late 2019) was inspired by three classic Star Wars characters from A New Hope – Princess Leia, R2-D2, and Darth Vader. Released in May/June 2020, the follow-up second collection also included three characters from A New Hope – Stomtrooper, C-3PO, and Chewbacca, as well as Rey from The Force Awakens.
Each doll wears a full head-to-toe ensemble inspired by a Star Wars character. The outfits not only reference the design of the character, but also the feel – it really shows that a lot of thought went into the design process. Princess Leia is elegant, confident, and stylish, R2-D2 is quirky, fun, and friendly, Darth Vader is powerful, imposing, and severe, and Rey is optimistic, graceful, and independent.
The Star Wars x Barbie collaboration is an homage to Star Wars: A New Hope. This eponymous collection, inspired by the film's original concept art, re-imagines iconic characters through a distinctive Barbie high-fashion filter.
Each doll is wearing a couture outfit, complete with matching hairstyle and accessories, all packaged in a display box. The presentation is just gorgeous, complete with strong plastic display box and artwork on the cardboard surround. The dolls are secure in place, and protected from dust and marks. Each box has a plastic slip band that simply slides off to reveal the side panels that open up to display a backdrop of artwork.
Check out my full video –
So let's take a closer look at the four Star Wars x Barbie dolls in my collection, starting with Darth Vader.
Darth Vader looks ready to march into a board room and take control. While her black hairstyle and glasses were intended to represent Darth Vader's helmet, I can't help but see a reference to Anna Wintour, the editor-in-chief of Vogue Magazine for over 30 years and a powerful figure in the fashion world.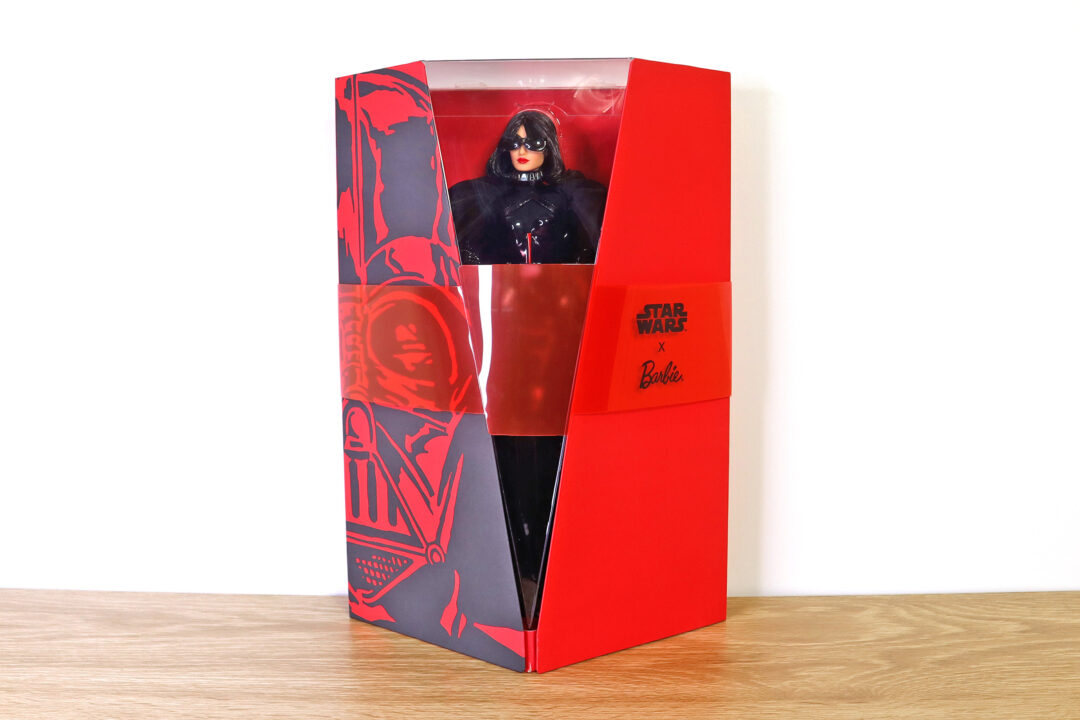 This collectible Star Wars x Barbie doll captures Darth Vader's Sith armor silhouette in a head-to-toe shiny-black ensemble. Metallic details at her collar and waist, dark glasses and an emblematic black cape finish the look.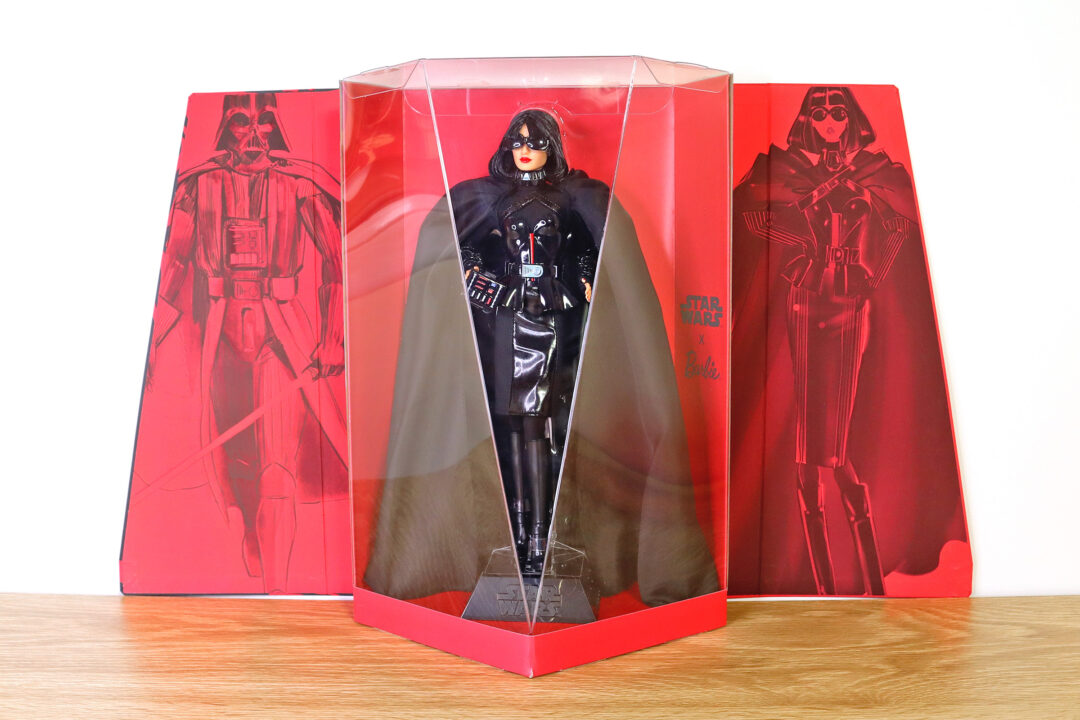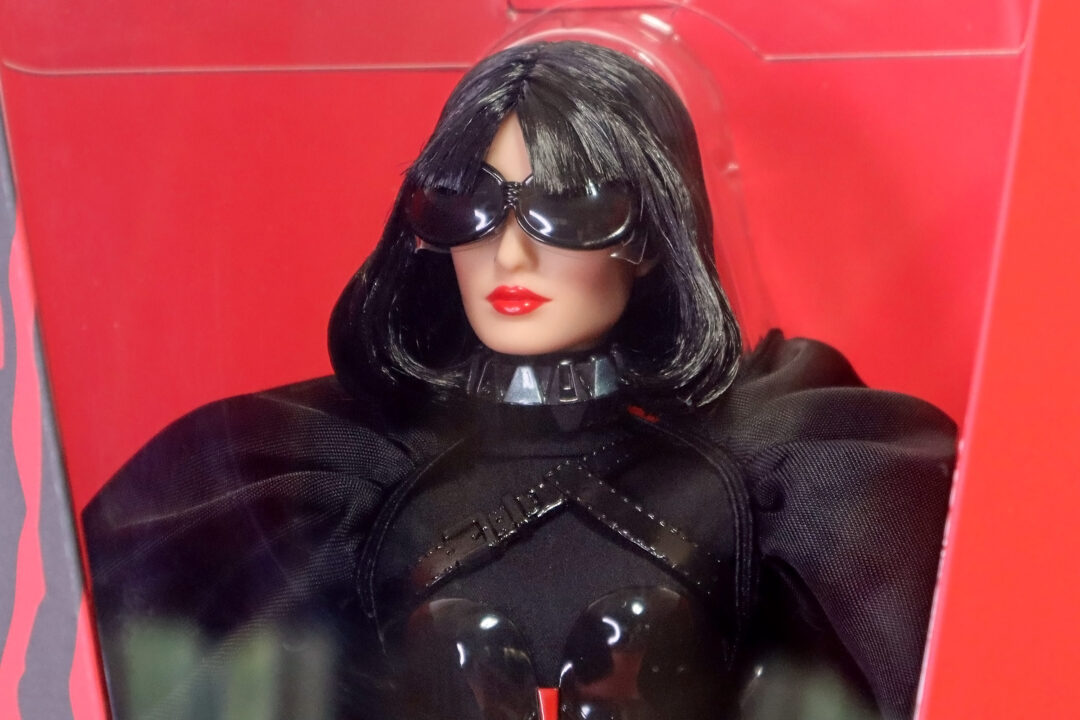 Princess Leia looks like royalty, in a full length white ball gown with huge draped sleeves and stunning silver accessories. The outfit looks red carpet ready, the perfect fit for the Princess of Alderaan.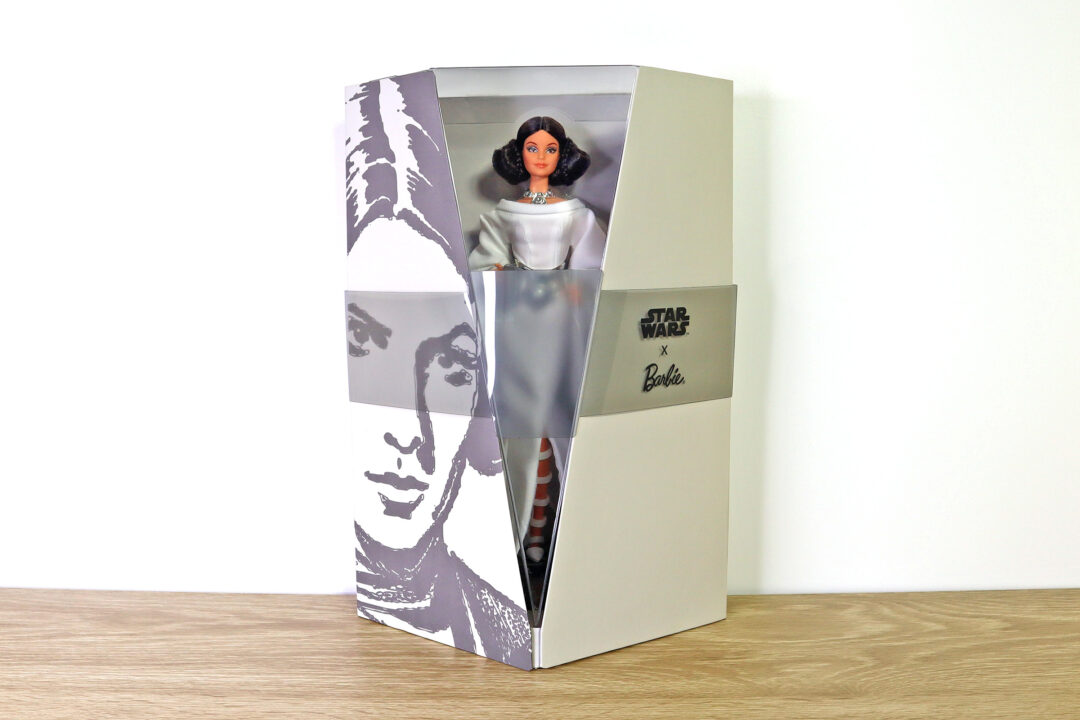 This collectible Star Wars x Barbie doll captures Princess Leia's iconic look in an elegant white gown with dramatic, floor-length sleeves. Details include a silvery peplum belt, cuff jewelry and an up-do inspired by her signature bun hairstyle.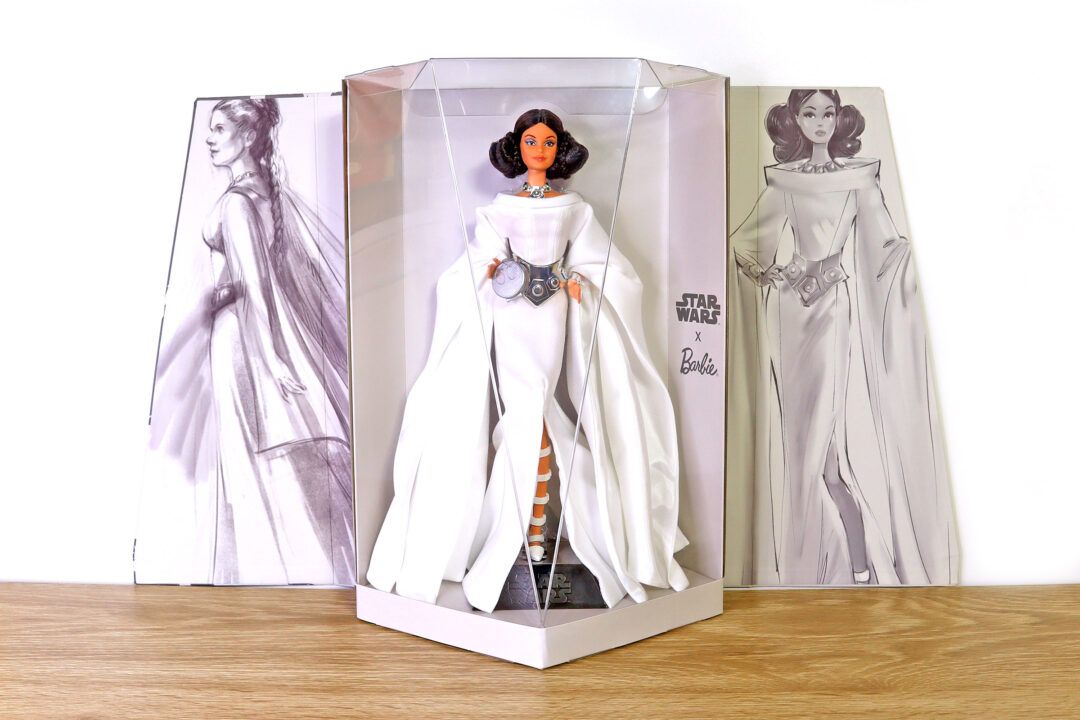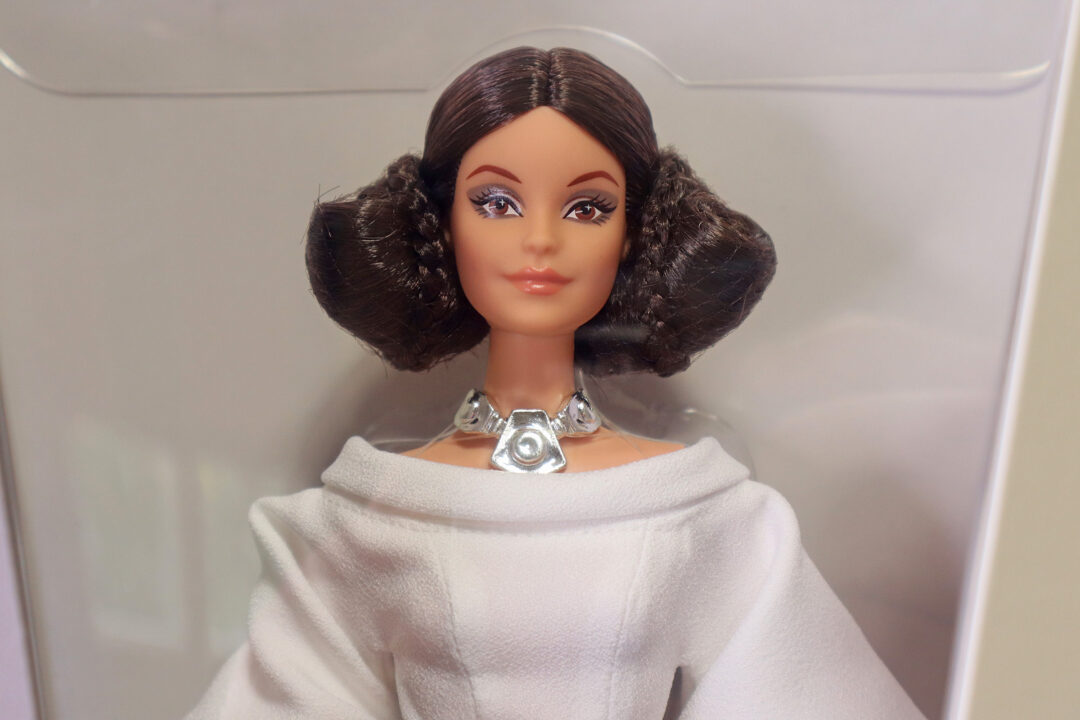 R2-D2 is portrayed as youthful and fun, a fashionable best friend. This is my daughter's favourite design from the collection – the long blue ponytail gives the look a slightly more younger vibe compared to the other designs.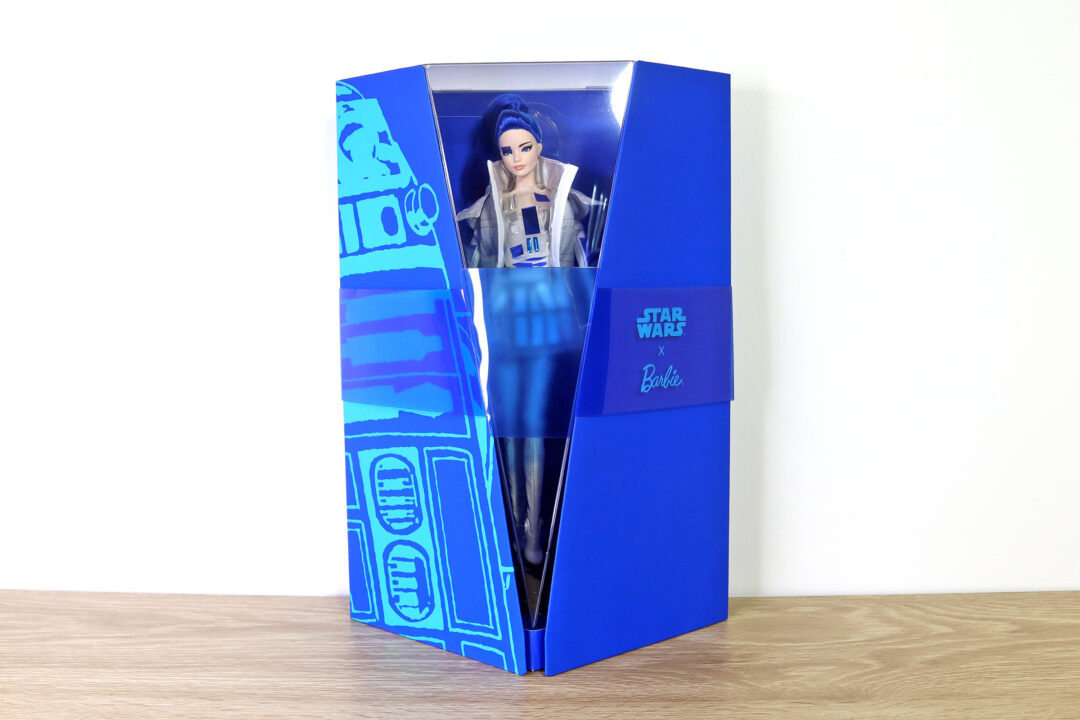 This collectible Star Wars R2-D2 x Barbie doll captures the lovable droid's look in a geometric ensemble with a dome skirt, bomber jacket and thigh-high boots over silvery tights. A vibrant blue ponytail and "radar eye" detail complete the look.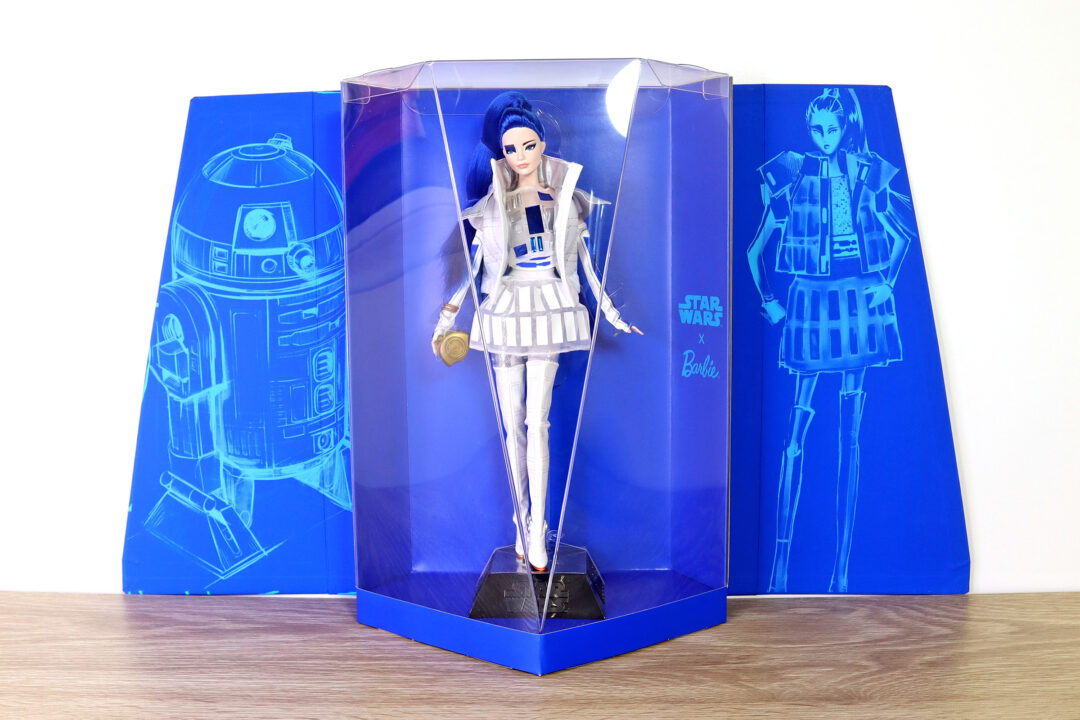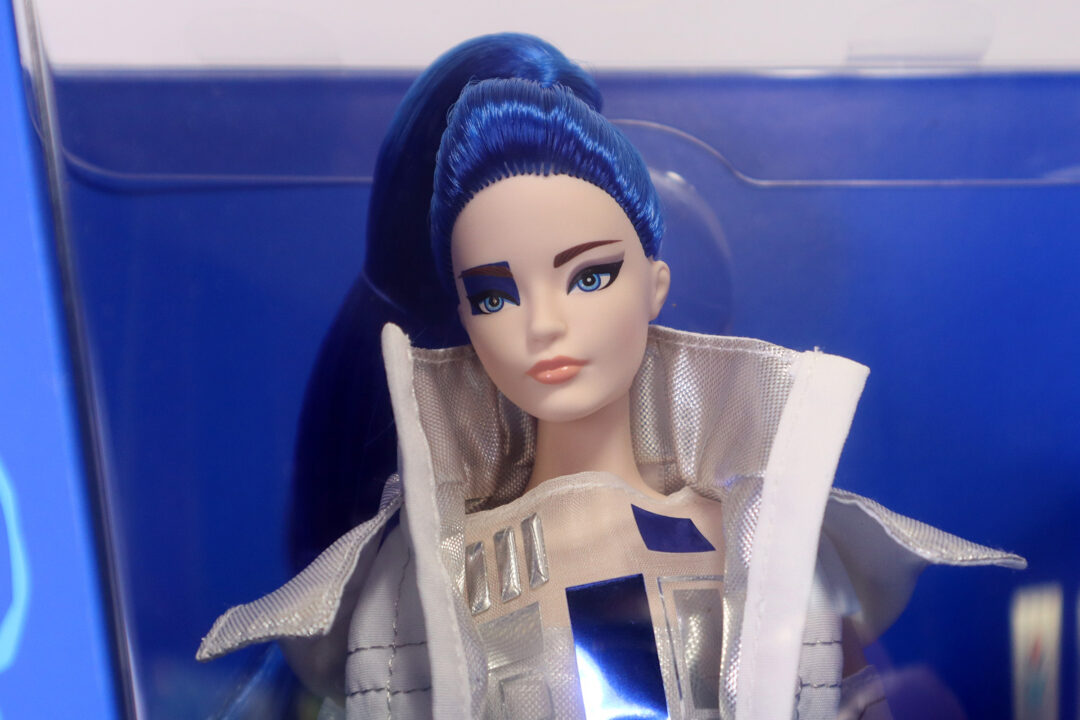 Later, Mattel released four more Star Wars x Barbie dolls for 'Star Wars Day' May 4th 2020, with dolls inspired by Rey, Stormtrooper, C-3PO, and Chewbacca. There is always a lot of new Star Wars merchandise released on May 4th each year, so I was only able to pick up my favourite design from the second collection – Rey.
Like the Princess Leia doll before her, the Rey doll outfit is in a red carpet style. The outfit design closely references Rey's Jakku scavenger outfit but in a longer flowy gown. The outfit is a more direct translation of the original costume, especially compared to some of the other dolls in the range (like R2-D2), but it works really well.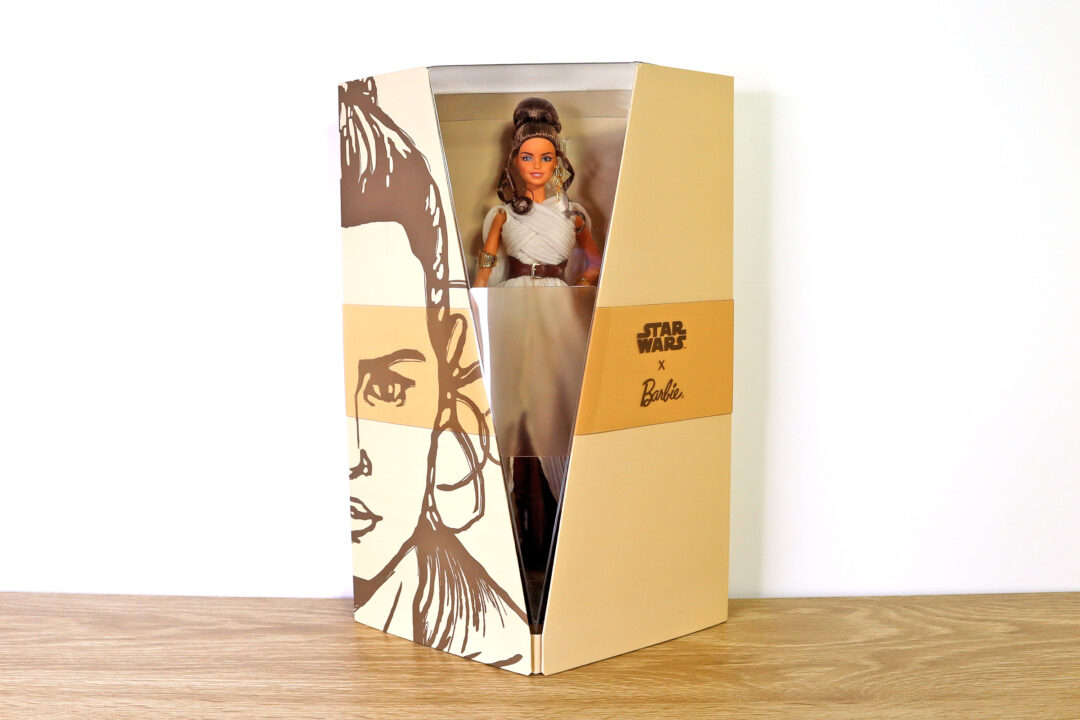 This collectible Star Wars x Barbie doll takes design inspiration from Rey's legendary look to capture her adventurous spirit in a runway-ready silhouette. Star Wars Rey x Barbie doll wears a crystal pleated chiffon gown with a crossover neckline and draped hood, inspired by Rey's gauzy crosspiece. A slit reveals ombre boot-leggings in gold and copper hues, and accessories with a hammered gold look complete her heroic ensemble.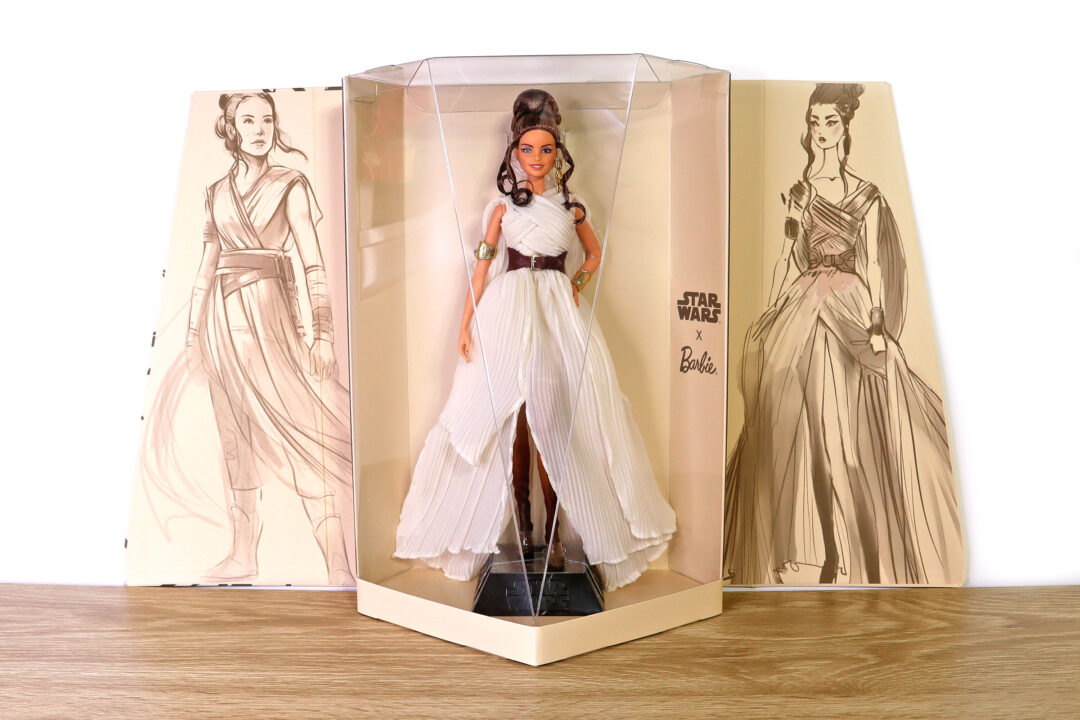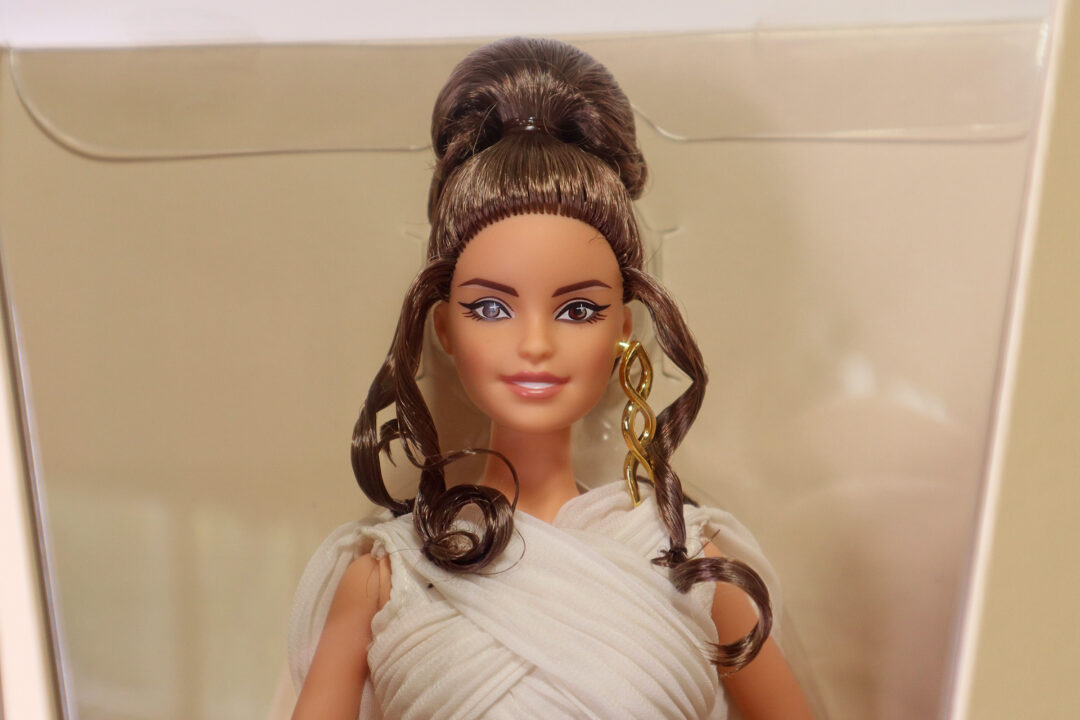 The Barbie brand is founded on dolls wearing fashion, so this concept was the perfect approach for a Star Wars collaboration. This collection feels thoughtful, evident that the designers really wanted to create outfits that represented the characters and that fans would really appreciate. I absolutely love my Star Wars x Barbie dolls, and someday hope to track down the ones missing from my collection.
May the Force be with you!