Vintage Star Wars Adverts in 2000AD Comics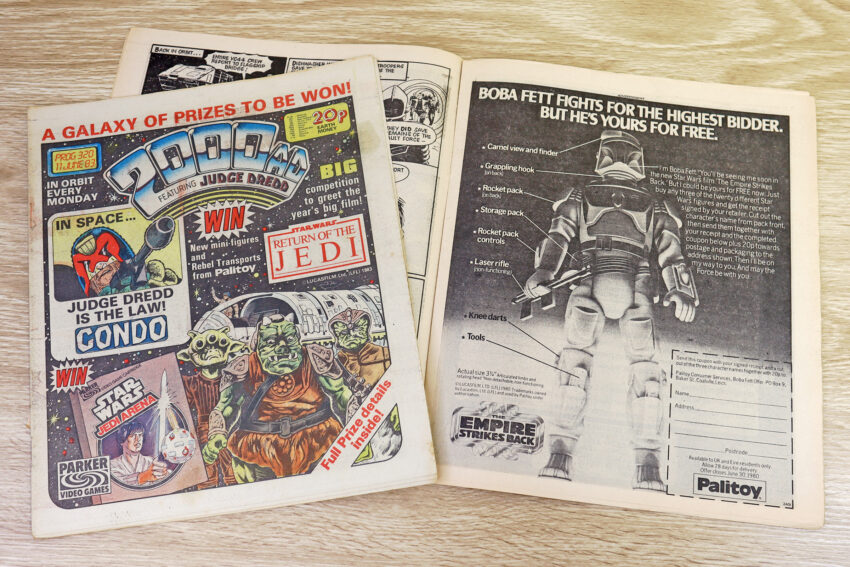 As part of our ongoing comic storage and protection project, I recently took a look through my collection of vintage 2000AD comics, and made a video to highlight all the times Star Wars showed up among the pages of issues from the late 1970s and early 1980s.
The content in 2000AD comics that covered Star Wars material could be grouped into three main types: 1) action figure advertisements (featuring Palitoy branded versions of the Kenner mini-action figure line), 2) competitions, and 3) movie reviews.
Star Wars Action Figure Advertisements
Palitoy advertised directly to kid's via 2000AD comics, including some mail-in items like the famous Boba Fett offer that was available before The Empire Strikes Back hit cinemas – sadly, the offer was not available to us in New Zealand. The fun and memorable aspect of these advertisements was that the illustrations were of the toys themselves, not the movie characters, complete with their simplified styling (particularly noticeable on characters like R2-D2). Contributing artists included 2000AD regulars like Judge Dredd artist Brian Bolland – his work on the full page comic strip-style advert for the Creature Cantina, Droid Factory and Land of the Jawas playsets was one of my favourites of the time.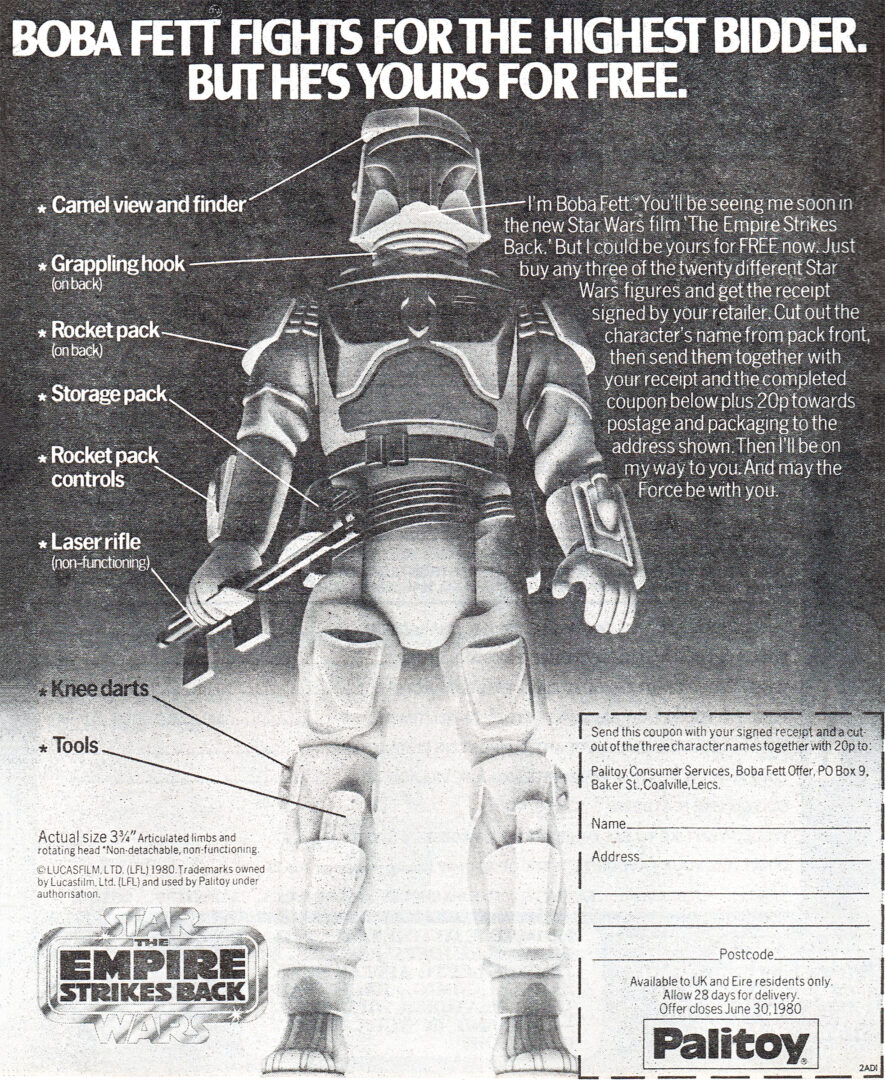 These advertisements were predominantly presented as line art or monochrome renditions, but for The Empire Strikes Back and Return of the Jedi, we did see pages that incorporated a splash of colour. As well as the Boba Fett offer, which required a proof of purchase and 3 name plates to be cut from action figure backing cards, there were also mail-in offers to get a Dengar action figure, and Emperor Palpatine figure, or The Empire Strikes Back display stands with backdrops.
Competitions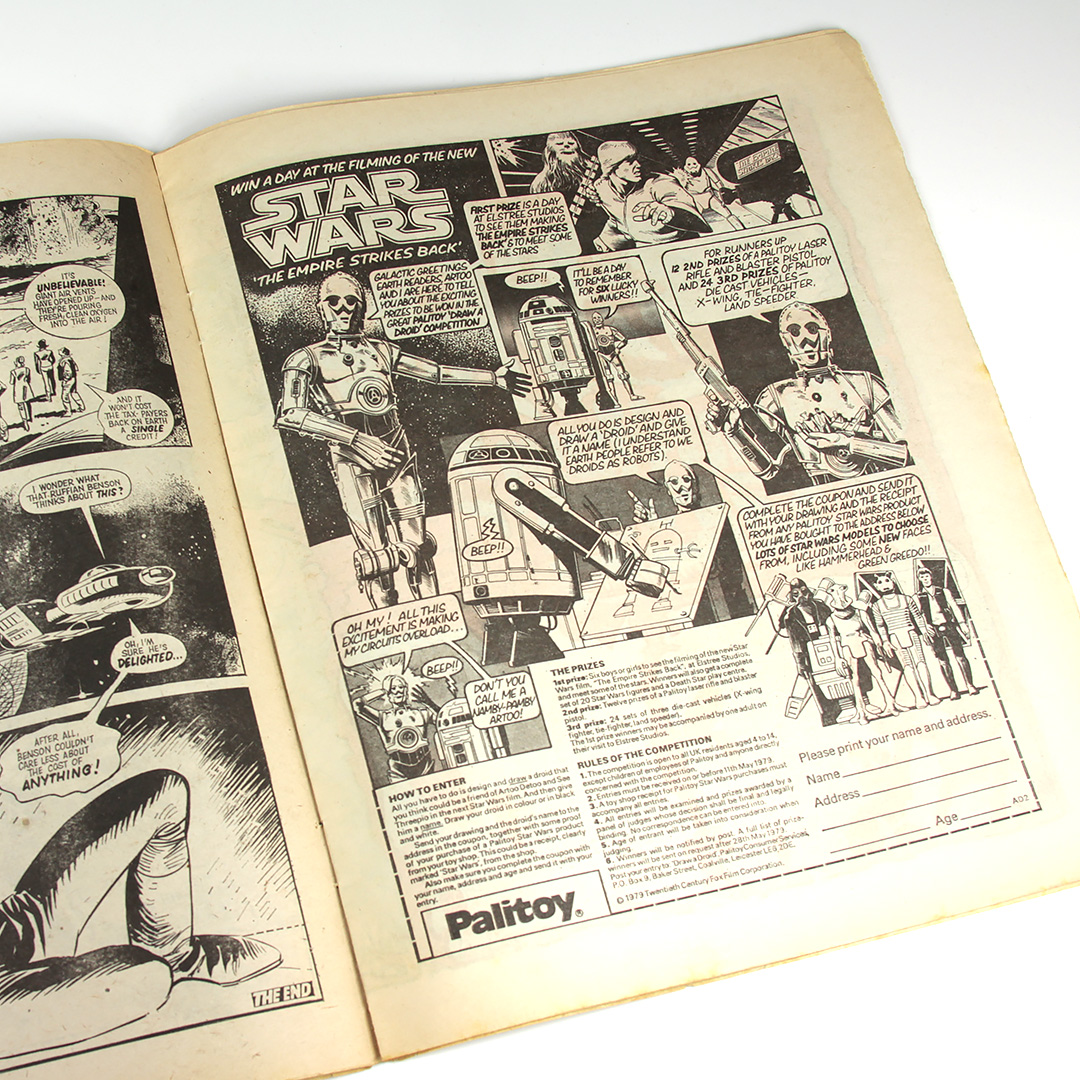 There were only a few competitions with Star Wars prizes in issues of 2000AD, but some of those prizes were very worth while indeed, including access to see filming of The Empire Strikes Back at Elstree Studios in Hertfordshire, England ! Other competition prizes included large-sized action figures, sets of mini-action figures, and electronic/computer games.
Reviews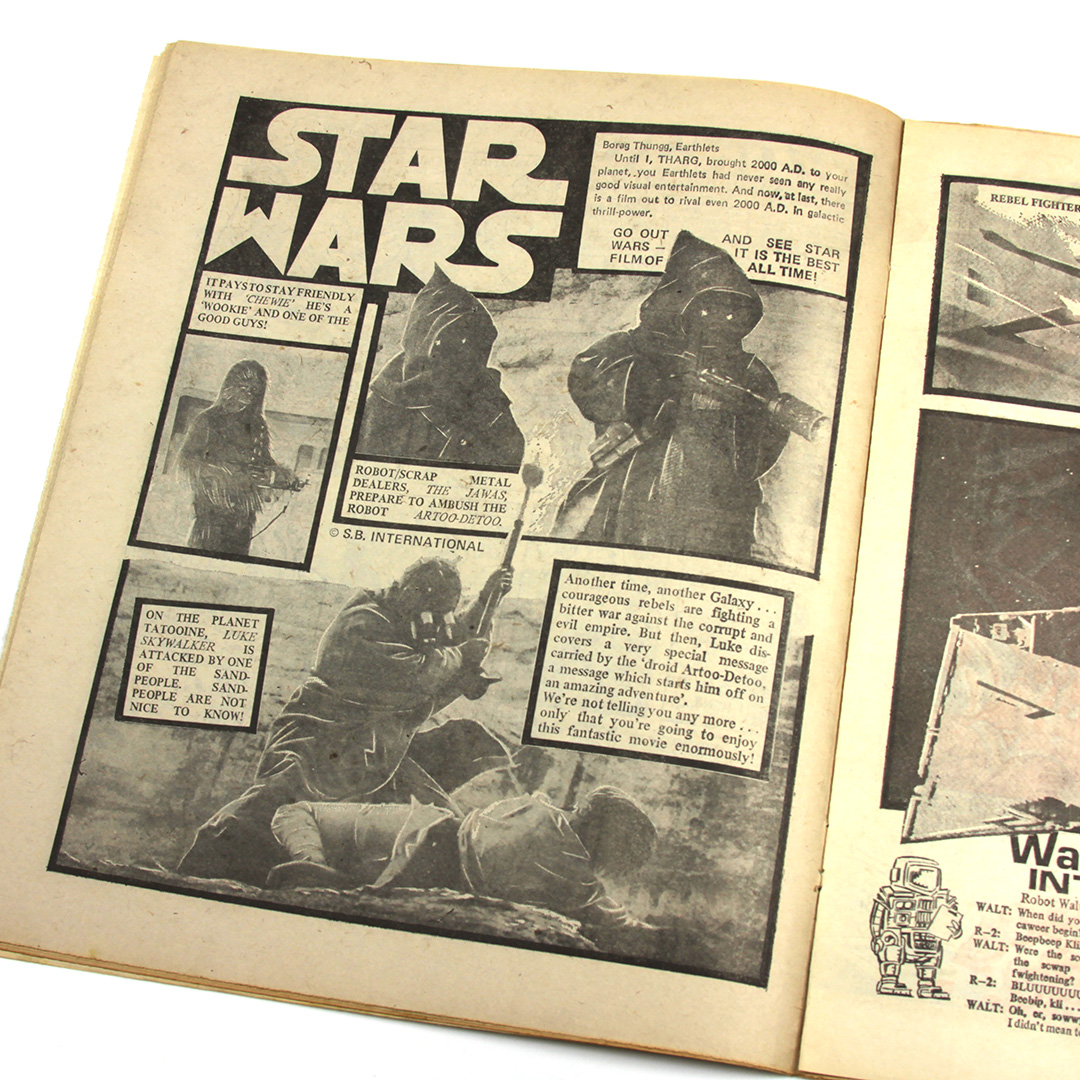 Each of the 3 Original Trilogy movies got a 2-page review with accompanying pictures in a 2000AD comics. The printing process for comics at the time did not allow for high-quality rendering of photos, but in that bygone era, we were appreciative of any details or images from the Star Wars movies.
The film reviews were, of course, overwhelmingly positive.
Gallery – Star Wars in 2000AD comics
The gallery below presents all of the Star Wars content in issues of 2000AD in chronological order, from the 1977–1984 issues of our collection, and includes the comic cover for each. We've also included a bonus page from the back of Prog 125, where the Green Cross Man, famously portrayed by David Prowse (Darth Vader) teaches kids about road safety.