The Dark Times Darth Vader VC241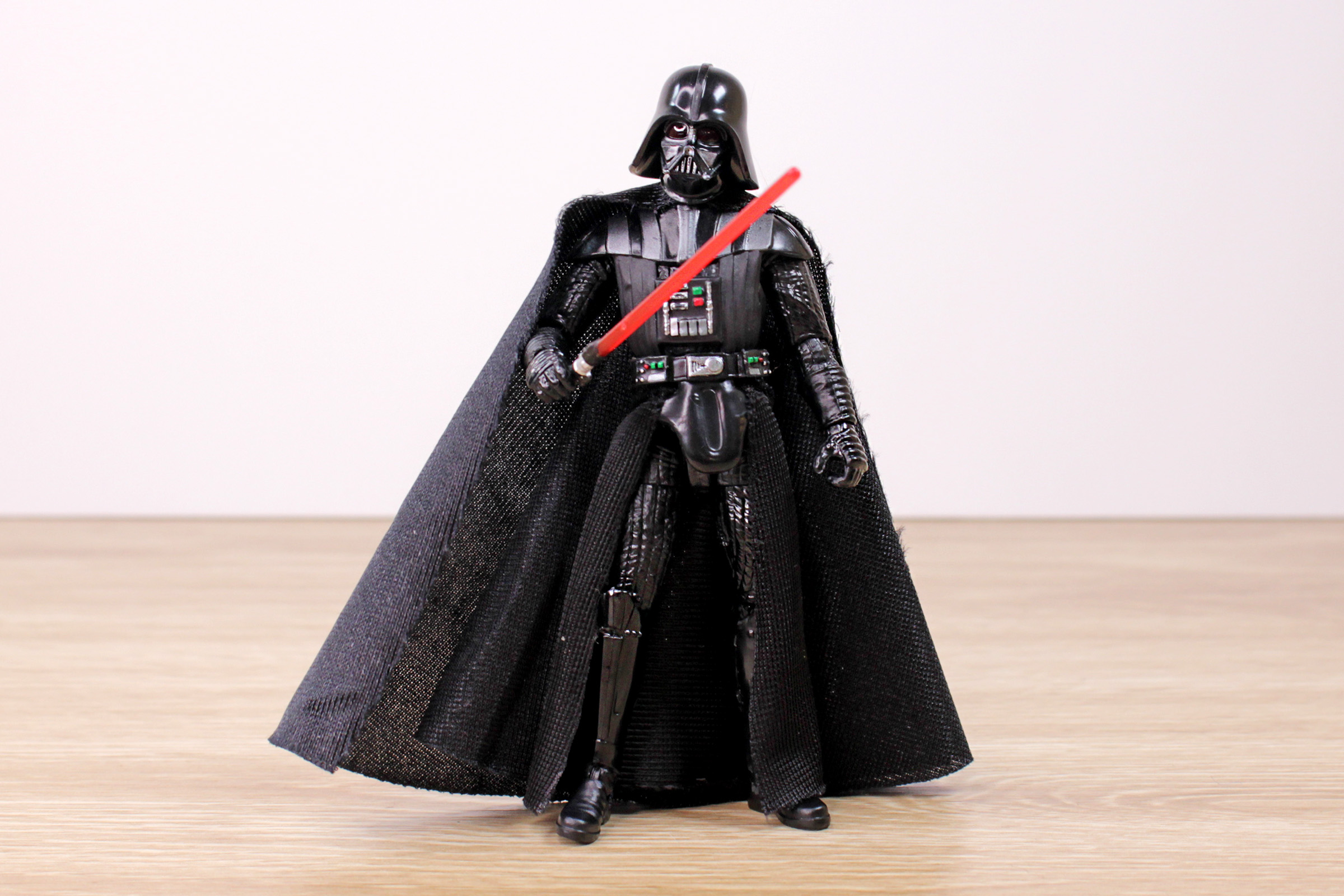 The time has come – we opened up the brand new TVC Darth Vader figure!
After we featured the new Obi-Wan Kenobi series figures online, we had many collectors ask about the VC241 Darth Vader figure in particular, and if we could show him uncarded to see all the details. The iconic Star Wars villain has been made countless times in the 3.75″ action figure line, with so many different sculpts and repacks – so how does this one compare? After initially deciding to keep our Obi-Wan Kenobi series figures carded, our curiosity got the better of us, so we decided to open them for a closer look.
Check out our unboxing video –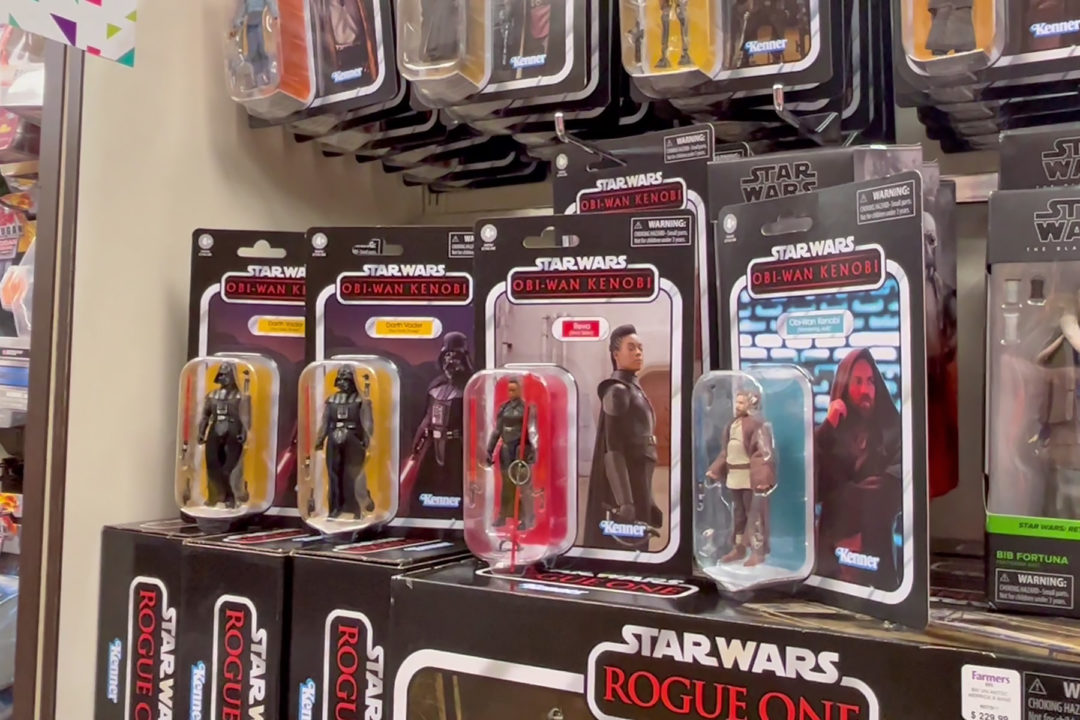 We are still quite shocked to find these figures available on local store shelves. International retailers like Entertainment Earth (affiliate link) and Big Bad Toy Store have these figures available for pre-order, with a release date of November 2022 – that's still months away. Here they are at our local Farmers department store, sitting alongside the current range of locally available Star Wars toys.
Here in New Zealand, these TVC figures retail for NZ$29.99 each – which is approximately US$20.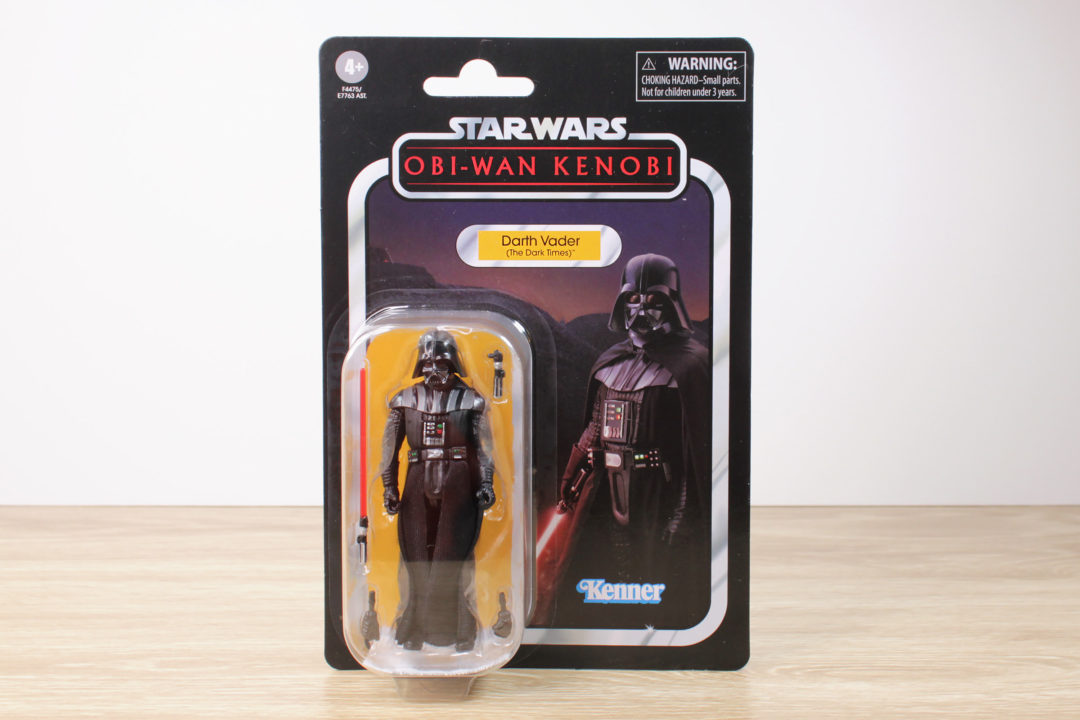 Here he is – "The Dark Times" Darth Vader VC241. I found the variant title quite interesting – this version of Darth Vader is "The Dark Times" – just as Obi-Wan Kenobi mentions when talking with Luke Skywalker in A New Hope… "Before the Dark Times, before the Empire".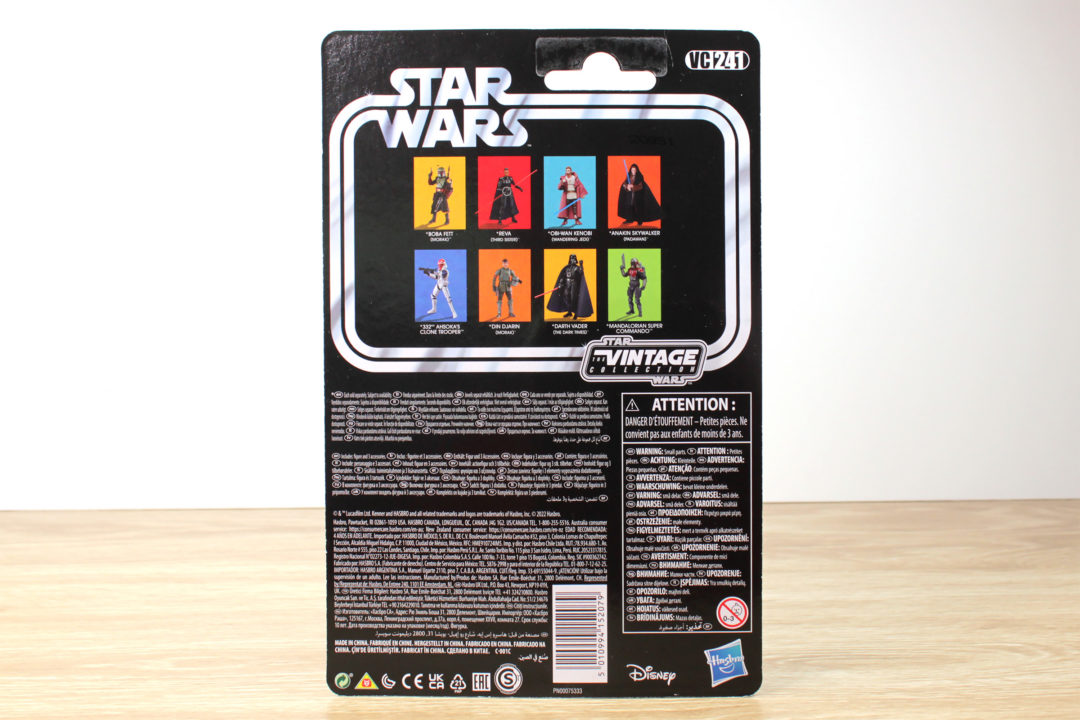 The back of the card shows the other figures in this wave, including Obi-Wan Kenobi "Wandering Jedi" and Reva "Third Sister" from the Obi-Wan Kenobi series. It's kinda funny that a couple of the other figures pictured here, like the Ahsoka Clone Trooper, are still not available here yet. It really is quite exciting to have these new figures available while the series is still airing on Disney+, we are so excited for the final episode!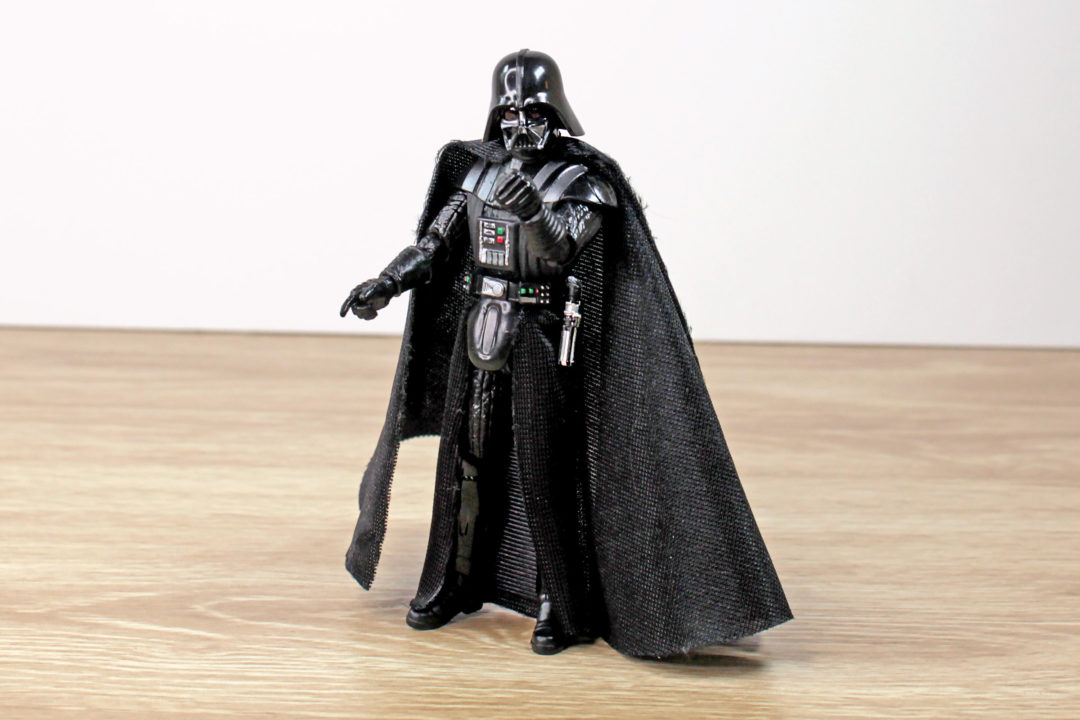 So, our first look at the figure loose and up close.
This Darth Vader figure comes with four hands – two left hands and two right hands, for a variety of poses.
An open grip left hand, capable of holding a lightsaber
A closed grip left hand, in a fist
An open grip right hand, capable of holding a lightsaber
An half-open grip right hand, as if pointing or using the Force
As expected, the figure also comes with two lightsaber accessories – a lightsaber hilt with peg that can attach to a hole on the left side of the belt, and an "activated" lightsaber with red blade, that can be held for action poses.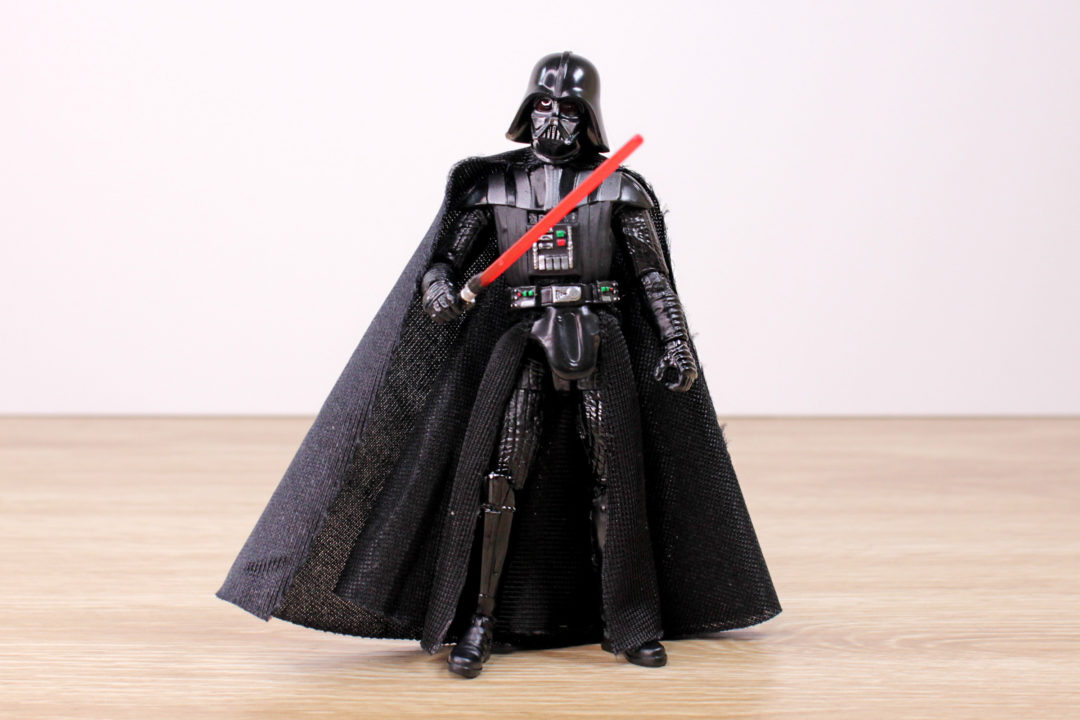 This figure has two soft goods components – a large flowing black cape, and a lower "skirt" robe. The soft goods are made from the same material, and suit the scale well. The edges are not sealed, they are left raw, so do be careful not to cause any fraying with handling.
I really like the cape in particular – it is pleated at the back, to give extra fullness. This means that you can open the cape up for a full wide shape, like when Darth Vader strides down hallways.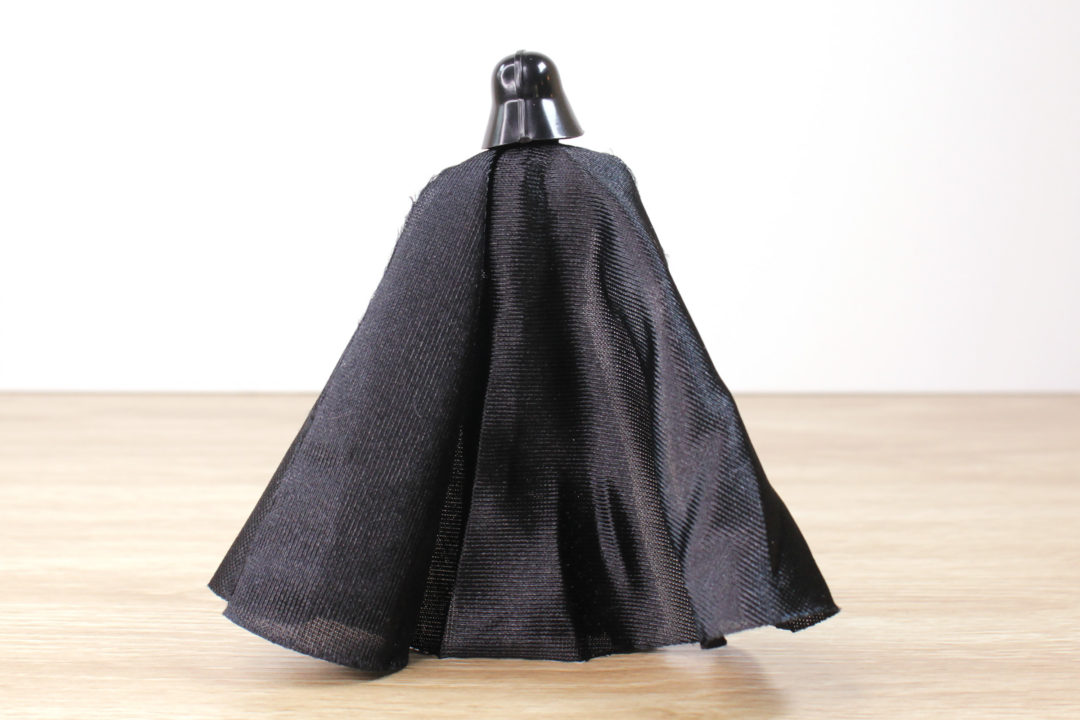 There is a great level of articulation in this figure, which means he poses very well, and I found he is quite steady when attempting to stand him without an additional base stand (not included). There are articulation points at the neck, shoulders, elbows, wrist, waist, hips, thighs, knees, and ankles. The joints all feel nice and tight, so the poses hold well.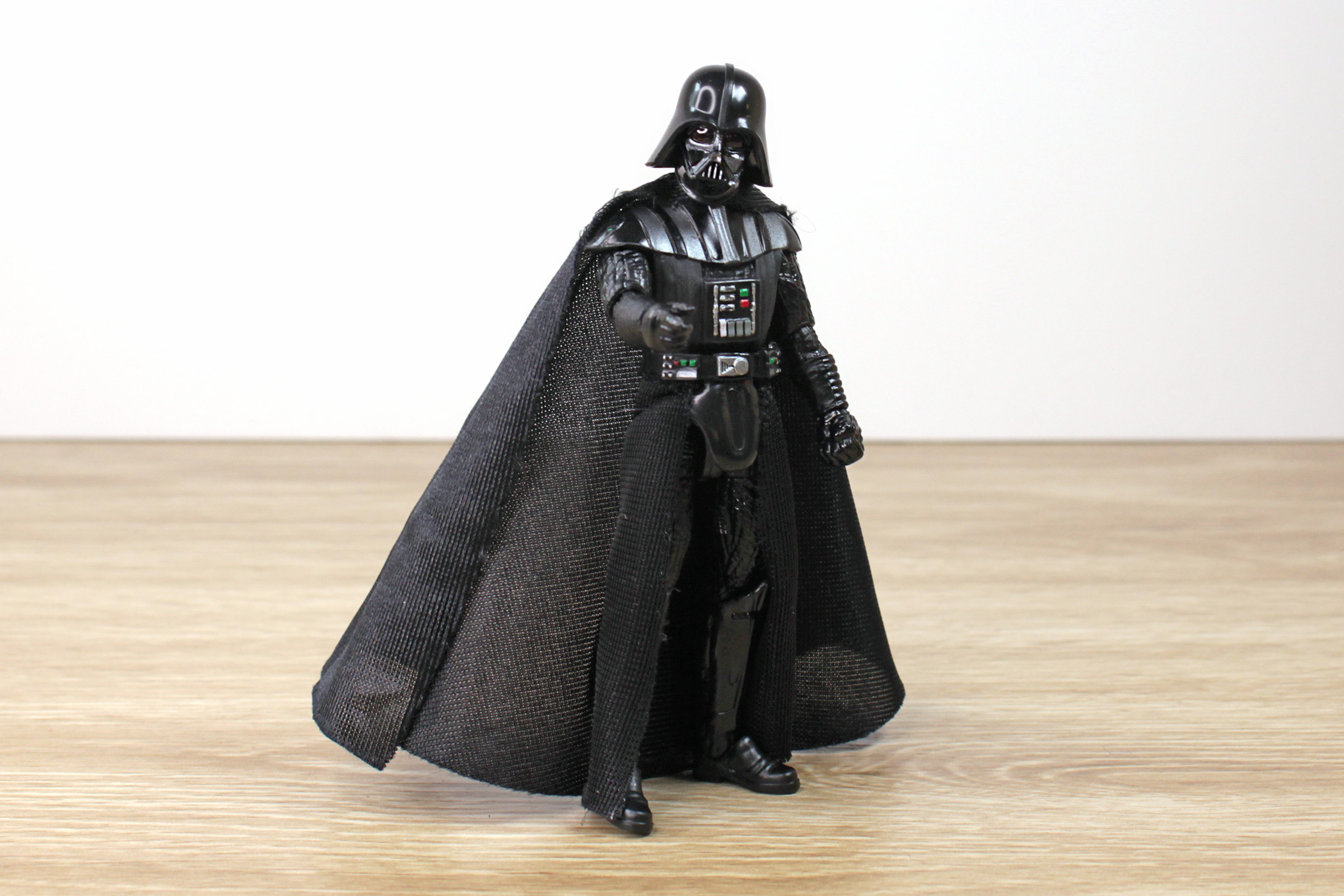 The helmet has some really nice sculpting and details. The lenses have a red tint, to match Darth Vader's appearance in Obi-Wan Kenobi. There are also nice accurate silver/grey touches on the cheeks, nose, and tusks of the helmet (as used on the full-sized filming helmets to increase the contrast and visibility of dtails). One aspect which I found interesting – the helmet dome is made from flexible plastic, so the sides can be flexed (it feels like the same plastic as the cod piece, which can also bend). Perhaps this helps when assembling the figure with the soft goods components? In any case, I only noticed it when checking the neck articulation movement.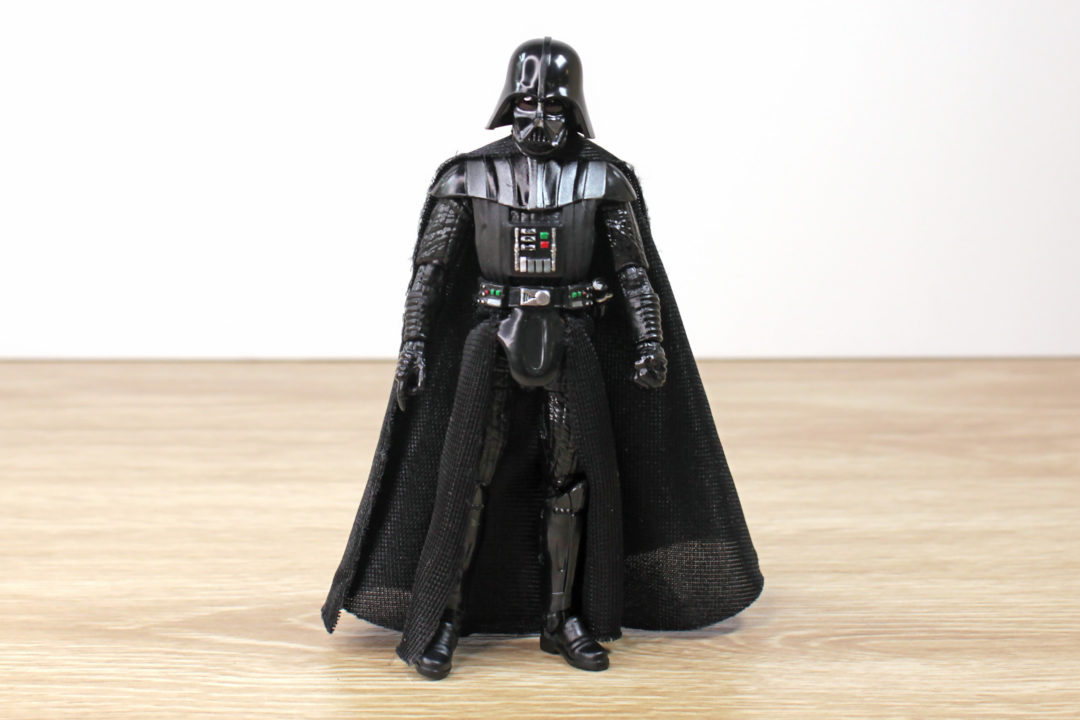 All up, a fantastic action figure – and I'm glad we opened it up to take a closer look. I know for many collectors, when it comes to a character that we all own several versions of, sometimes getting yet another double doesn't always fit into the budget alongside new characters being done in the action figure line for the first time. Personally for us, this VC241 Darth Vader is a must-have figure, and in our opinion, one of the best versions Hasbro has ever made.
May the Force be with you!