TVC Darth Vader (Death Star II) VC280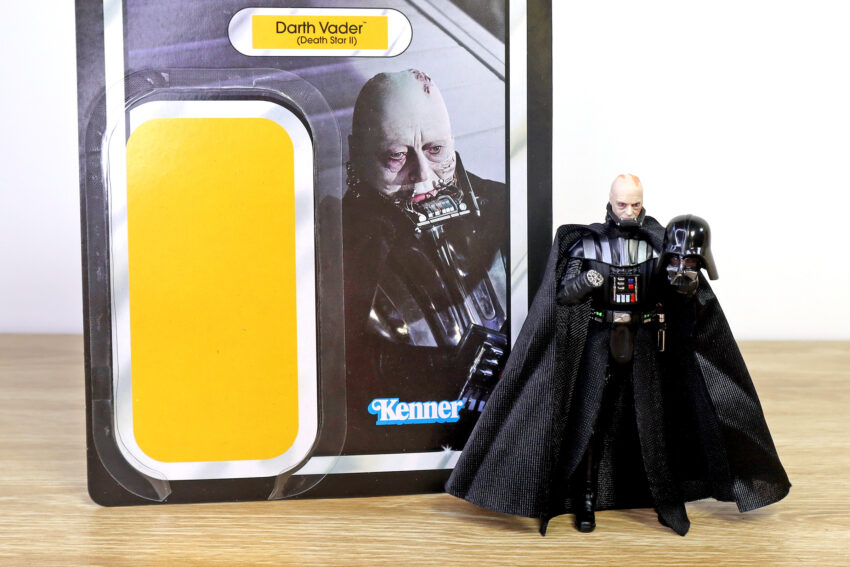 A new addition to our TVC collection – the Darth Vader (Death Star II) action figure from The Vintage Collection line by Hasbro. This is released as part of the Return Of The Jedi 40th Anniversary, and features Darth Vader with his helmet off as seen towards the end of the film.
We also took the opportunity to compare this figure to the Darth Vader (Dark Times) VC241 figure from the Obi-Wan Kenobi series – it was interesting to see the similarities and differences when holding them side by side.
Check out our unboxing video –
Scroll down for our full photo gallery –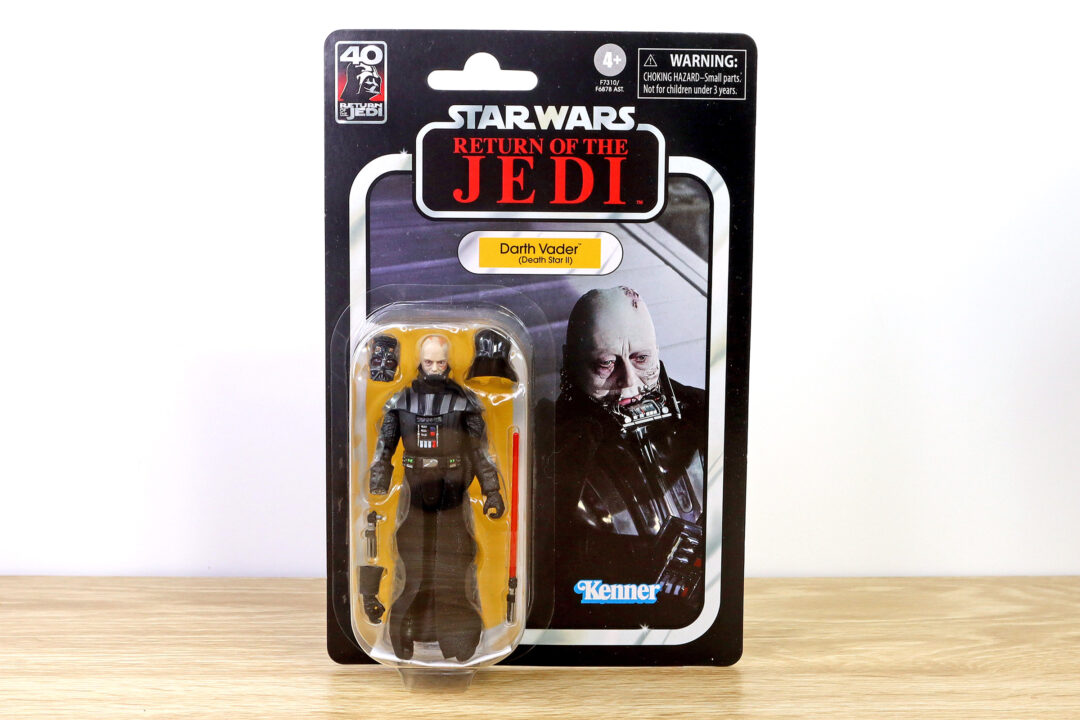 This Darth Vader figure comes with several accessories –
an additional right hand/glove (to swap out for the severed mechanical hand)
helmet in 3 pieces – neckpiece (attached to the figure), face plate, and dome
lightsaber hilt (with peg to attach to the belt)
activated lightsaber with red blade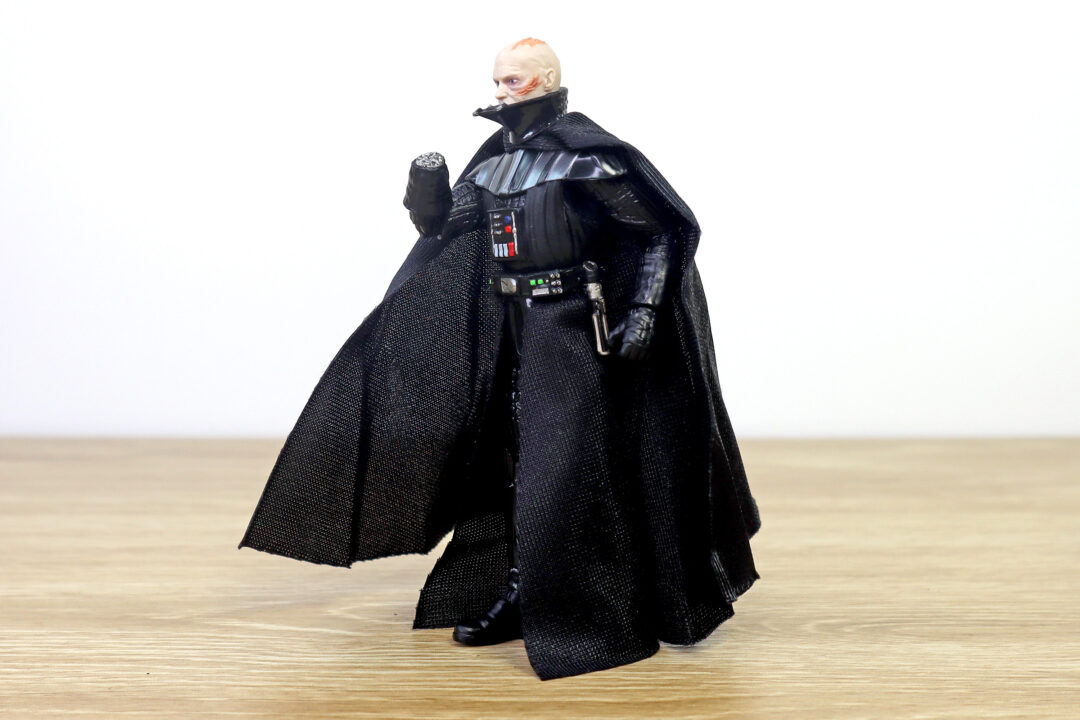 As expected, there is a great level of articulation in this figure, which means he poses very well, but I found him a little unsteady when attempting to stand him without an additional base stand (not included). There are articulation points at the neck, shoulders, elbows, wrist, waist, hips, thighs, knees, and ankles. Most of the joints feel nice and tight, but quite loose at the hips for my particular figure.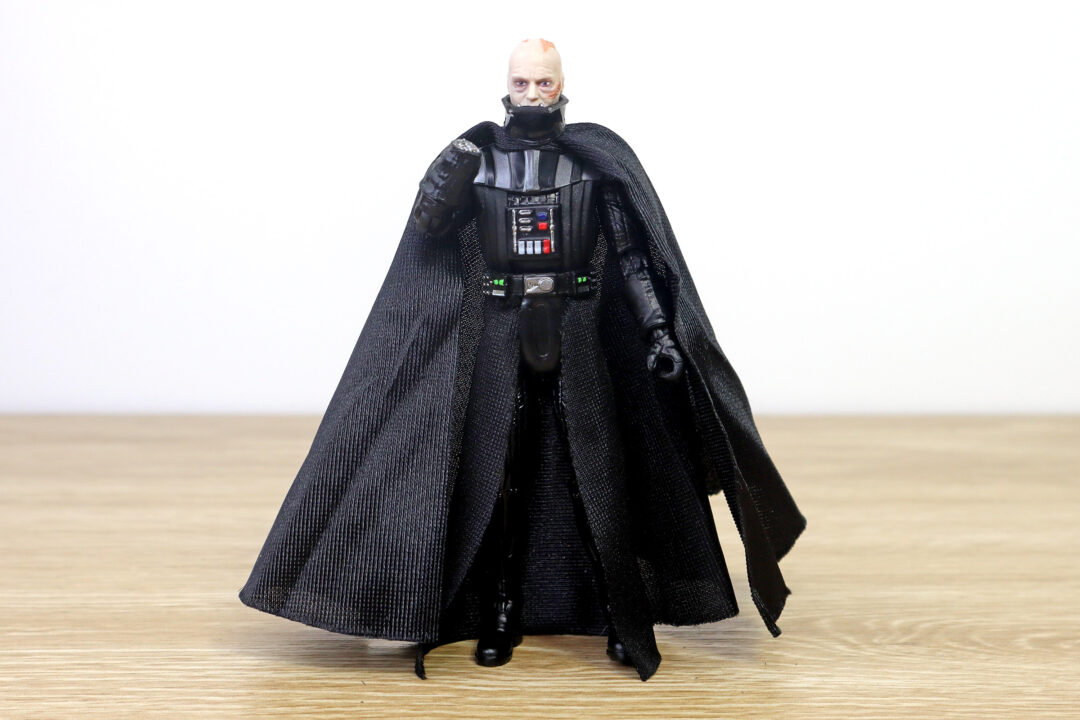 This figure has two soft goods components – a large flowing black cape, and a lower "skirt" robe. The soft goods are made from the same material, and suit the scale well. The edges are not sealed, they are left raw, so do be careful not to cause any fraying with handling.
I really like the cape in particular – there is a lot of fabric here, which was all tucked behind the figure when packaged. The cape opens up for a full wide shape, like when Darth Vader strides down hallways.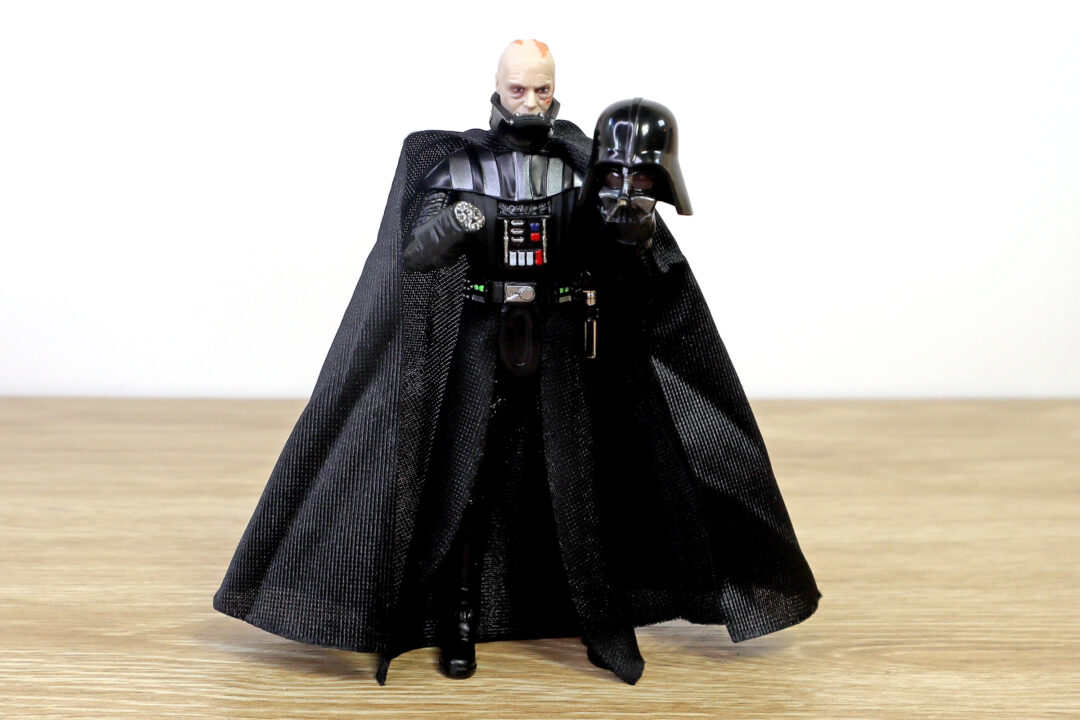 The unmasked Darth Vader/Anakin Skywalker face here is quite good. I have seen some speculation that the likeness is a bit of a halfway point between the original Return Of The Jedi actor Sebastian Shaw and later Anakin Skywalker actor Hayden Christensen – I can see a bit of that, but at this scale, it's pretty hard to tell.
The helmet for this figure is in three parts –
neck piece (attached)
face plate (removable)
dome (removable)
All three parts are made from a softer plastic, that can bend a little when squeezed. I was a little worried about the shape of the helmet parts, as they looked a little misshaped when I got them out of the packaging, but they fit over the head well and hold in place.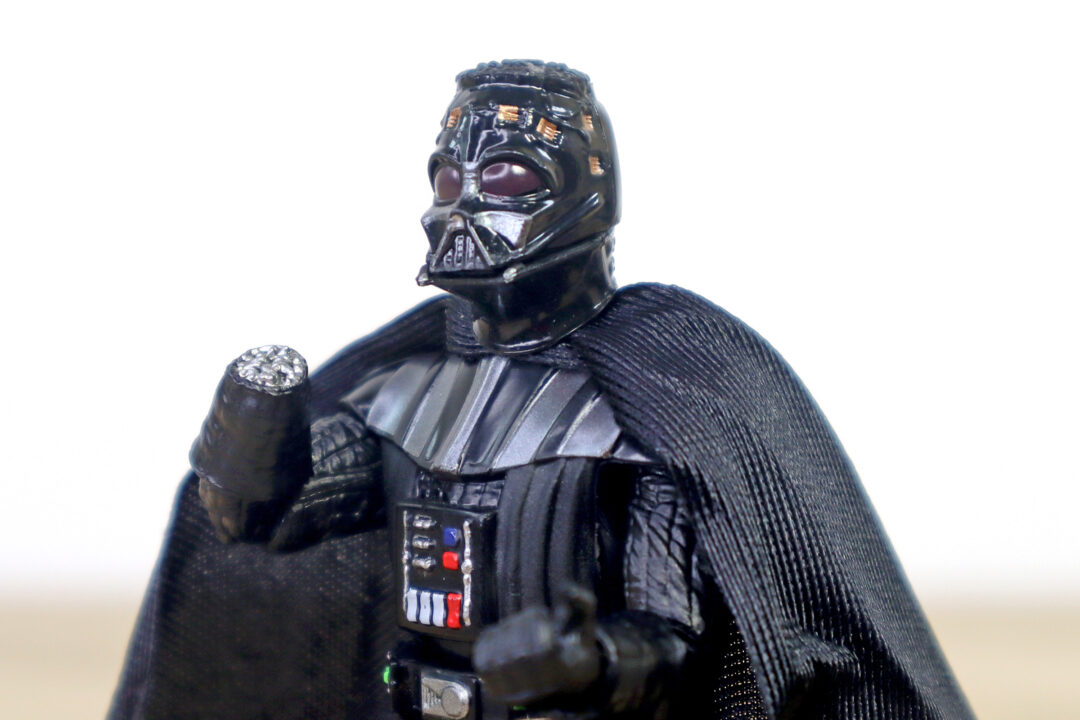 The top dome also fits nicely into place – again, I was worried about the softer plastic giving a bit of a distorted or squished shape to the round flared edge of the dome, but it looks good. It wasn't hard to get the dome nicely into place, that soft plastic slides over the head well.
The helmet almost looks like one complete sculpt when fully on and assembled, except at one spot – underneath the breather section. Those two pieces didn't quite fully meet seamlessly, so there is a small gap here on my figure. This may be more or less visible on other figures – but of course it's impossible to tell how well a particular figure will display until you open up the card/bubble and assemble it. Of course it looks very noticeable in these enlarged photos, so it's less of a gap in person, but still visible.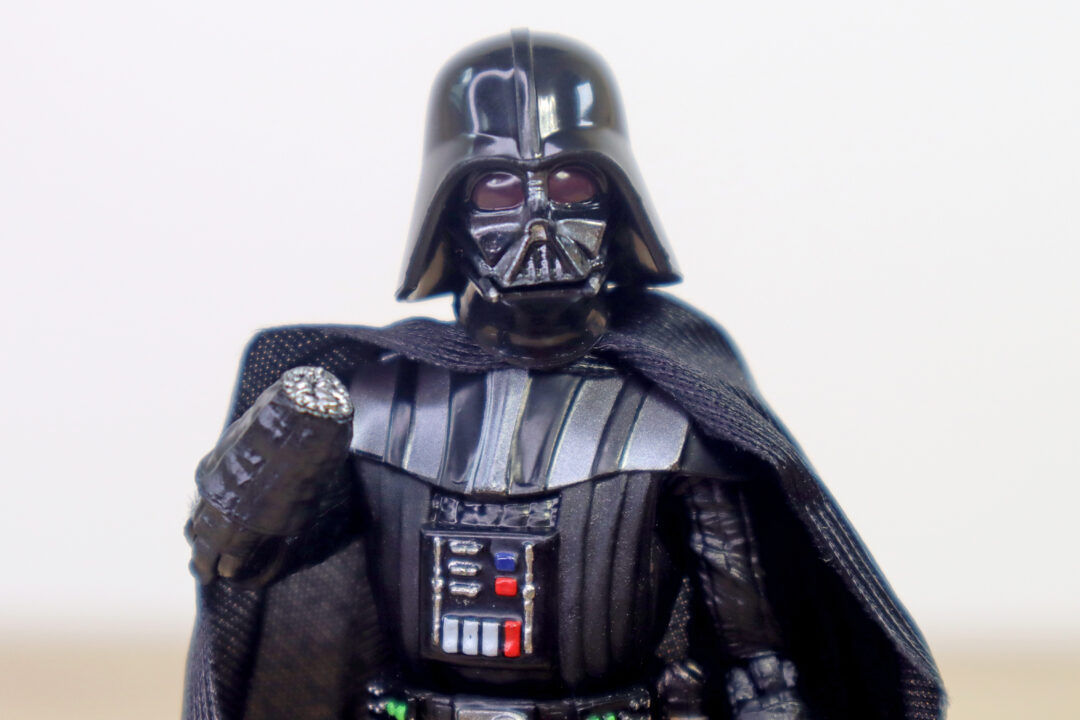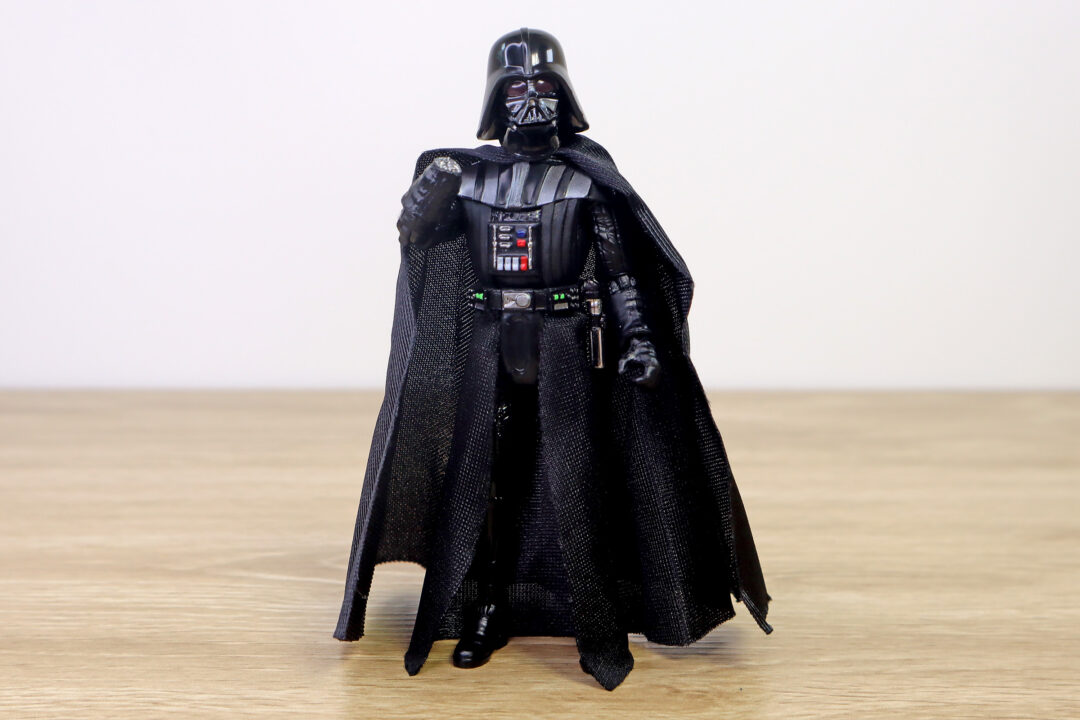 This figure comes with two options for lightsabers – an activated blade lightsaber that can be held for action poses, and an unlit hilt that can be held or worn on the belt with a small peg on the hilt that fits into a hole on the belt.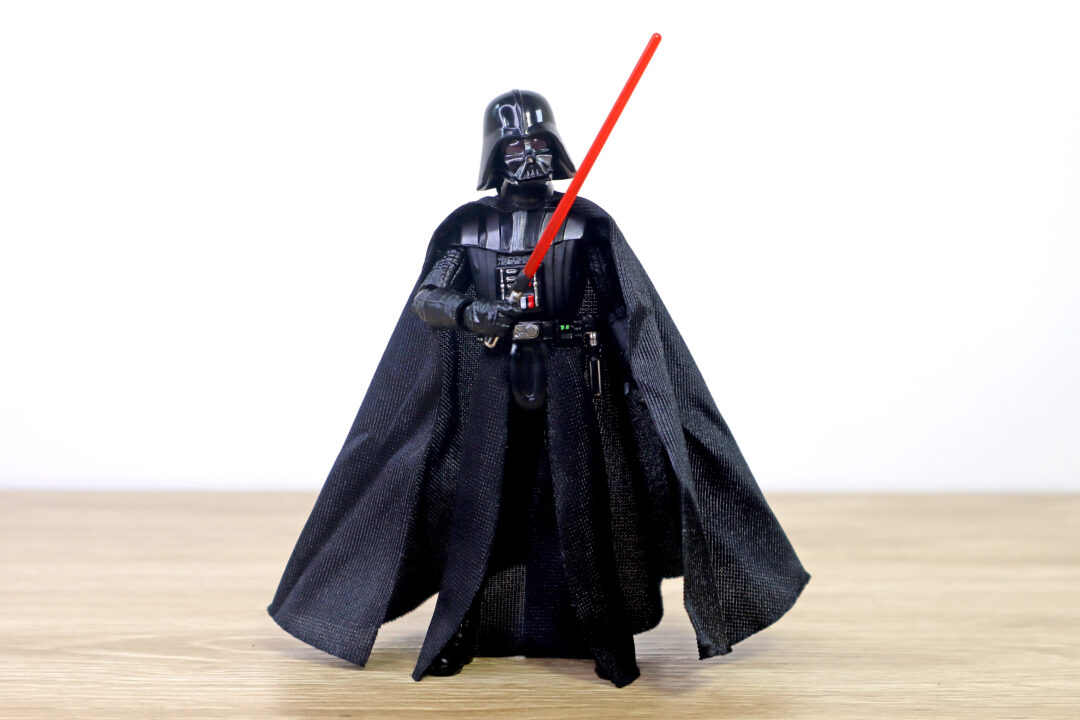 Now to compare with the Darth Vader 'Dark Times' VC241 figure from Obi-Wan Kenobi – the main difference is of course the helmet. Darth Vader's helmet has subtle differences from film to film to series, and action figure sculpts have also changed a lot over the years, and some are better than others!
The first obvious difference is the small gap under the 'breather' section of the helmet, where it can be removed – though perhaps some figures may have less or more of a gap than the figure I have here.
To my eyes, the rest of the helmet does look very similar. The Death Star II figure has a removable helmet with head underneath, while the Dark Times figure does not have a removable helmet. Usually a removable helmet results in a slightly larger overall scale, to fit the head inside, but here it is not very noticeable at all. I am quite impressed!
Death Star II VC280 on left – Dark Times TC241 on right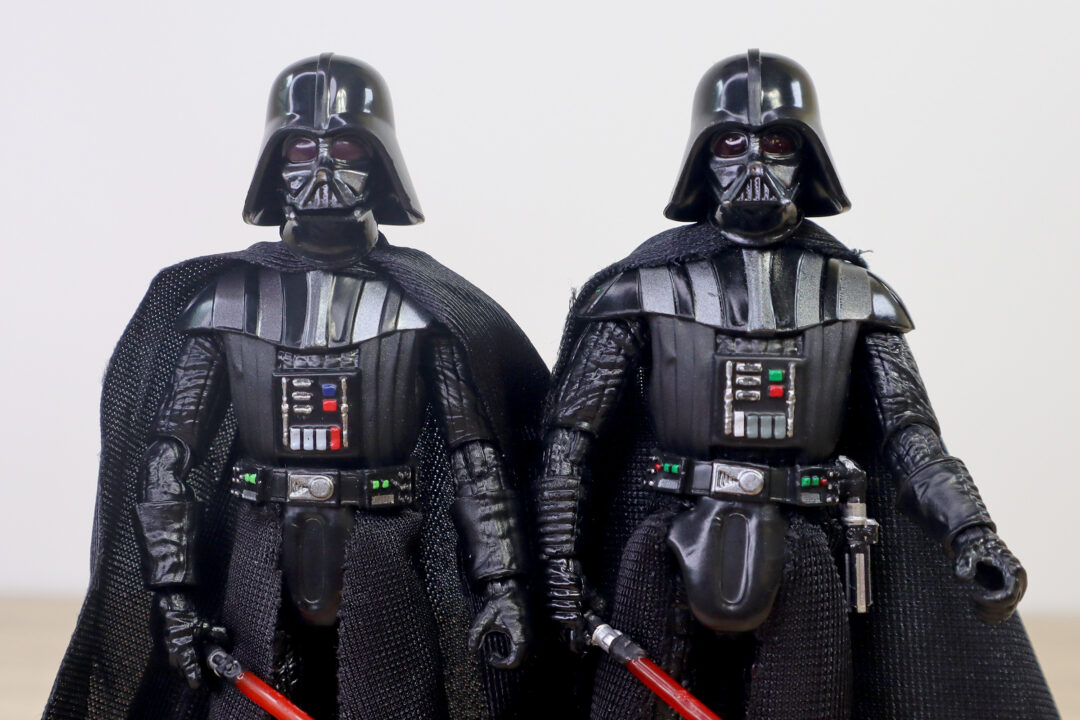 Comparing them in hand, it is obvious that many of the same parts of the 'Dark Times' version have been reused here. To my eyes, the main different part is the 'gloves' which is accurate, as they are different between Return Of The Jedi and Obi-Wan Kenobi. The paint application on the chest boxes and belt boxes is also different, to be accurate to the film and series, respectively.
Death Star II VC280 on left – Dark Times TC241 on right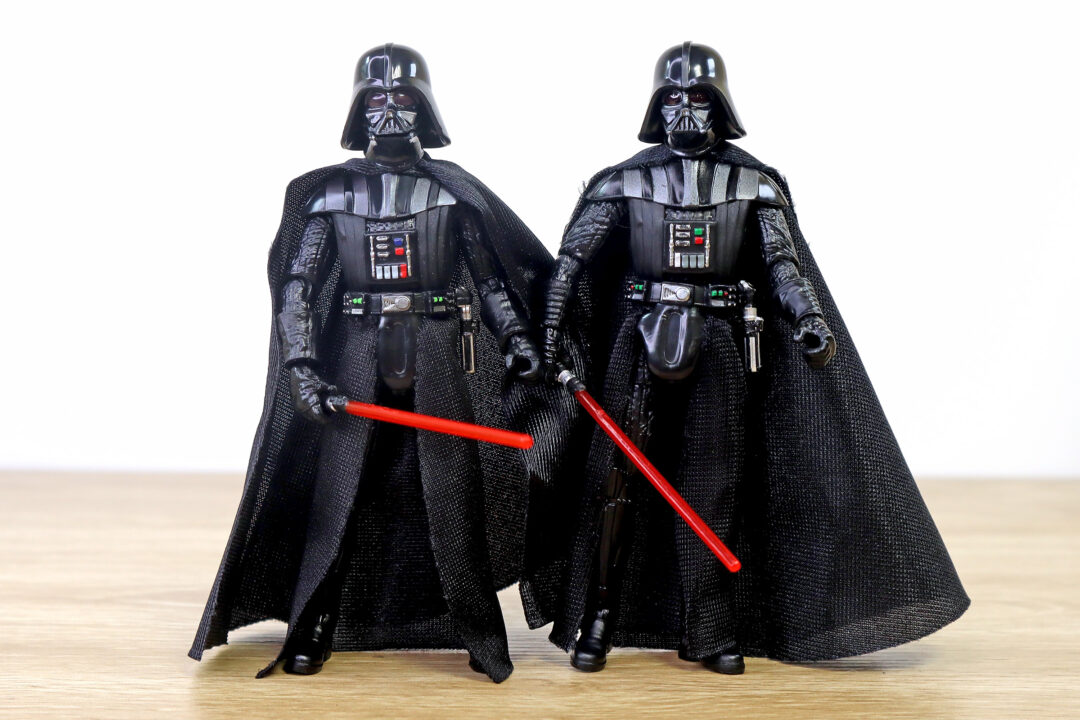 While this figure might not have many differences to the earlier Dark Times version, I do still think it is a worthwhile addition to our collection. We intend to display this figure alongside our Return Of The Jedi action figures, with the options as seen when carded – cut off hand, and helmet removed.
May the Force be with you!