Fall For Costume 2019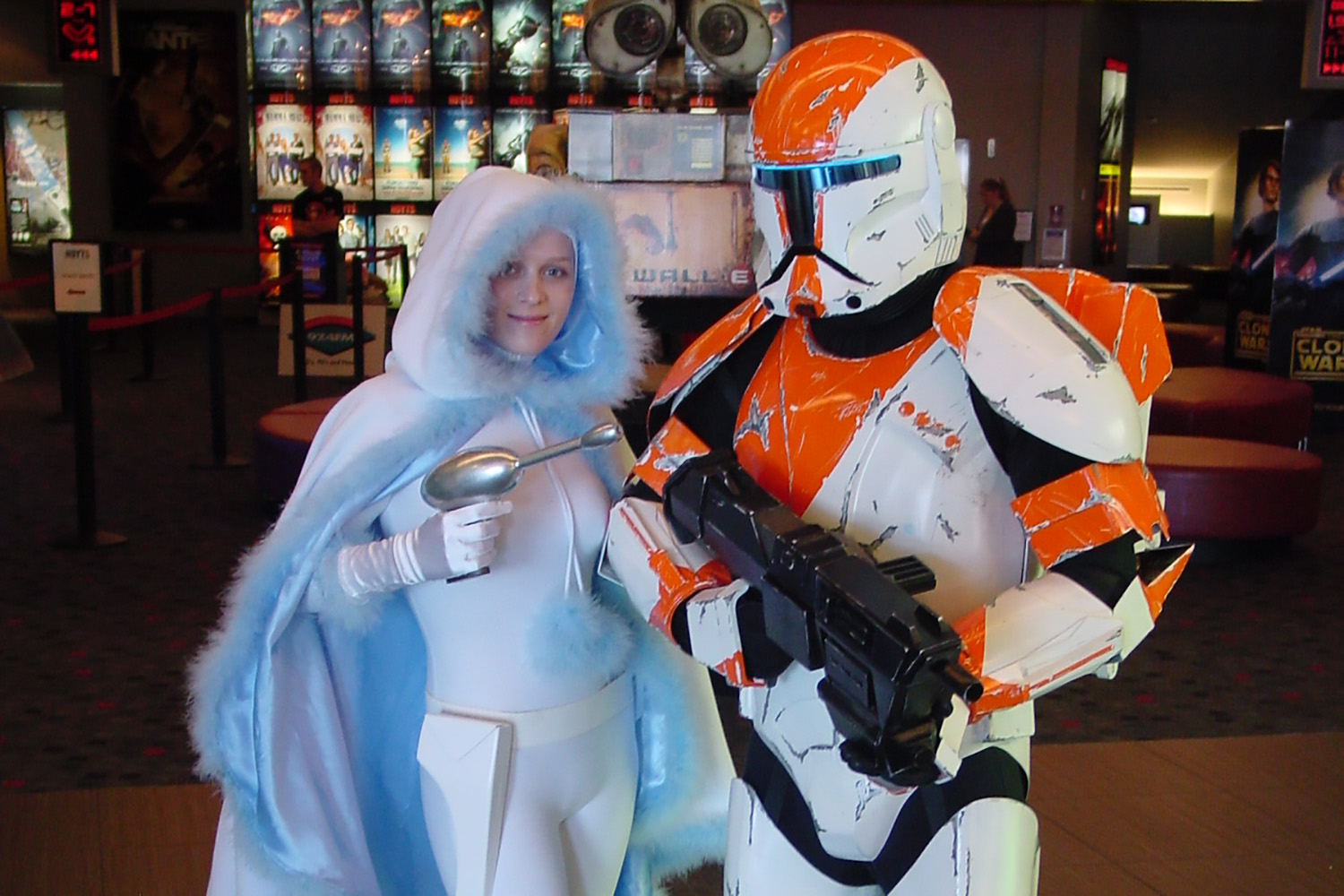 I enjoy monthly social media challenges, so when the annual 'Fall For Costume' Instagram event rolled around in October this year, it was a great opportunity to dig through older photos and share some of our favorite costume memories.
Hosted by redthreaded, the challenge lasts for the month of October – which is often associated with costumes as Halloween season. There is a different word prompt for each day, which you can interpret anyway you like, to fit your costume range. For us, our costumes are predominately from Star Wars, comics, and science fiction – check out our daily posts below –
#FallForCostume 2019 Instagram challenge hosted by @redthreaded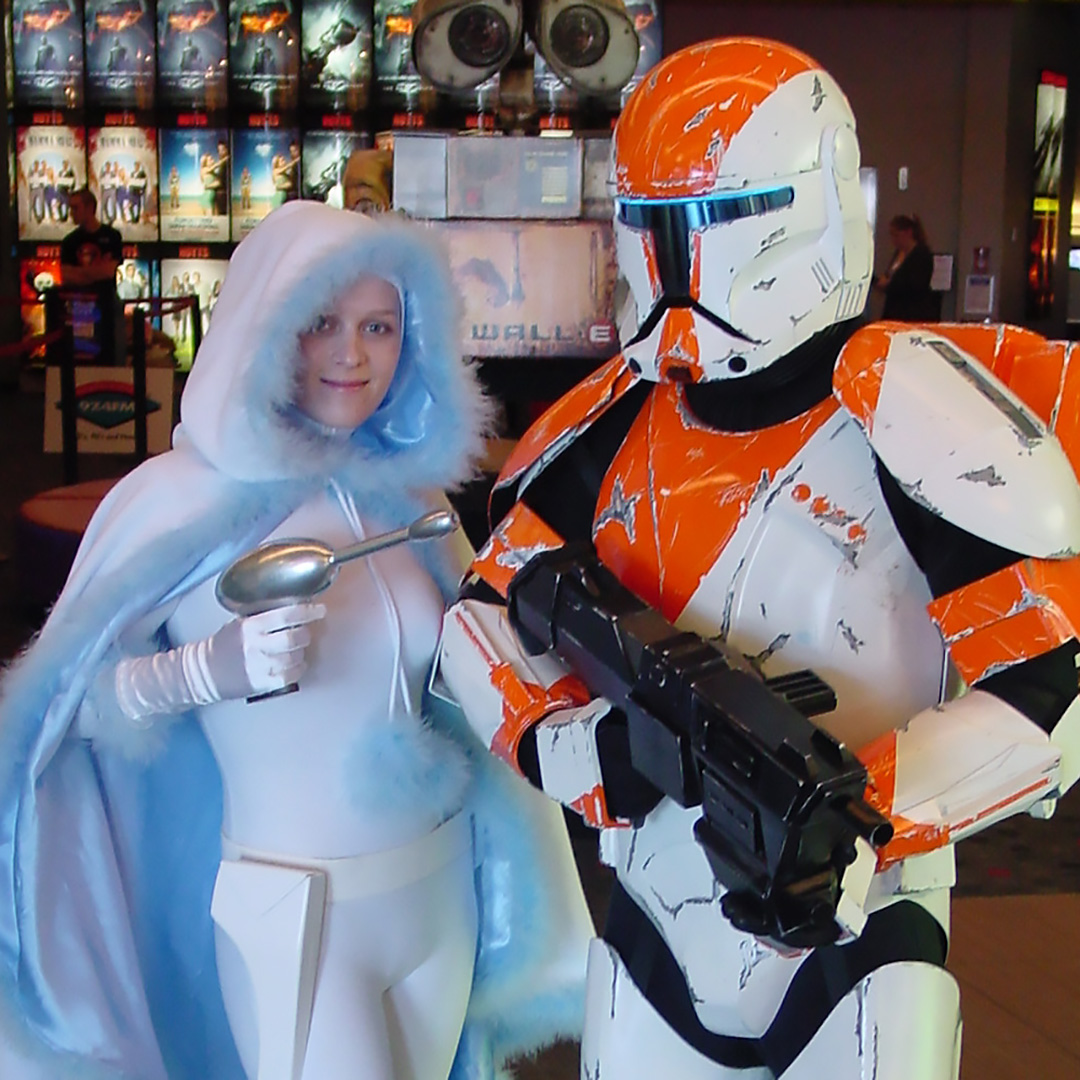 Hello ? We're Kristy and Matt Glasgow – married Star Wars fans and costumers. Star Wars is how we met, and is a huge part of our lives. ⠀
⠀
Our costumes include some of our favourite Star Wars characters, like Padme' Amidala and Republic Commando Boss. ⠀
⠀
We love to travel, and attend international costume events/conventions like DragonCon and Star Wars Celebration
The tv series Legend Of The Seeker was filmed in NZ – Matt was an extra for several episodes, so we're quite fond of the show. ⠀
⠀
They auctioned off most of the costumes and props after the series ended, and we managed to get this hero Sister Marissa costume. ⠀
⠀
Matt made my dacra weapon, which survived the international trip to DragonCon and back!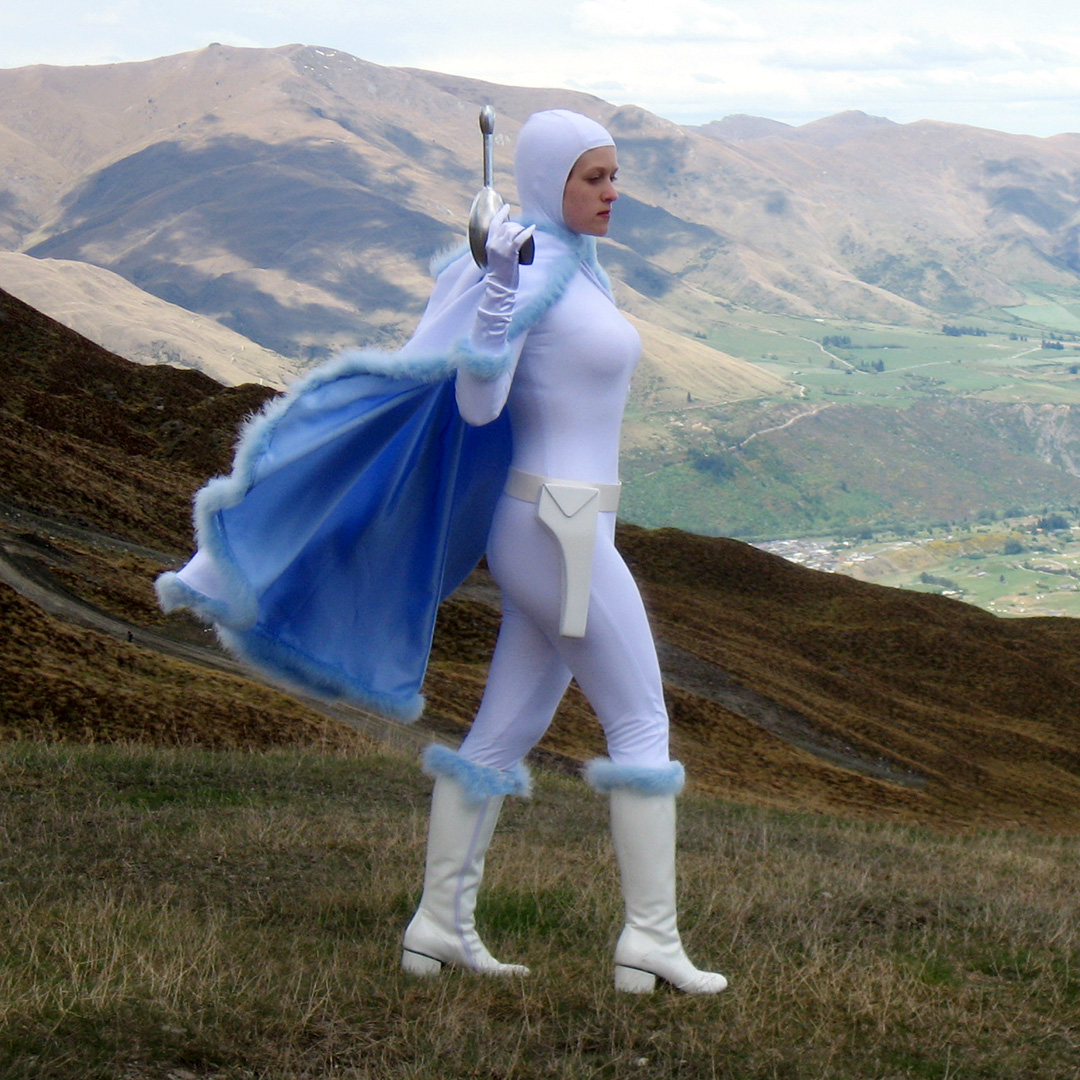 It's simple, but my Snowbunny cape is one of my favourite things I've ever made. ⠀
⠀
I love the soft white fleece and blue marabou trim, it's so cuddly and warm ⭐️
My Captain America dancing girl outfit is my most structured costume, in both construction process and technique. ⠀
⠀
As well as following the detailed sewing instructions to match the group, it was also my first attempt at hat-making. ⠀
⠀
It was a last-minute costume that stressed me out to finish on time, but I had such an awesome time with my fellow dancers at DragonCon ⭐️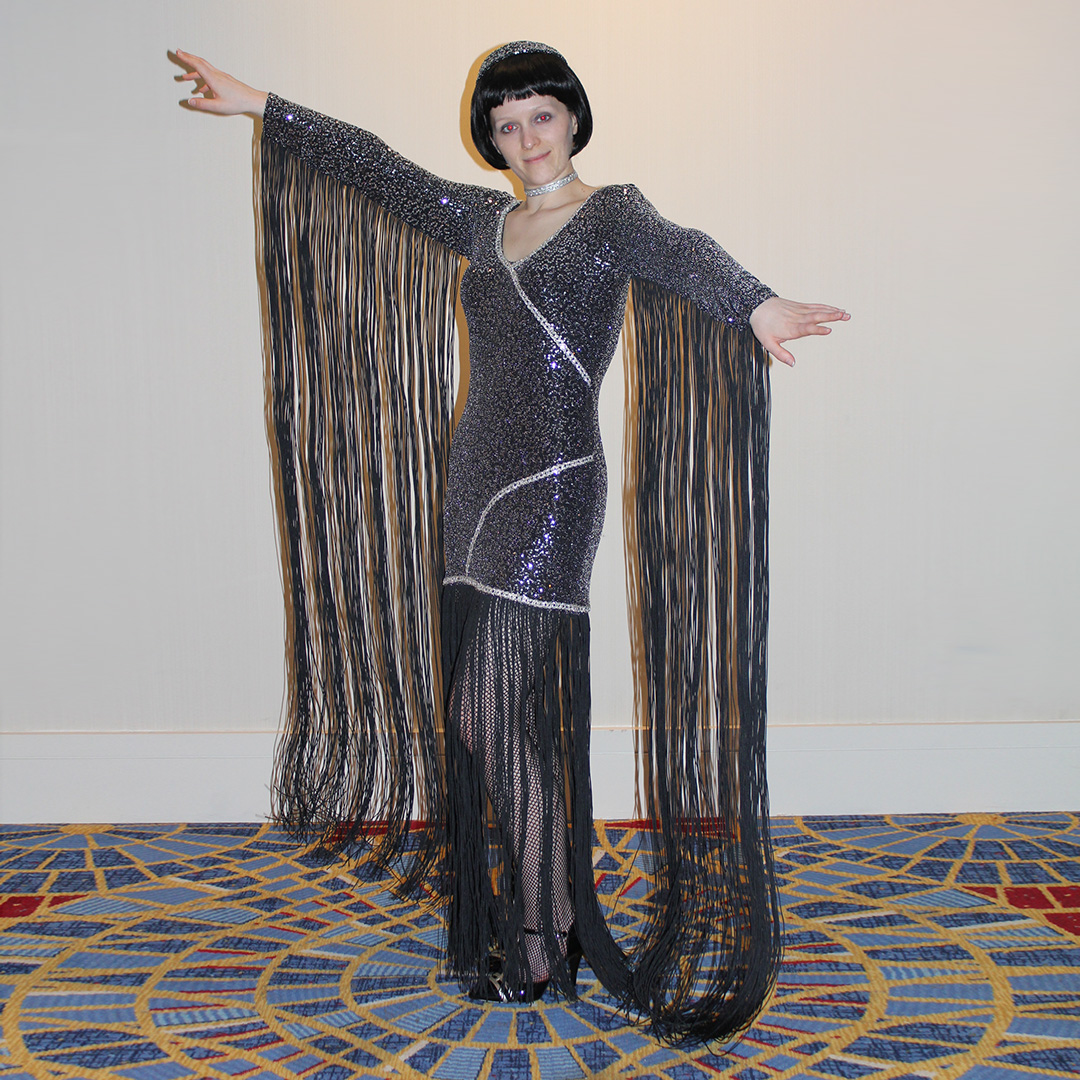 I'm not confident in my sewing abilities to be brave enough to show the inside of anything I've made, but this dress at least has an interesting story. ⠀
⠀
For some reason I was hell-bent on making this costume with less than two weeks until DragonCon! Unable to find proper fringe anywhere locally, I bought a huge amount of black cord…. ⠀
⠀
Of course having all the cord ends along the seams makes this dress very scratchy on the inside! Lesson learnt – don't do last minute projects unless I have the proper materials ?
The weathering on my Republic Commando took a lot of paint layers to achieve. ⠀
⠀
The metallic silver weathering isn't painted on, it's an entire paint layer under the white topcoat, and worn down in selected areas. ⠀
⠀
A time consuming process, but now any addition wear from scratches and scuffs will only add to the effect ⭐️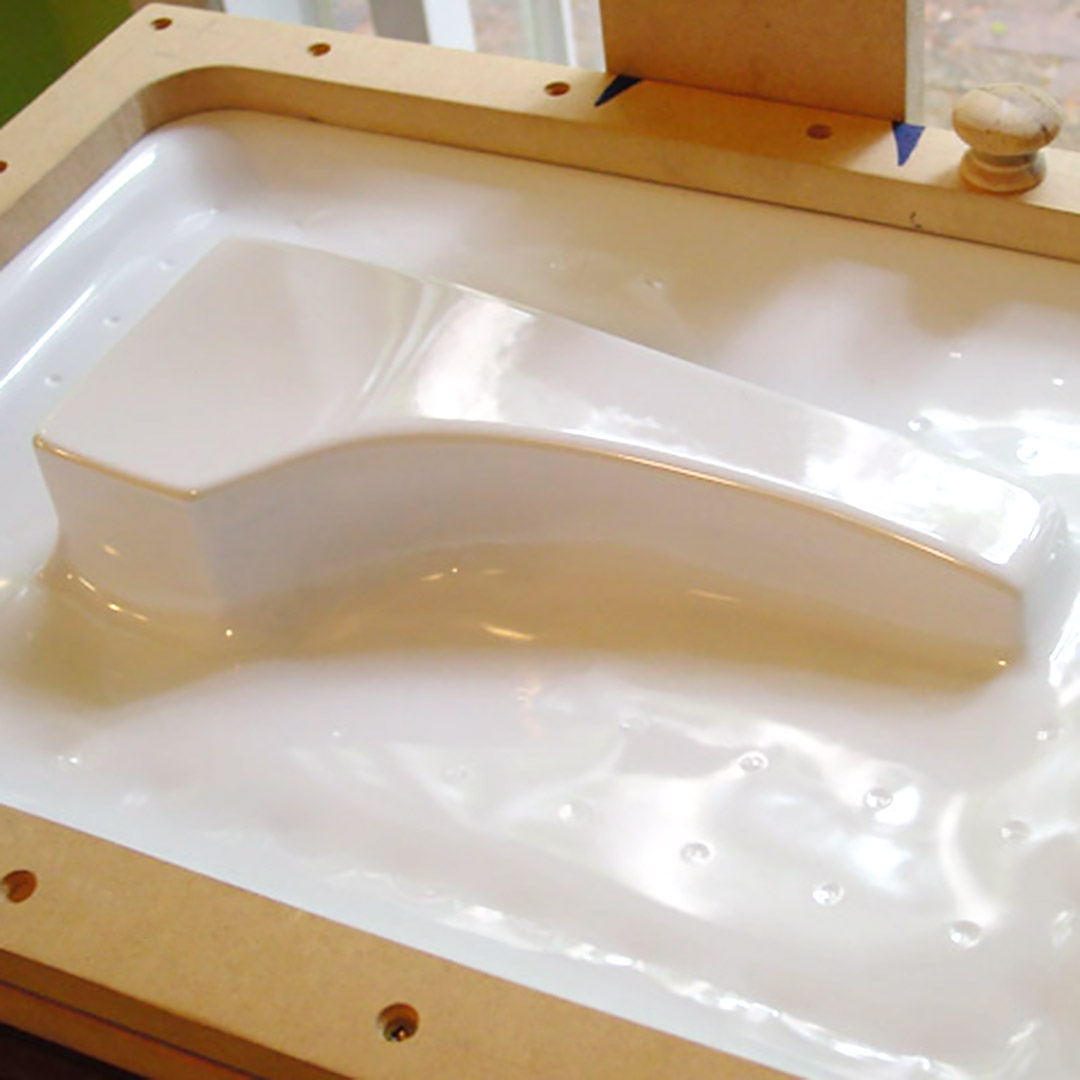 For my Clone Wars 'Snowbunny' Padme' Amidala costume, we wanted to replicate the animated style – which meant custom accessories.⠀
⠀
We made our own vac-form machine, and used it to make a custom blaster holster, belt pouch, and the blaster. ⠀
⠀
I really love the cute cartoon look, and creating props via vac-forming was a neat process to learn ⭐️
In 2005 I joined the 501st Legion with a classic Imperial Officer costume. Matt has been a member since 2001 with his Stormtrooper armour, and I decided to join him on the Dark Side. ⠀
⠀
A novice seamstress back then (and still), I bought all the fabric components, while Matt made my belt buckle and rank badge. ⠀
⠀
ID-947 and TK-944 – Troopers In Love ?❤️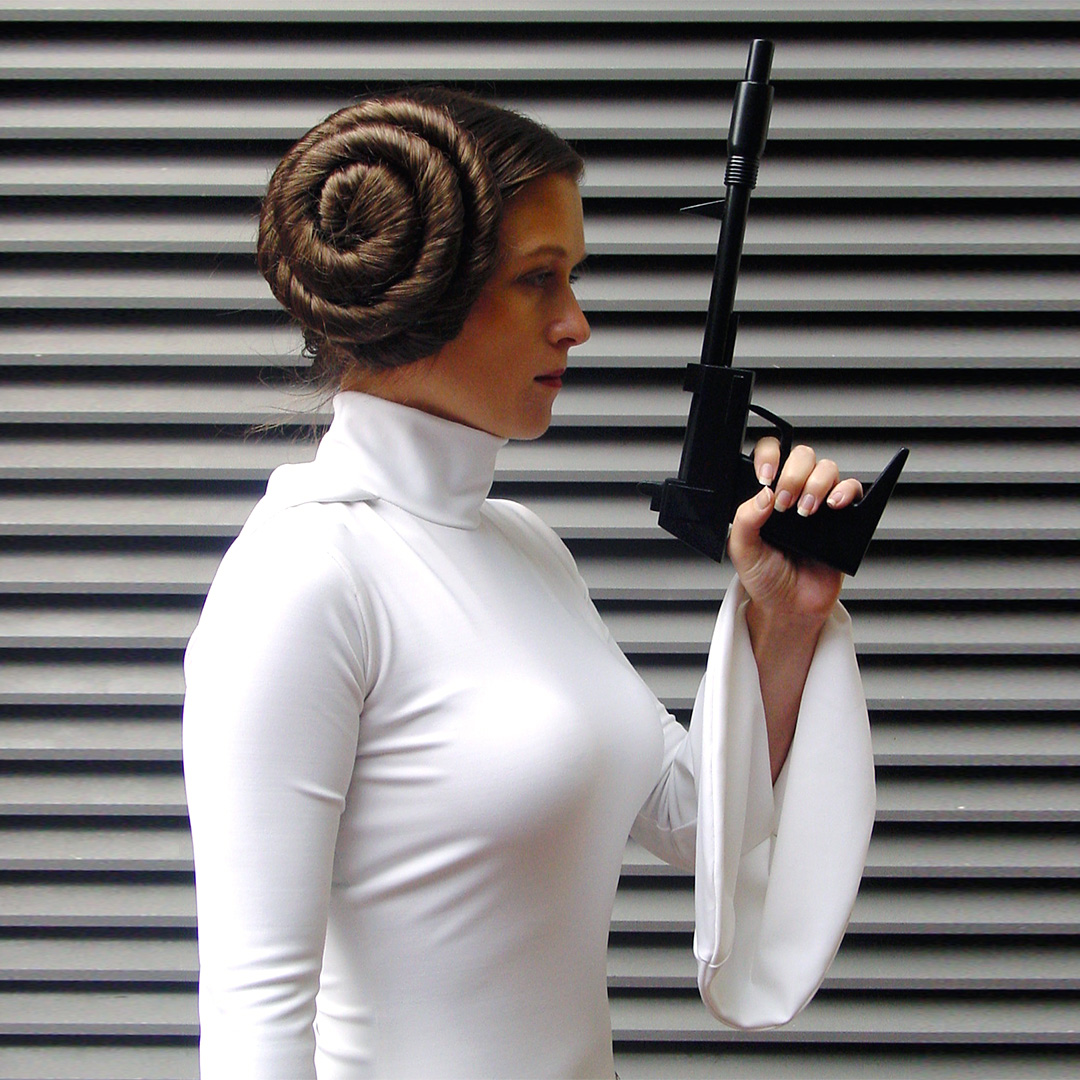 I love the Star Wars animation style statues by @gentlegiantltd – the Princess Leia & R2-D2 statue is one of my favourites in my collection. ⠀ ⠀ ⠀ ⠀ ⠀ ⠀ ⠀ ⠀ ⠀ ⠀
So when I was invited to join a group of GG Leia's for a local convention, I jumped at the awesome opportunity. We had so much fun together! ⠀
⠀
I'm still not great at patten drafting, sewing, or working with wigs, but I love my GG Leia ❤️
Throwing it back to the 60's for this one – my Austin Powers dancer girl. ⠀
I joined a group of friends for the 2011 DragonCon Masquerade, picking this bright orange and pink outfit from the opening sequence of the first film. ⠀
⠀
Custom printed fabric, custom earrings, a very hastily made hat, purple stockings, and bright orange go-go boots. ⠀
⠀
A little bit rushed, as my DragonCon costumes tend to be – but I had so much fun dancing on stage with my friends ?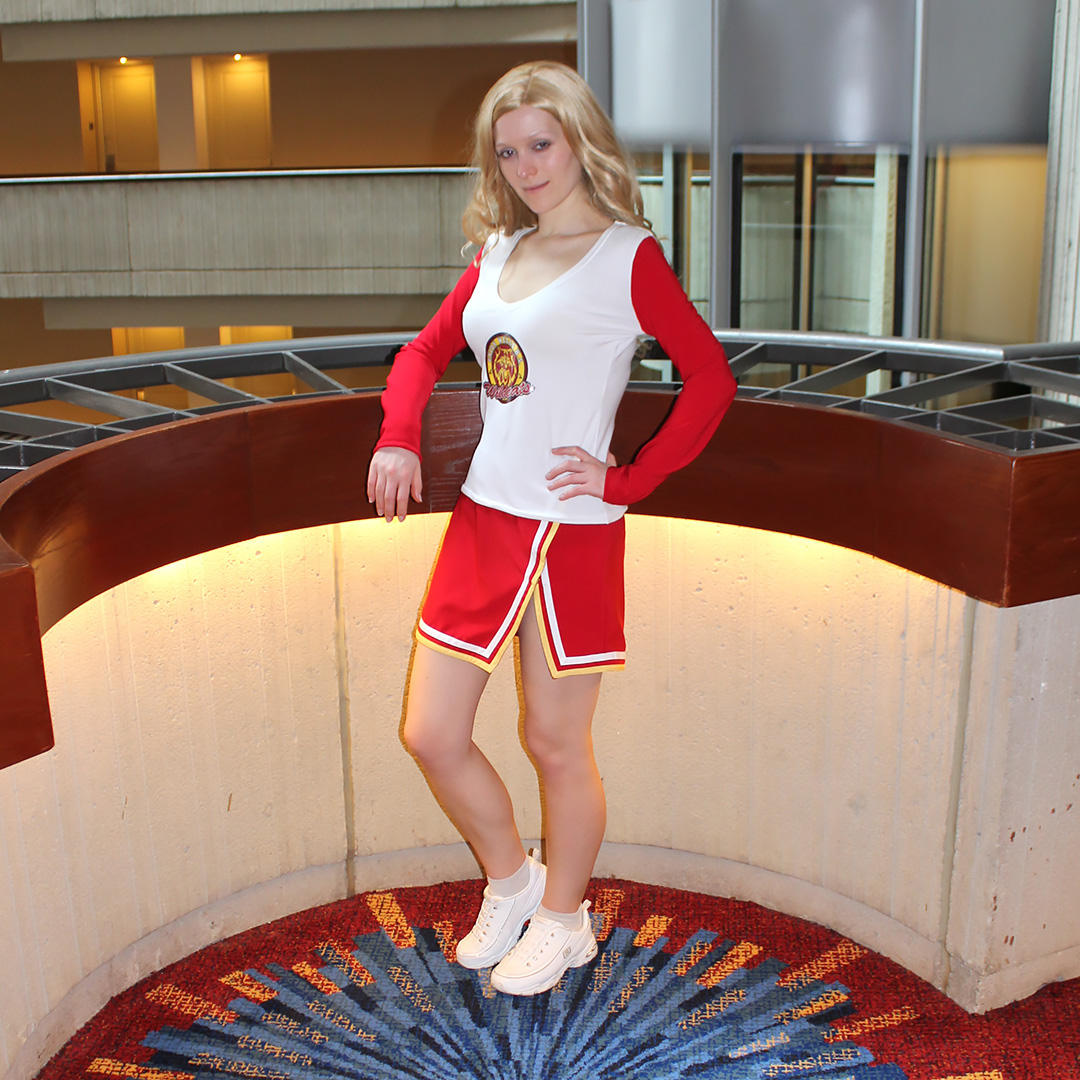 I loved the early seasons of Heroes. I put together this quick Claire Bennet costume when Zachary Quinto was announced for a local convention. ⠀
⠀
Unfortunately he cancelled, but I'm still glad I made the costume. ⠀
⠀
I took it along to DragonCon 2011 as a comfy change between costumes ⭐️
Kind of a sad story for this one – years ago we bought these @anovos premier Star Trek costumes, for a future DragonCon trip. ⠀
The trip didn't happen because of life's hurdles, and we had to sell the costumes too. ⠀
⠀
We still love Star Trek, and still plan to costume together from the original series… just not with these costumes. ⠀
⠀
Life has certainly thrown some 'adventures' our way these past few years, but we're looking toward the future with hope and optimism ⭐️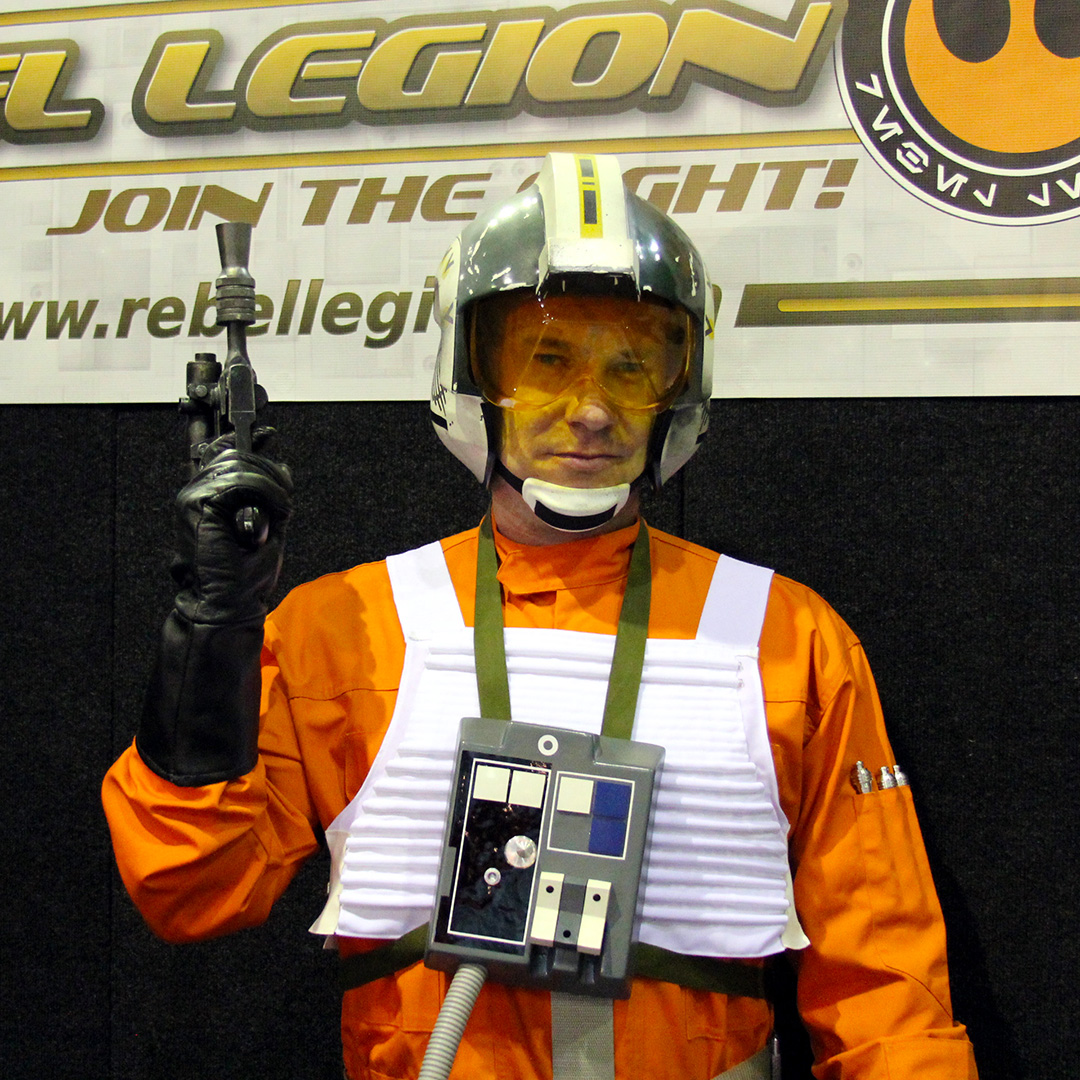 We have quite a few costumes that fit the 'space' theme, but a space pilot seemed to fit the best. ⠀
⠀
When we met, we had one costume each, on opposite sides – Matt had his Stormtrooper armour, I had my Jedi robes. ⠀
⠀
Since then, we've both crossed to 'each other's side', and now we both have costumes for the Light Side and the Dark Side. From a Stormtrooper to a Rebel Pilot. ⠀
⠀
Someday I'll finish my X-Wing pilot costume so we can match ?
I made our Harley Quinn and Joker costumes for @armageddonexponz Auckland 2007, as HQ co-creator Bruce Timm was a guest. ⠀
⠀
We also entered into the Cosplay Competition – and won Best In Show! The one and only time I've had the confidence to perform a skit, complete with animated-style Harley Quinn voice. Matt even grew his hair long for me so I could paint it green. ⠀
⠀
Despite being quite basic by modern cosplay standards (this was *12* years ago!), I am still proud of them. The most hand-stitching I've ever done – I got so obsessed with making the Joker costume and accessories that I nearly didn't get HQ finished in time!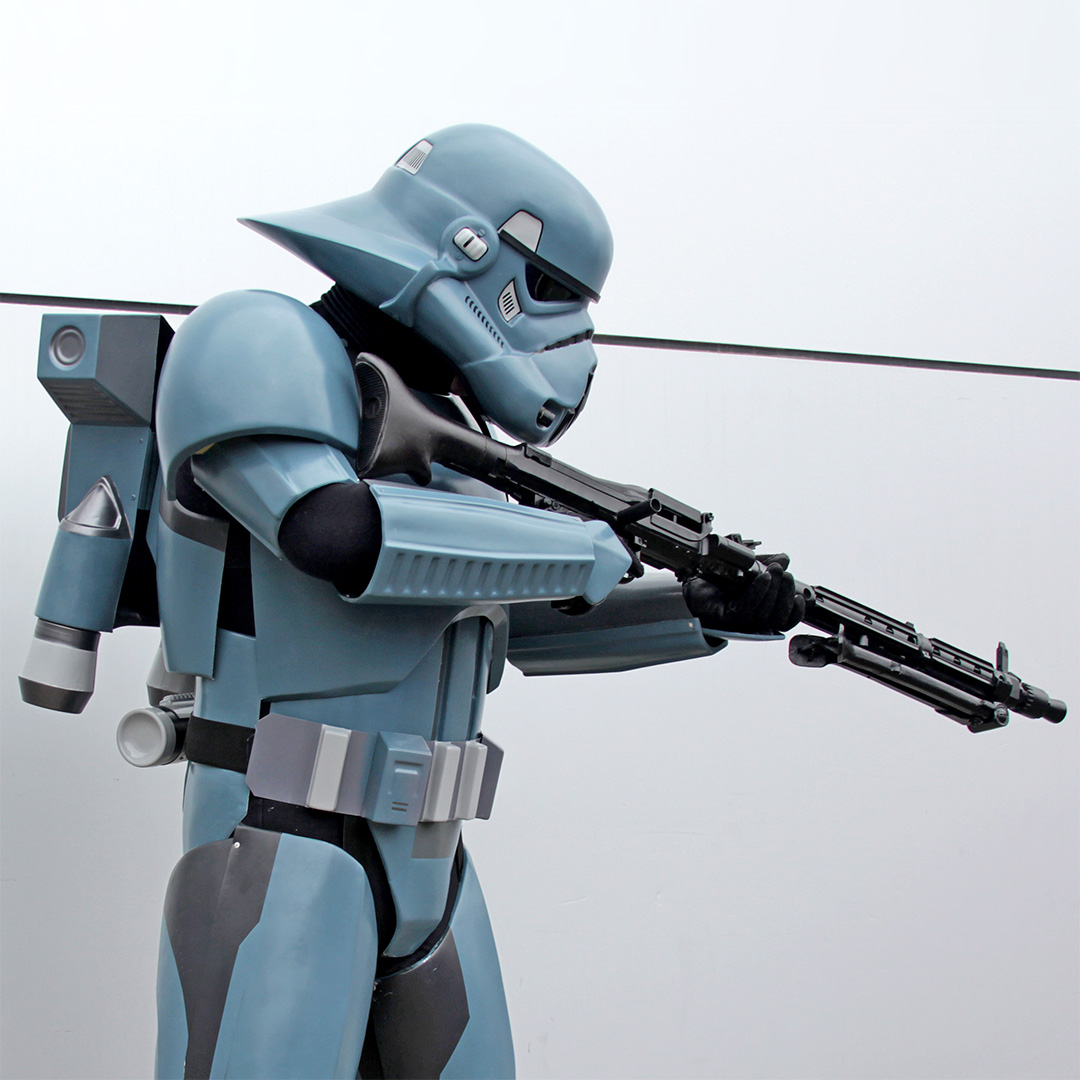 For Armageddon Expo Auckland 2017, Matt debuted his Darktrooper armour, from the original Battlefront II video game. ⠀
⠀
The trooper armour is a unique shade of blue, which really stands out alongside classic white stormtrooper armour. ⠀
⠀
Made by Oota Goota workshop, the armour is made from vac-formed plastic, and custom fit for Matt. We are big fans of the original Battlefront games, so it was a great experience to get to debut a new costume build of a unique armour design from the game ⭐️
One of the few photos of my first costume, completed in April 2004. It started by finding a custom wool robe online, and was soon followed by custom leather boots, FX lightsaber, and figuring out how to sew. ⠀
⠀
Halloween wasn't even a thing here in NZ when I was a child, so Star Wars was my first introduction to costuming. ⠀
⠀
I learnt so much making that first costume, I remade the tunics pretty soon after (and a few more time after that). ⠀
⠀
My sewing skills still have a long way to go, but I'm so happy for all the amazing friends I've made through costuming and cosplay ?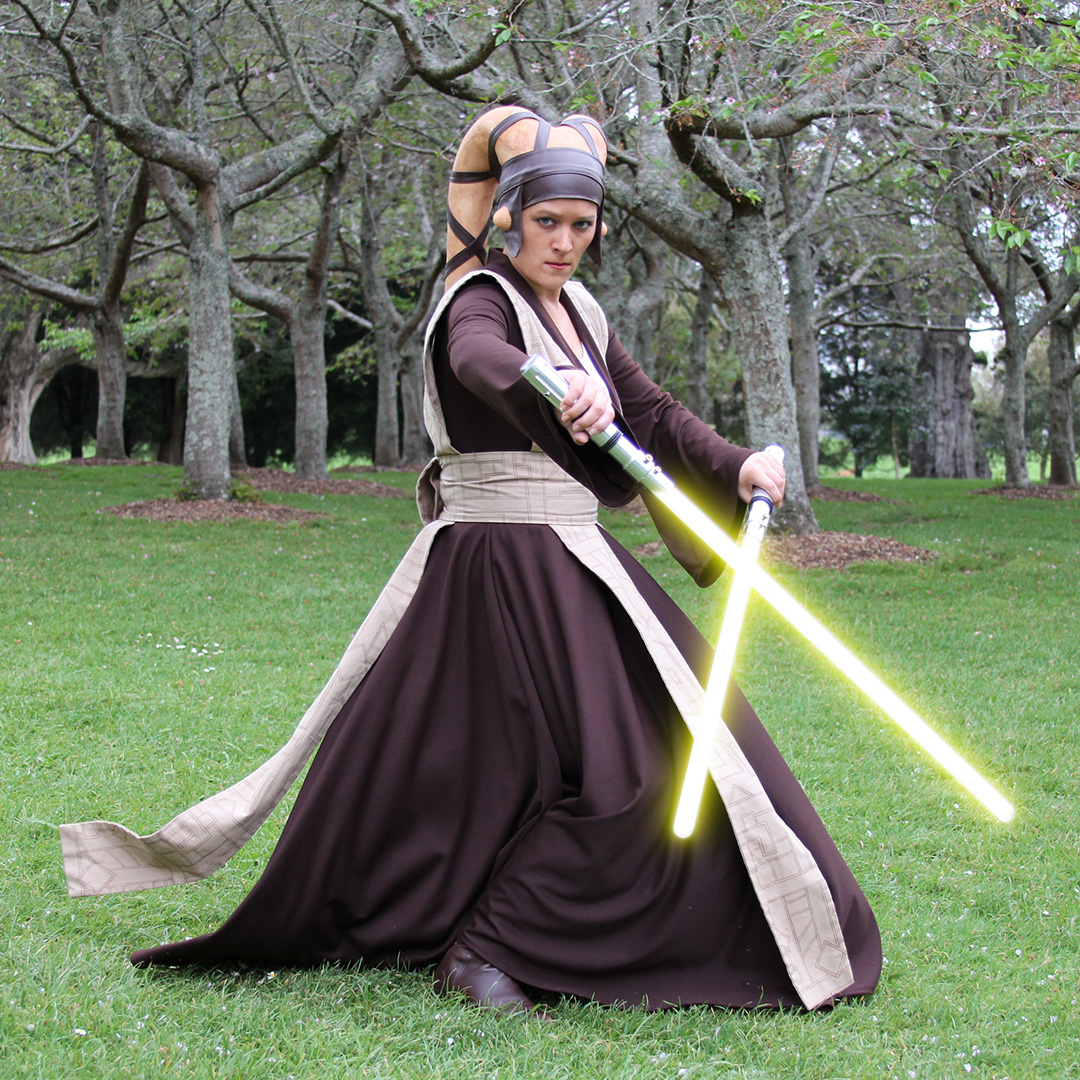 The last costume I made for myself, the latest in a series of 5 different Jedi costume variations I've made since 2004 – Jedi Historian. ⠀
⠀
This is my original concept, based on Jocasta Nu from AOTC, and Atris from KOTOR2 – I finished and debuted the costume in 2011.⠀
⠀
The tabbard designs are all hand drawn in fabric marker on both sides, based on a template Matt drew for me (a mix of patterns from both Jocasta and Atris). ⠀
⠀
Comfortable, fun to wear, and I can wear it with or without the lekku headpiece – made by the wonderful @twilek_pam ⭐️
Matt and I joined the @300dcspartans forums in January 2008, and debuted our Spartan and Queen Gorgo costumes at a local convention that year. ⠀
⠀
In 2009 we made the journey to DragonCon to meet up with our Spartan friends, and had so much fun, we returned in 2011 and 2012. ⠀
⠀
Someday we'll make it back again! ⭐️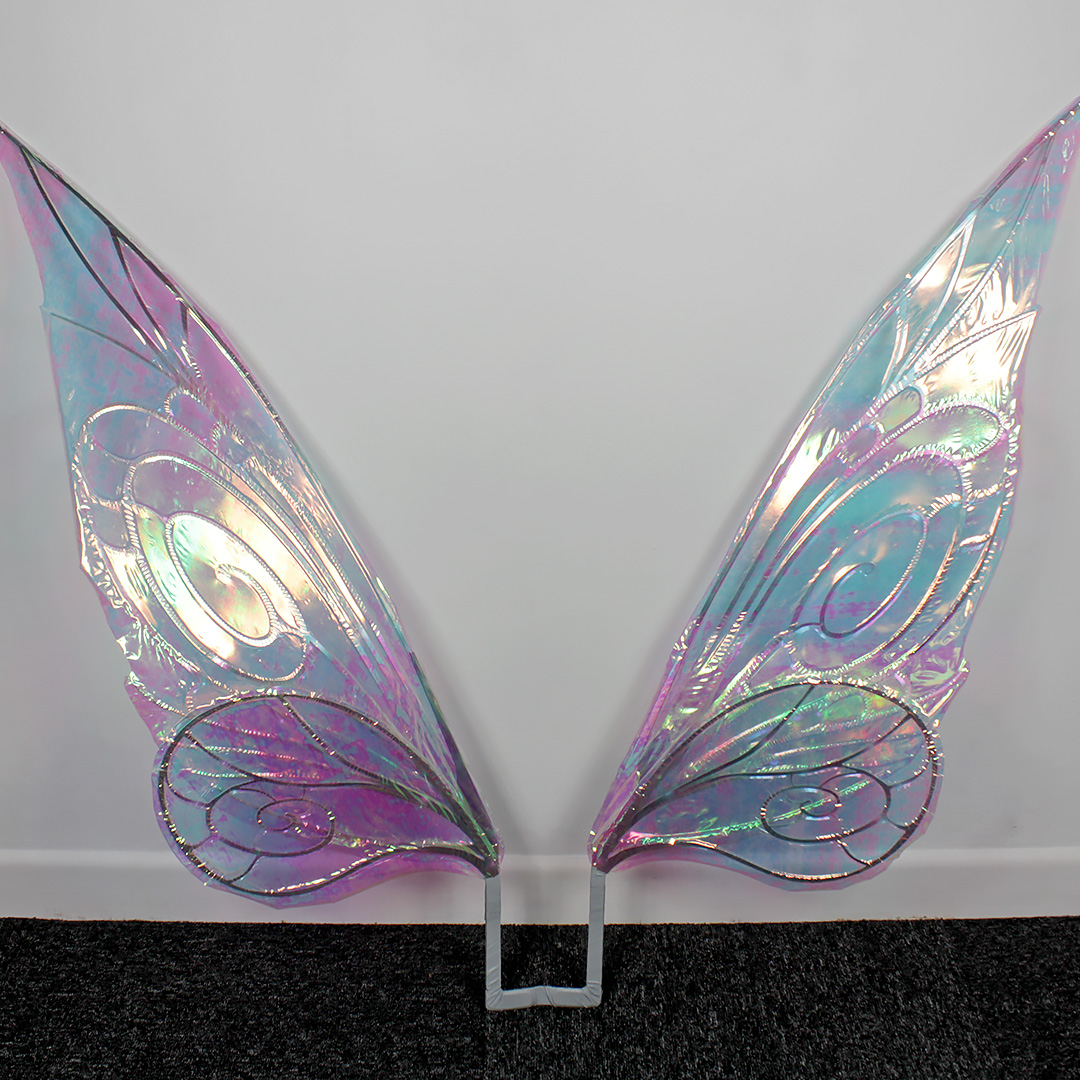 A work in (very slow) progress – Tinker Bell ? I got these gorgeous wings from @fancyfairyangela many years ago, and have stored them safely away ever since. ⠀
⠀
I grew up with Disney, and have loved Peter Pan ever since I was little. ⠀
⠀
As a little girl I dreamed of flying like Peter and Tink, and while that particular fantasy can't come true, the sight of these beautiful wings gives me so many happy thoughts ⭐️
Our biggest costume purchase – this screen-used Vin Diesel costume from The Chronicles Of Riddick. ⠀
⠀
The screen used costume includes the top, pants, boots, belt, arm guards, backpack, and breather prop – we sourced and/or made the knives, backpack straps, and goggles. ⠀
⠀
Funny story – I was halfway through making a Riddick costume for Matt when we bought this real one! I never did finish making my version….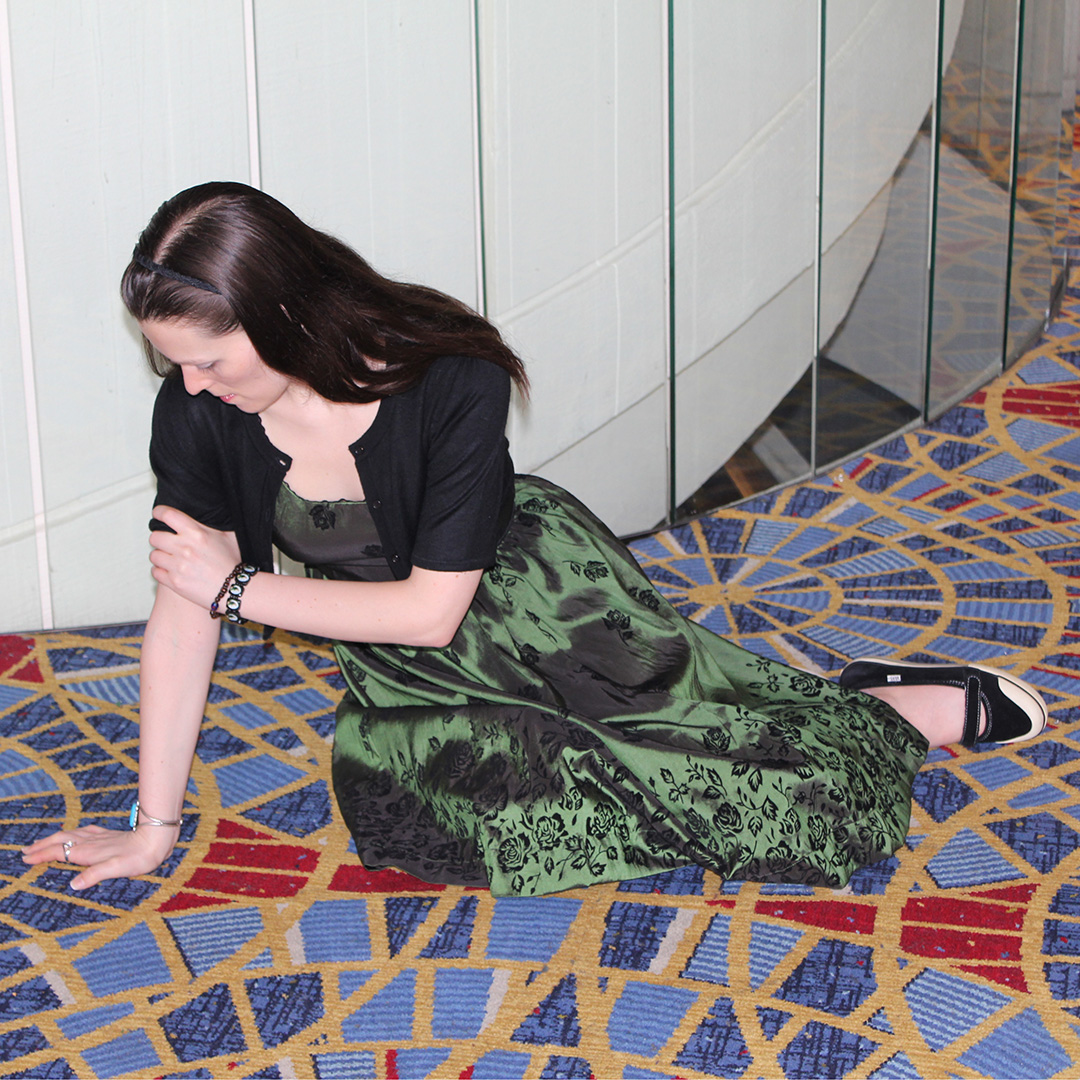 My 'smallest' costuming project was my Bella Swan cosplay for DragonCon 2011. ⠀
⠀
The costume and jewelry are licensed replicas, the Vans shoes and headband are screen accurate. ⠀
⠀
The only bit of sewing I did was to crop a cheap black cardigan a little shorter to match. ⠀
⠀
Easy to make, easy to wear ⭐️
A popular costume idea, but I had a spare corset I didn't need for my wedding dress, so of course I was going to use for a quick and easy costume. ⠀
⠀
Cheap red wig, green stockings, green heels, lots of fake leaves, and boom – Poison Ivy costume. ⠀
⠀
I've worn it a few times, and made some upgrades for DragonCon 2011. Still need to upgrade the wig (and drastically improve my makeup skills) but I love this comfy costume ?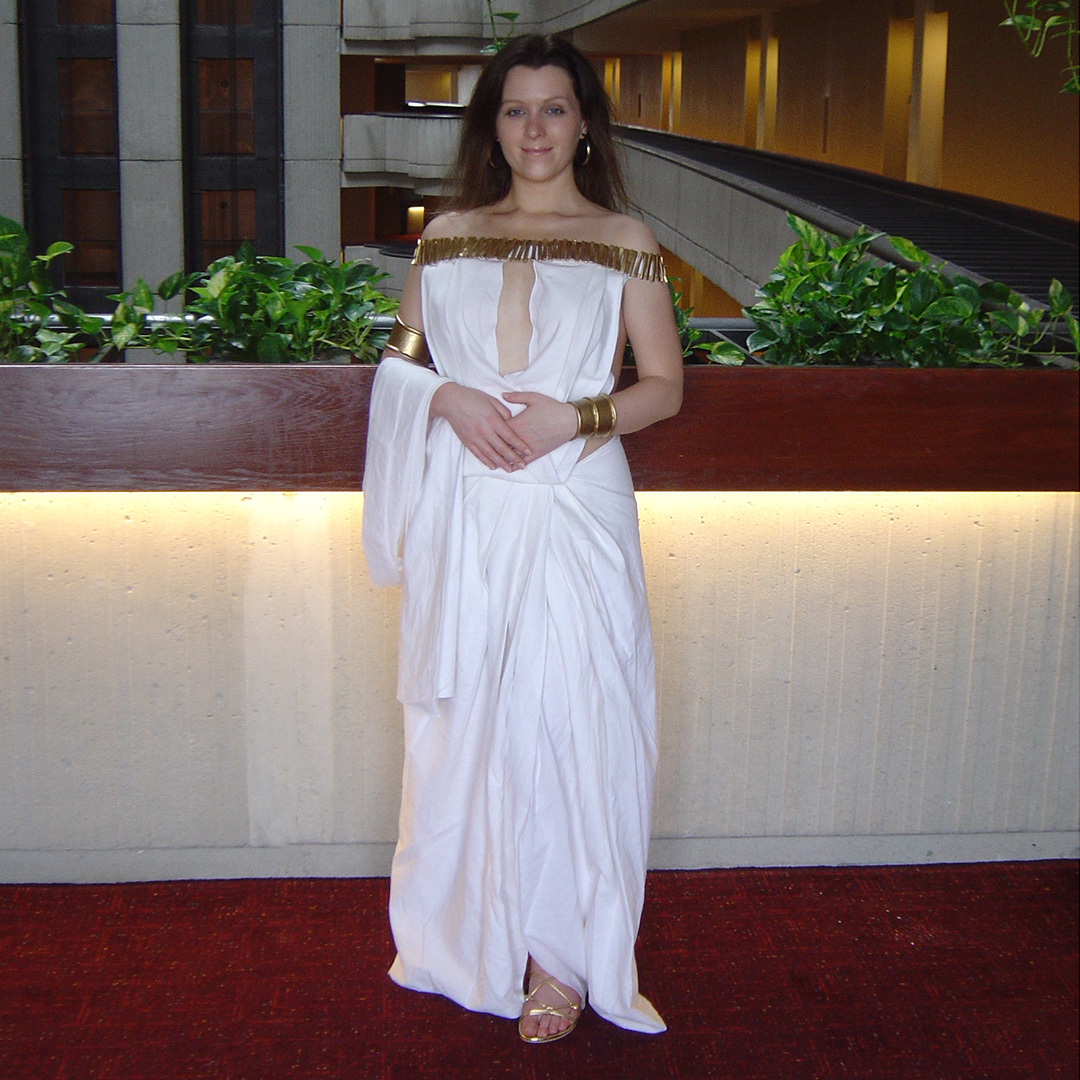 The problem with long haul flights for overseas conventions – my costumes get so creased in my suitcase! ⠀
⠀
My little handheld steamer doesn't work on US voltage, so I leave it at home. Really wish I'd been able to steam my costumes at DragonCon, especially my Queen Gorgo – but I really didn't trust the hotel room iron that year. ⠀
⠀
In the future, I'd like to find a cheaper steamer in the US, so I have that option for conventions ⭐️
The costume we used the most tools to create – my Star Wars femtrooper armour. ⠀
⠀
Debuted in 2008, the armour is vac-formed, with a custom fibreglass chest piece sculpted over my chest cast. ⠀
⠀
The 'fem' style armour isn't common any more, but I still love this costume ⭐️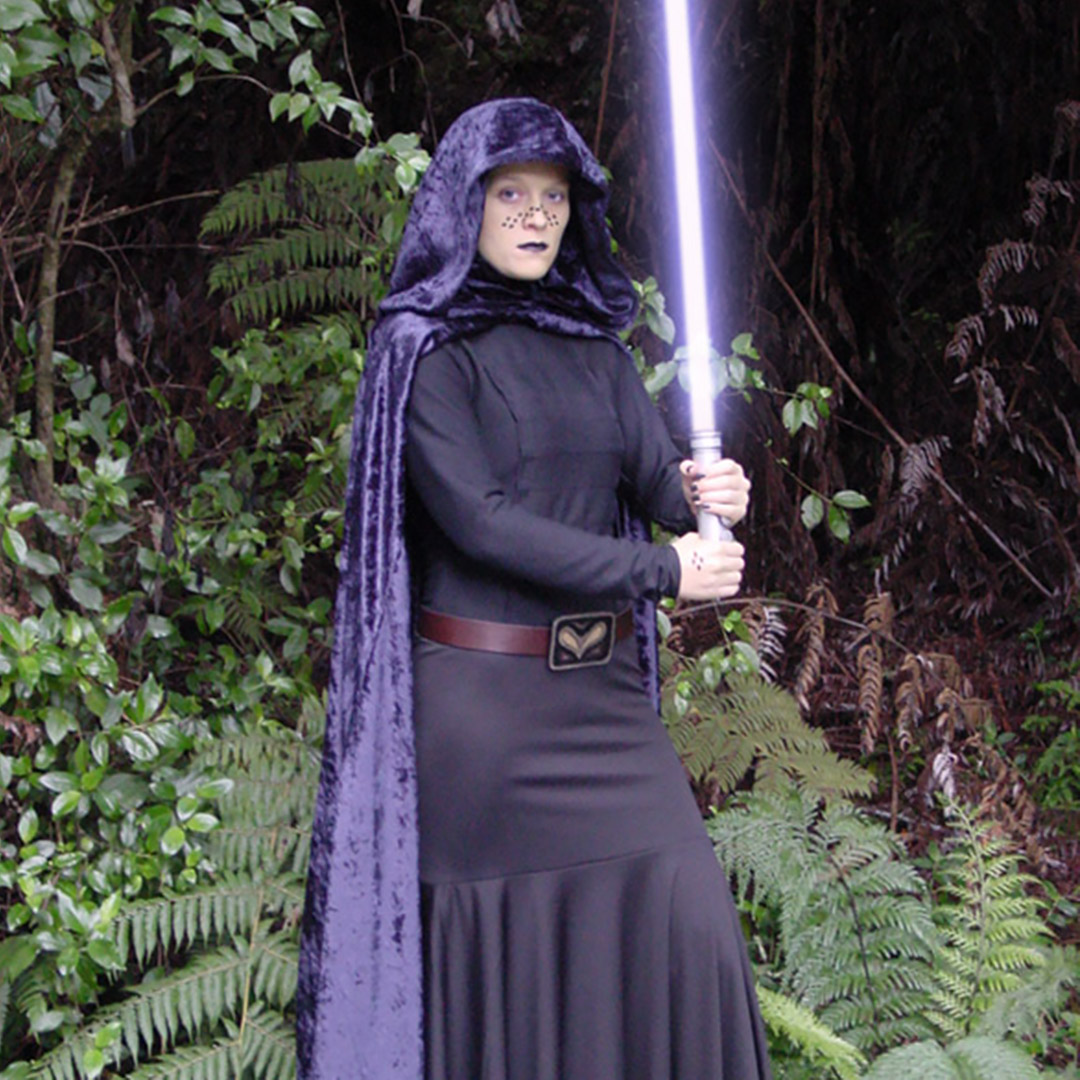 I have a few costumes with cloaks, but the warmest is my Barriss Offee costume. ⠀
⠀
Full length dress with turtleneck collar, long sleeves and hood, with two layers of velvet over the top. ⠀
⠀
Somehow I always end up wearing this costume in warm places – Anaheim, Atlanta, Orlando…. ⠀
⠀
I need to wear it to a convention somewhere cold so I can get decent photos where I'm not sweating off the intricate diamond pattern makeup! ⭐️
Perhaps not the coldest to wear, but the first costume I think of – my Queen Gorgo 'farewell' dress. ⠀
⠀
I made this for DragonCon 2011 – August is the middle of winter here, and this dress is all about draped fabric…. ⠀
⠀
Which meant spending many hours pretty much naked in my sewing room, while I draped fabric around myself, sewing it in place, trying it on again… ⠀
⠀
I had the curtains and doors closed, the heater blasting on high, and it was still really cold! Worth it though – that dress fit like a glove ⭐️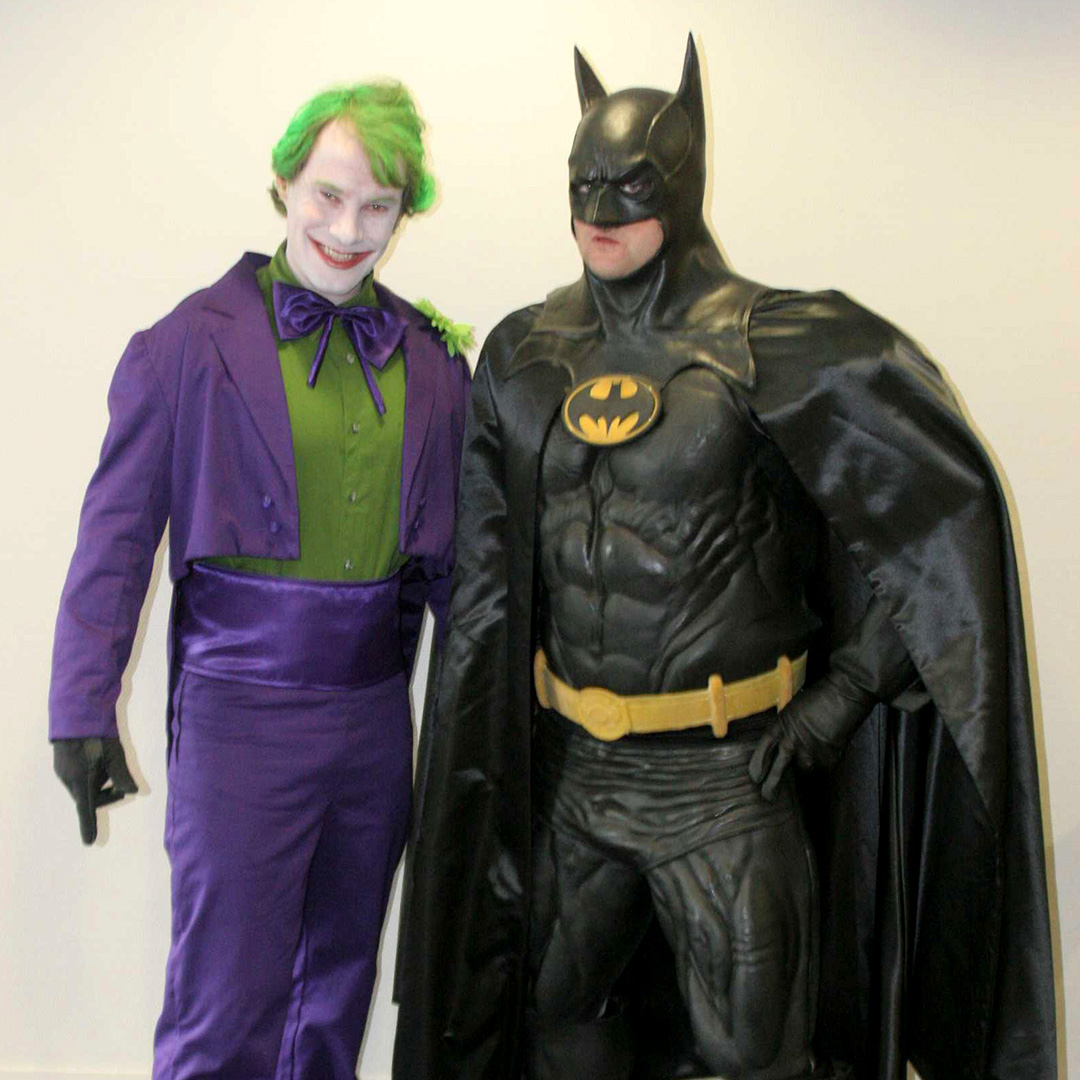 I made our Harley Quinn and Joker costumes for @armageddonexponz Auckland 2007, as HQ co-creator Bruce Timm was a guest. ⠀
⠀
A good friend wore his Batman costume that year as well, so we got some fun group photos. ⠀
⠀
Matt's costume was inspired by the animated series, with the Joker voiced by Mark Hamill – this was a year before 'The Dark Knight' film was released, so Joker costumes weren't as common back then ?
In 2006 Matt and I traveled across the world to visit the Star Wars AOTC filming location in Italy. ⠀
⠀
Two weeks before the trip I had the crazy idea to make Padme's lake dress, with my very basic sewing skills. ⠀
⠀
No pattern, drafted the dress with bedsheets wrapped around me, and used fabric paint… but I think it worked out okay. ⠀
⠀
The best part – Matt surprised me by proposing in the spot Anakin and Padme' were married ?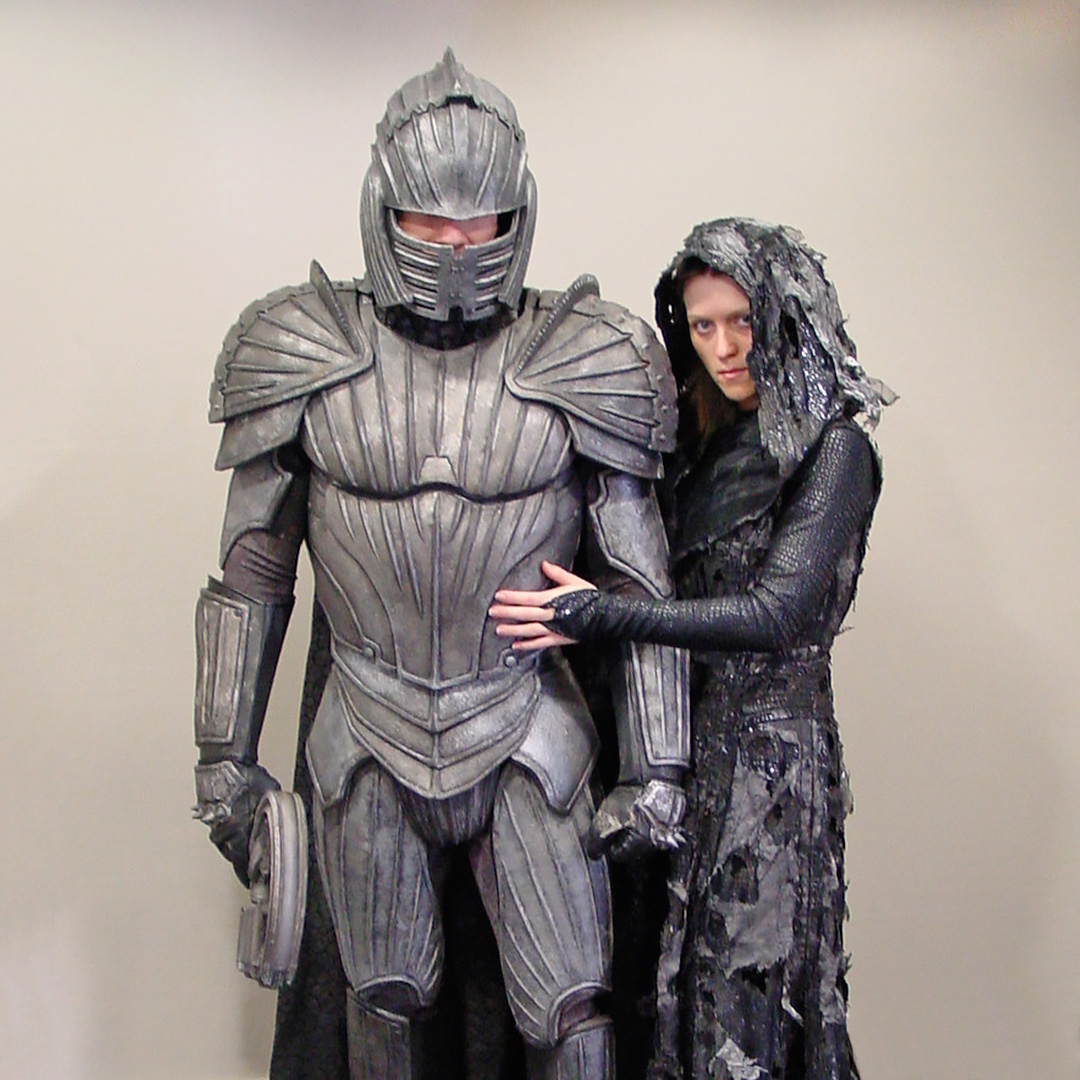 The 'spookiest' costumes we own – screen used Necromonger captain and convert costumes from The Chronicles Of Riddick. ⠀
⠀
We bought these from @prop_store back in 2005, our first 'couple cosplay' – it was so exciting to own costumes from the first film we ever saw together. ⠀ ⠀ ⠀ ⠀ ⠀ ⠀ ⠀ ⠀ ⠀ ⠀ ⠀ ⠀ ⠀ ⠀
I've worn my Necromonger convert costume several times, at different conventions around the world – but Matt's captain costume won't fit in a suitcase, so we wear them together at local conventions ?
The beginning of our love of costumes – Matt's first costume, Star Wars stormtrooper armour. ⠀
⠀
He bought it from the US in 2001, and joined the @official501st that same year. ⠀
⠀
A few years later, I made my first costume, a Jedi Knight. We soon found each other through our shared love of Star Wars, collecting, and costuming. ⠀
⠀
Passions we still share to this day, after 12 years of marriage and still going strong ❤️
As I'm sure most costumers can relate, I have a few costume projects that have been put aside for one reason or another, waiting to be finished someday. ⠀
⠀
This Riddick costume is an odd one out from my stash, in that I'm pretty certain I'll never finish it. ⠀
⠀
I got this far before I ran out of time for DragonCon 2009 – made the shirt, arm guards and shoulder harness, and finished it off with store-bought boots, pants and belt. ⠀
⠀
The reason this will never get finished? We now own a real Vin Diesel screen used Riddick costume! Doesn't seem much point to keep sewing the rest of this version, when it could never compare to the real one we have ⭐️
We really enjoyed the nostalgic look back at our costuming highlights, and look forward to participating in the Fall For Costume challenge again next year!